The Classic Irish Buses website
The Bombardier buses and coaches of Coras Iompair Eireann
Page last updated on 4th August 2013
---
Classic Irish Buses Classic Manx Buses Routemasters Email Photo gallery COMPLETE SITE MENU Links Morris Oxford car site Henry's Coastal Tours Classic Buses Website
---
Republic of Ireland menu:
D U T C G N R Irish Omnibus Company Great Southern Railway CIE 1945 to 1950 CIE 1951 to 1955 CIE 1956 to 1961 CIE 1962 to 1966 CIE 1967 to 1970 CIE 1971 to 1981 CIE Bombardiers CIE photos 1 CIE photos 2 CIE photos 3 CIE photos 4 CIE photos 5 Drogheda 75th Bus Eireann Dublin Bus Dublin Bus photos Lough Swilly
---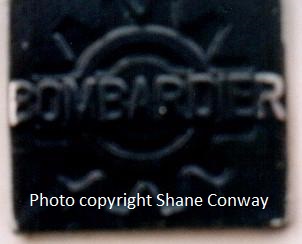 Having become dis-satisfied with British Leyland, CIE decided that a totally new design of bus "family" was the way ahead for the 1980s. Six prototypes were built by FFG in Germany and brought to Ireland for evaluation. These were a 72 seat double decker, a 35 seat citybus, two 47 seater rural buses, a 45 seat express/tour coach and a midibus suitable for wheelchair users.
The decker, citybus and express coach each utilised a General Motors Detroit Diesel engine, so beloved of the long distance Greyhound buses in the U.S. The rural bus was fitted with a DAF unit, and then a second similar prototype arrived with a Mercedes unit. All of these vehicles shared common body components and there was as strong a family resemblance between them as there had been between the Spa Road bodied Tigers and Titans in the 1950s. The Midibus also carried Mercedes badges, and was a most unusual looking machine. While it had a sliding side door, there was also one in the front of the bus, immediately to the driver's left. It never went into production, and in fact saw very little use.
Production facilities were set up in a unit in Shannon, Co. Clare and run by the Canadian firm Bombardier. Initial orders by CIE were for double deckers and express and tour coaches. Eventually 366 deckers and 52 coaches (including the prototypes) were placed in service by CIE. An additional decker was produced in left hand drive format and shipped to the Baghdad Transit Authority, but no orders ensued, and it's not known how long that bus survived in the sometimes hostile territory of the Middle Eastern countries.
The coaches were all in service by the end of 1981, while it was the summer of 1983 before the final decker appeared. Concurrent with that came the first production citybuses, but the Bombardier shares in the company had been bought by G.A.C., and they built all future orders. One notable change was to use Cummins as an engine supplier for the citybuses, following on from trials with one of the deckers so equipped. Another KD was fitted with a Rolls Royce unit. A total of 202 KC class buses were supplied in 1983 and 1984, although bizarrely, Cork kept a number of theirs in storage for a number of years, the last not entering service until 1992!
In 1985, the KR class rural bus started entering service in quantity and by the beginning of 1987 CIE had received 226 of them. A further bus was supplied to United Automobile Services in 1986 for trials alongside a Leyland Cub, but no orders ensued and the bus returned to Ireland for use by Bus Eireann. The 1987 split of CIE into subsidiary companies saw Dublin Bus getting 113 KCs and 338 KDs, with all other vehicles passing to Bus Eireann.
Withdrawals commenced about 1995, and the first to go were the KE class coaches. Volume withdrawal of KDs and KCs soon started, and on January 13th 2001, a trio of buses, KC100, KD114 and KD353 took part in an official last run in Dublin. Several KC buses were kept back from scrapping to be converted to school buses for Bus Eireann, creating the KCS class. By then most of the KR buses had also been reclassified as KS for school services.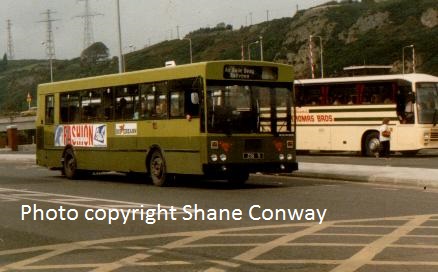 KC5 was the lowest numbered bus of its type to remain with Bus Eireann. Eventually all were repainted into red and white, but this view in Waterford on September 10th 1988 shows the Bus Eireann stickers applied to the CIE green. The coach in the background is an ex Crosville Leyland Tiger owned by a Welsh independent operator.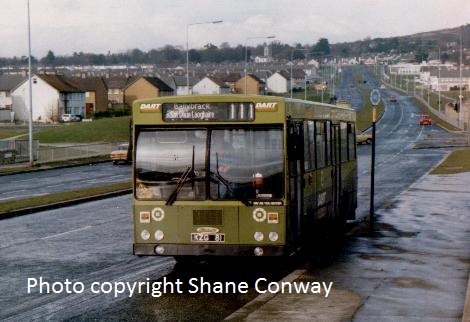 KC81 was photographed outside Loughlinstown FAS training centre on March 20th 1986. The concept of DART feeder bus routes was then a new one, such as the 111 linking Loughlinstown to Dun Laoghaire station.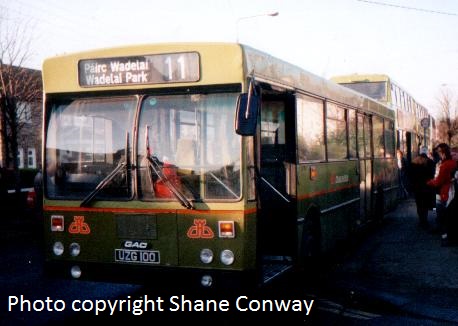 The official last running day for KCs and KDs was on January 13th 2001, and KC100 is seen at the Wadelai Park terminus of route 11 on that day, accompanied by KD353 and KD114. A new AV class low floor bus (AV76) is just visible in the background.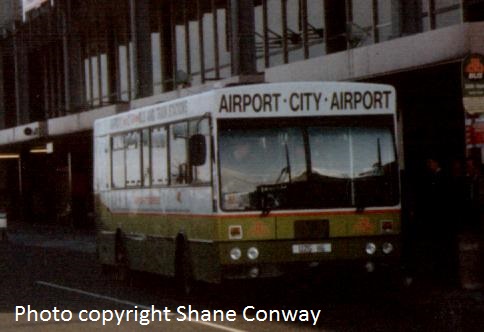 KC116 - KC119 were modified and repainted for the Dublin Airport express service. KC116 was seen at the airport on May 4th 1991. KC29 was also similarly painted as a back-up vehicle, but not modified internally.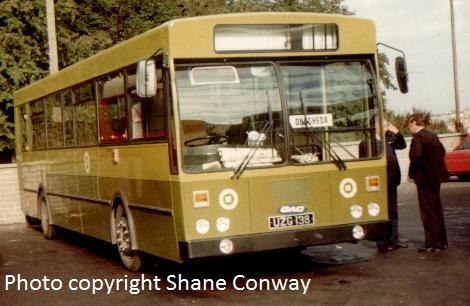 Five KCs were temporarily allocated to Dundalk and Drogheda in 1984/85. KC122 and KC123 were sent to Dundalk, while KC138 was one of three KCs sent to Drogheda (along with KC137 and KC139) and was seen in the local bus station on September 18th 1984. These five KCs were a stopgap measure to cover between withdrawals of C class Leopards and the arrival of new KR class buses.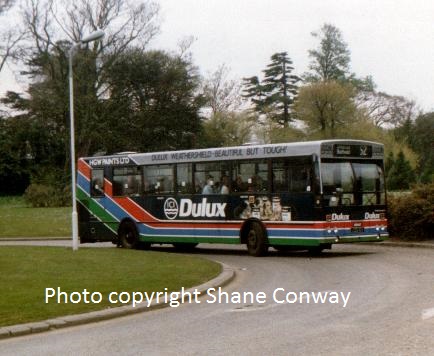 KC168 was one of a number of ex Bus Eireann KCs to work for Dublin Bus. On April 18th 1989 it was on route 52 leaving Belfield.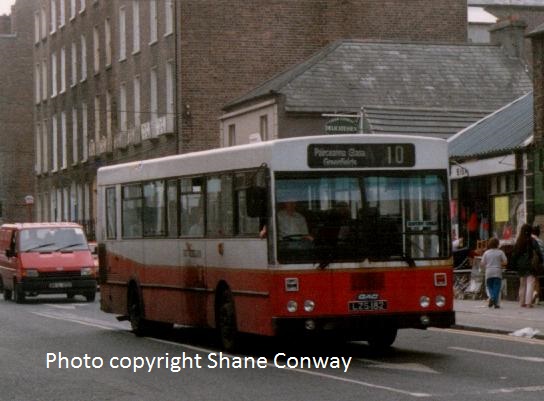 KC182 was one of 21 KCs sent to Limerick, although five of these ended their days with Dublin Bus. The remaining 16 buses were repainted into Bus Eireann's red and white colours, and KC182 was seen in Limerick city centre on August 26th 1991.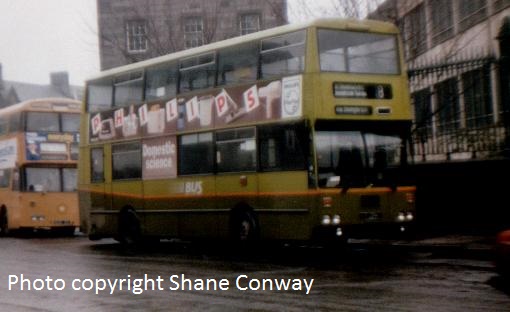 KD1 seen at College Green on April 4th 1987. It carries the original Dublin Bus logo, which was soon replaced by the later "castle" style of "db" letters.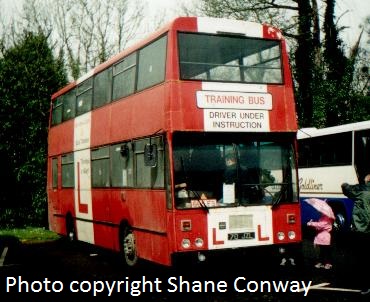 An interesting disposal for preservation was that of KD70 which was taken by Glasgow Bus Museum. It made the international journey in late April 2001, and en route called into the ITT gathering at Cultra, where this picture was taken. The bus later returned to Ireland.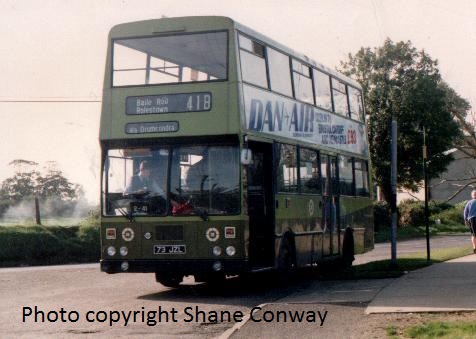 KD73 at the rural north Dublin location of Rolestown, outer terminus of route 41B. Seen on October 19th 1985, this was the first KD to be withdrawn by Dublin Bus in September 1989.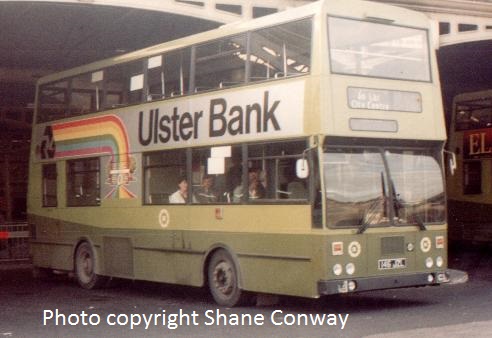 Just visible on the front bumper of KD146 are the Cummins stickers, this bus being one of two KDs not to have GM engines. Seen at Hueston station on October 11th 1984.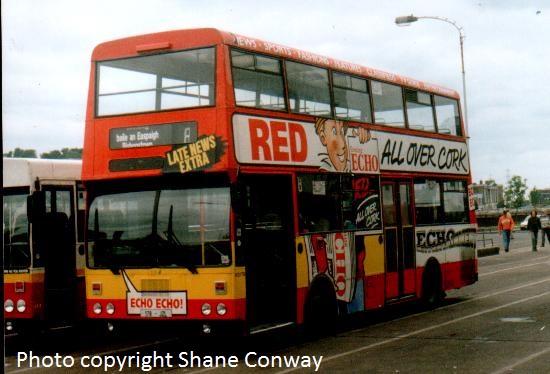 One of many allover advertising KDs was Cork based KD178 painted for the Evening Echo newspaper, as seen on July 16th 1994.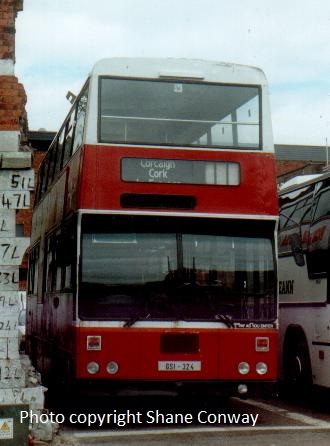 KD324 seen in Cork on 14th July 1994, it and KD325 being the only KDs to have seen service in two different provinces (Connacht and Munster).
The last day, and my last picture of a line-up like this in service. KD353, KC100 and KD114 are seen together at Eden Quay. Route 8 saw both the first and last KD operated services in Dublin. It's odd what 20 years can do, I hated these buses when new because they were ousting the last Leyland PD3s from the fleet, but I actually felt quite nostalgic as I stood watching them cross O'Connell Bridge for the last time and disappear out of sight.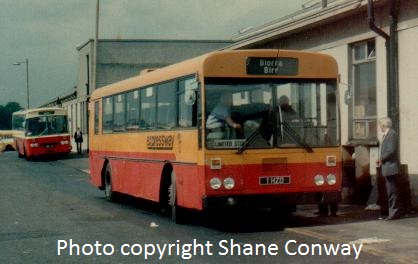 The prototype of each class differed in some way from the production vehicles, KE1 having a more rounded roof profile for instance as seen in this view in CIE's Broadstone garage in 1983.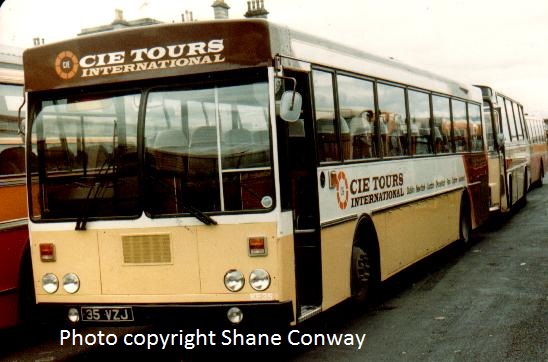 KE22-52 were intended for touring work and had no destination boxes. They also received this attractive brown, cream and white livery. KE35 was later preserved in Bus Eireann livery.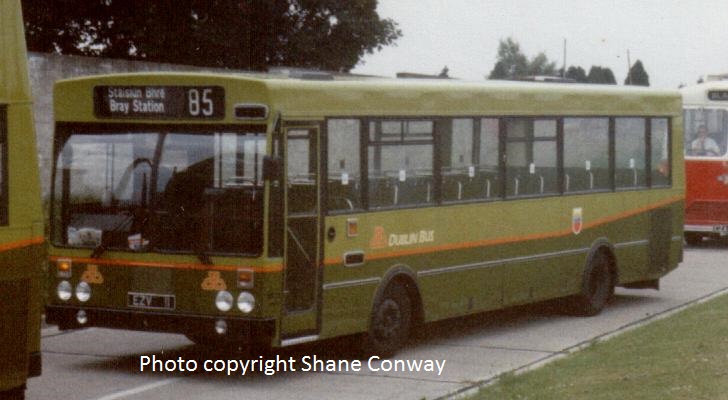 Six of the KR class (KR9-14) were transferred to Dublin Bus in 1988 for use on local services in the Bray area of Co. Wicklow. For some reason though, their use fell through, and all quickly returned to Bus Eireann. KR11 made a rare appearance in the 1988 Dublin Bay rally, the only occasion I saw one of them on the road.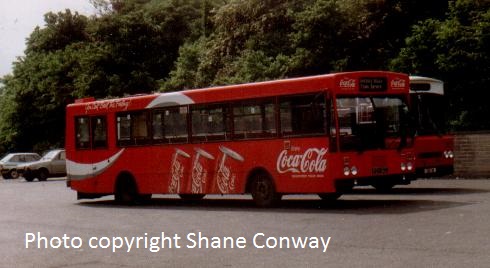 Two Drogheda based KRs were painted as allover advertisements for Coca-Cola, the company having a factory in the town's industrial estate. They remained so painted for many years (1986 to 1999). This is KR162, and the other bus was KR163.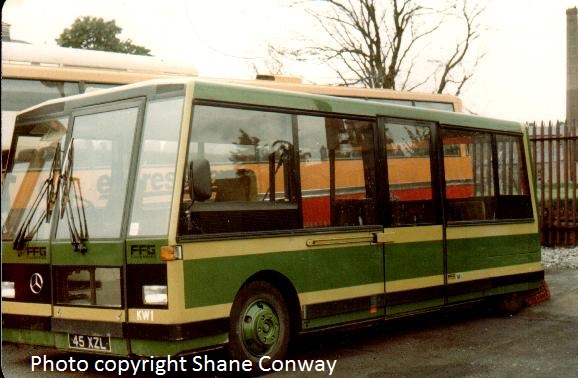 This strange looking bus was a one-off in the CIE fleet. Built by FFG in 1981 and exhibited at the UITP congress in Dublin that year, it was a token response to the International Year of the Disabled. It saw very little use however, and today's accessible buses are much more standard vehicles.....
---
The prototypes:
KE1 (1 HZD) FFG Coach - FFG C45F 1978
KD1 (1 JZH) FFG Double Decker - FFG H45/27D 1980
KC1 (1 BZI) FFG Citybus - FFG B35D 1981
KW1 (45 XZL) FFG Telebus - FFG B??D 1981
KR1 (1 YZU) FFG Rural Bus - FFG B47F 1982
KS2 (2 YZU) FFG Rural/School Bus - FFG B46F 1982
Production vehicles:
KE2-21 (2 - 21 VZJ) Bombardier IC - Bombardier C45F 1981
KE22-50 (22-50 VZJ) Bombardier TC - Bombardier C44F 1981
KE51 (51 KZL) Bombardier TC - Bombardier C44F 1981
KE52 (52 RZO) Bombardier TC - Bombardier C44F 1982
KD2-201 (2-201 JZL) Bombardier DD - Bombardier H45/27D 1981/82
KD202-300 (202-300 OZU) Bombardier DD - Bombardier H45/27D 1982/83
KD301-365 (GSI 301-365) Bombardier DD - Bombardier H45/27D 1983
KD366 (YSI 366) Bombardier DD - Bombardier H45/27D 1983
One left hand drive decker for Baghdad in 1982
KC2 (ASI 2) Bombardier CB - Bombardier B35D 1983
KC3-52 (ZSI 3-52) GAC CB - GAC B35D 1983
KC53-87 (KZG 53-87) GAC CB - GAC B35D 1983
KC88-172 (UZG 88-172) GAC CB - GAC B35D 1983/84
KC173-202 (LZS 173-202) GAC CB - GAC B35D 1985
KR2-121 (EZV 2-121) GAC RB - GAC B47F 1985
KR122-185 (PZV 122-185) GAC RB - GAC B47F 1985
KR186-225 (XZV 186-225) GAC RB - GAC B47F 1986
KR226 (85-D-178, ex C529 XEF) GAC RB - GAC B43F 1985
The following vehicles were re-registered prior to entry into service: KC27 to AZG 27; KC149 to 84-D-428; KC156 to 84-D-278; KC160 to 89-D-10662; KC161 to 87-D-23890; KC163 to 89-D-17144; KC169 to 92-D-13731; KC194 to 87-D-28545; KC200-202 to 87-D-3200/03/02; KR208-13/18-25 to 87-D-2208-13/18-25.
---
Classic Irish Buses Classic Manx Buses Routemasters Email Photo gallery COMPLETE SITE MENU Links Morris Oxford car site Henry's Coastal Tours Classic Buses Website
---