The Classic Manx Buses website
Manx visit in June 1996.
Page last updated on 8th November 2013
---
Introduction Douglas Corporation D C T photos I o M R S I o M Transport I o M Coach operators 1996 Manx visit Links Email
---
Classic Irish Buses AEC Routemasters Henry's Coastal Tours Classic Buses Website Morris Oxford car site
---
Located in the Irish Sea between County Down and Cumbria, the Isle of Man measures approximately 31 by 12 miles at its widest points and is home to around 60,000 people. It's well known as a holiday resort, famed for its gruelling motor cycle racing circuit, and has no less than five distinctly different land based public transport systems.
Its modern fleet of 80 or so buses covers an islandwide network of routes. At the time of my visit it comprised some second-hand Atlanteans, new and used Olympians, Dennis Darts, Leyland Nationals and two Lynxes, with about half the fleet being double deckers. A heritage fleet of past fleet members has been retained and is beautifully restored.
A private operator, Tours Ltd., running a number of imported coaches of various ages and styles, handles the tourist side of things. Their fleet includes two Bedford OBs, one of which I sampled on an evening mystery tour.
Rail-based transport (all narrow gauge) includes a 15 mile long steam railway, a 17 mile long electric coastal tramway, an electric mountain railway, and a horse tramway along the seafront in Douglas. Most of these date back to the late 1800s and still use the original rolling stock, except of course for the motive power along the seafront in Douglas!
This 1947 Leyland PS1 has an Eastern Coachworks body of the style more normally associated with half-cab Bristols, and at the time of this photo, it was owned by a Manx based preservationist. Since then however, it has left its original home and passed to a new owner in Essex in early 2001, and thankfully it returned to the island in August 2010, to Jurby Transport Museum, and subsequently to the Manx Transport Enthusiasts Association. It was photographed at Ramsey on June 15th 1996, as part of a vintage display in connection with an open day at Ramsey pier.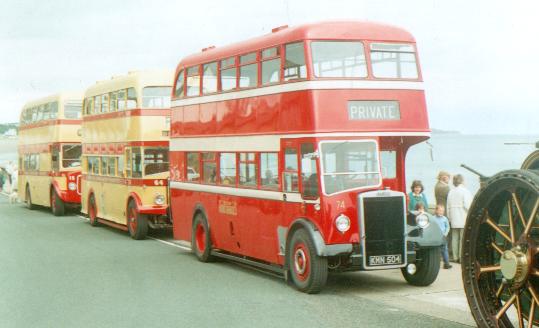 Bought new by Isle of Man Road Services in 1949 were eighteen Leyland bodied Titans. Although a couple of PD1s were bought in 1946, their use was restricted by a law regarding the use of anything over 35 seats, so for a while the deckers ran in service with most of the upper deck closed off! This law was repealed shortly prior to these PD2 buses entering service. Some of these were still in service until well into the 1970s.
Douglas Corporation ran the services within the borough of the island's capital and bought mainly AECs. This Northern Counties bodied Regent III was new in 1949 and was restored and owned by Isle of Man Transport. Again it was brought out for the Ramsey pier event.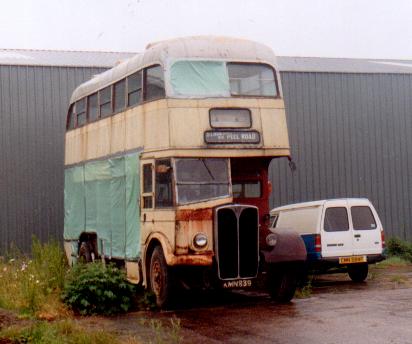 This was another former Douglas Regent III, but because of various legal problems, its restoration was halted and after over seven years languishing in the open, it was scrapped in late 2003.
410 LMN was the last ever AEC Regent to be built, and it has a Willowbrook body new in 1968. Following the merger of DCT and IOMRS in 1976, the Regents were the first buses to be replaced, by ex Merseyside Atlanteans which were in fact older than the Regents.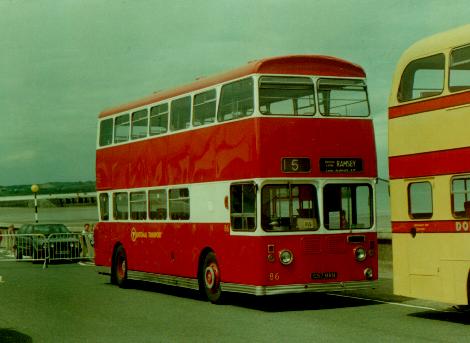 The first Atlanteans to enter service were a dozen 14 year old buses from Merseyside PTE in 1979. All had been replaced by 1983. These buses were similar to the 1964 demonstrator which worked for CIE. This bus, the last Manx survivor, has been privately preserved on the island.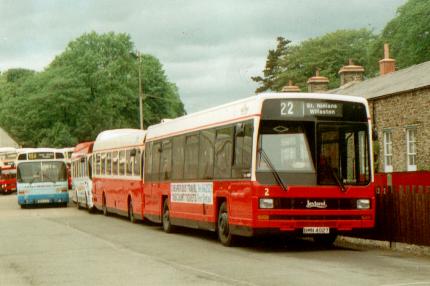 Two 1989 Lynxes were bought new. This is number 2 which is in fleet livery, while sister bus 1 carried the old IOMRS colours. Second-hand Lynxes were later added to the fleet from Halton Transport in Widnes, Cheshire.
National 29 complemented Lynx 1 by being painted in Douglas Corporation livery, although this picture was taken in Port Erin, the most southerly town on the island.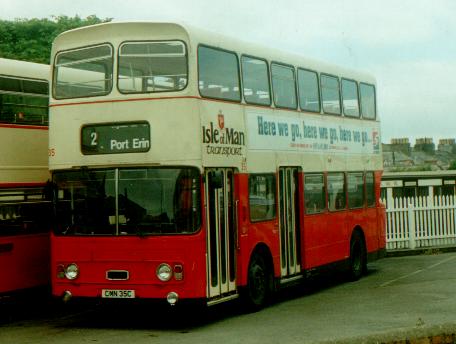 The fifth and final batch of Atlanteans to be imported were Alexander bodied AN68s new to Portsmouth City Transport in 1979. Most were converted to single door, but number 35 remained as built. It's seen at Port Erin station.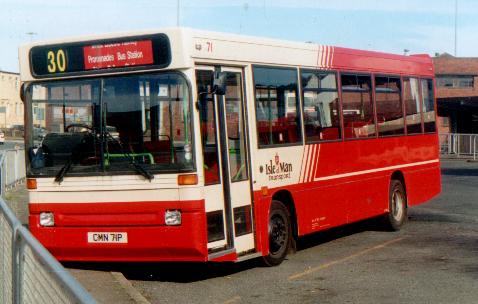 Bus 71 in 1996 was another Dennis Dart with Plaxton body. Fleet numbers were frequently re-used and three digit numbers were then rare. These buses were bought new to replace new and second-hand Leyland Nationals, and introduced a new version of the livery.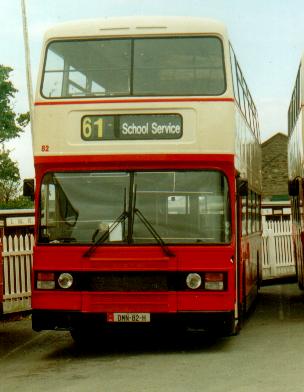 This early Olympian, dating from 1982, was one of two bought from Metrobus in London. They were numbered 81 and 82 and thus fitted in numerically with the similar looking Leyland bodied batch, 83 - 88, new in 1989.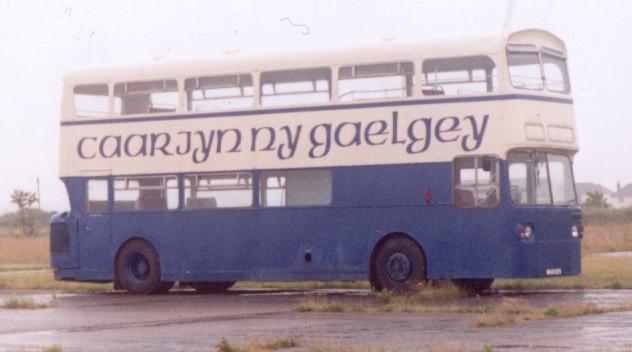 Many of the island's buses (especially the second-hand imports) were resold back to the UK after withdrawal. However a few remained.... This 1972 ex Merseyside Atlantean was used for a Manx language promotion and is seen at a disused airfield at Jurby.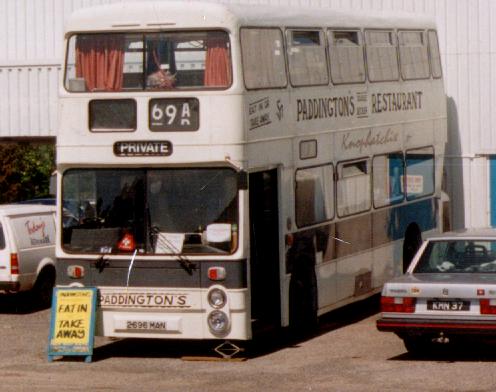 A number of ex Greater Manchester Park Royal bodied AN68s were also owned in the mid 1980s, and this one subsequently became a restaurant near Douglas. These buses were ousted from the fleet by new Olympians.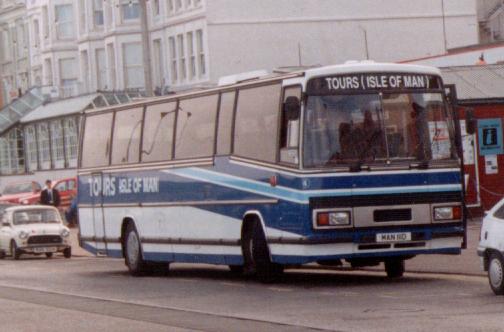 This series 1 Plaxton Paramount coach was part of the Tours fleet, and like the rest of their fleet at the time, was on a Bedford chassis. It has their "trademark" of a registration number with 111 in it, as does most of the fleet.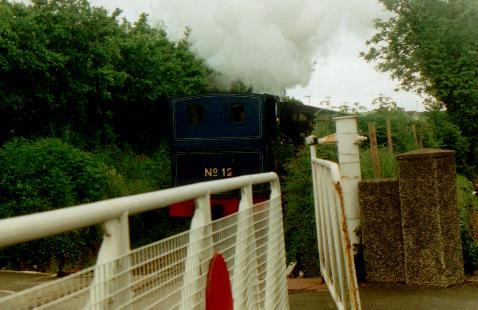 The early morning train from Port Erin to Douglas, seen approaching Ballasalla station, where it will cross the southbound service on the largely single track route.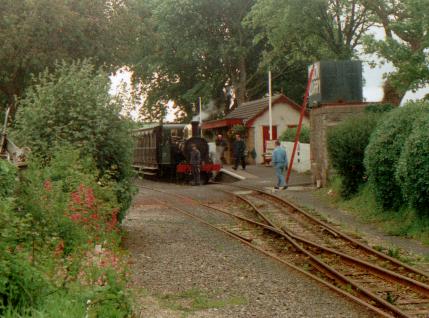 Taken from the same point as the above picture, this shows the scenic setting of Ballasalla station with a southbound train ready to set off to Port Erin.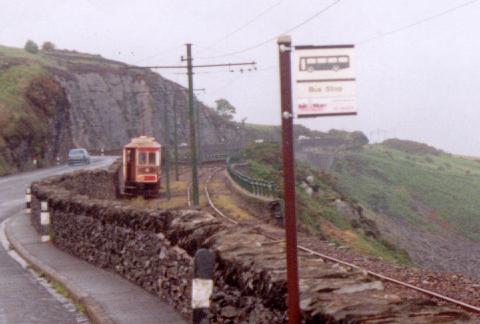 Manx Electric Railway car number 6 is seen heading north between Douglas and Laxey. At times of high demand, these trams will pull a passenger trailer, a more usual sight than just a single unit like this.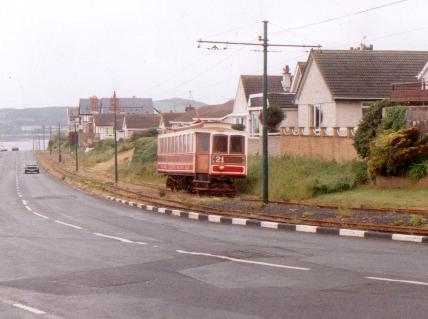 Car 21 seen just north of Douglas, again travelling solo. The style of tramway alongside a public road was once a familiar sight throughout the British Isles, there are only two places left in 1996 where this could be sampled, the other being Blackpool to Fleetwood. With all the later interest in new light rail systems, this was to once again become a common occurrence.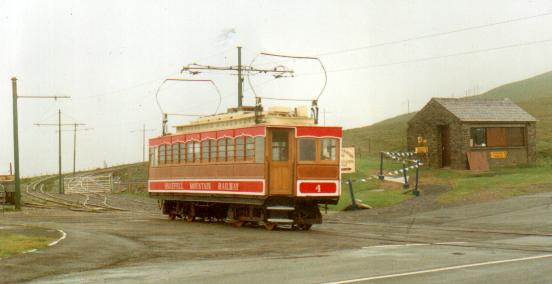 The Snaefell Mountain Railway was opened in 1895 and still uses the original rolling stock. This is car 4, seen at the sole intermediate stop at Bungalow on the TT circuit. This was the last "down" tram of the day. Note that on this line, right hand running is used, instead of left hand as on other double track systems.
---
Classic Irish Buses AEC Routemasters Henry's Coastal Tours Classic Buses Website Morris Oxford car site
---