My BMC Farina 1622 cc website
by Shane Conway
---
Email Farina history My Morris Oxford My Austin Cambridge 50th anniversary photos Ted Hunt's Oxford
---
Last updated on 16 February 2013.
---
Despite myself and my co-author having invested quite a lot of time on the project, it now seems that no publisher is interested in considering a book on the topic of this website. Such a pity, as it would have had quite a number of rare photographs of various Farinas worldwide. As a remiinder of what could have been, here's a link to one of our designs for the proposed front cover
The Farina range - a brief history
The British Motor Corporation launched the fin-tailed Farina designed, four door, four cylinder engined family saloon just over 50 years ago, in October 1958 with the Austin A55 Mark 2. This was soon joined by the Morris Oxford series 5, Wolseley 15/60, MG Magnette Mk. 3 and Riley 4/Sixty Eight. All were powered by a 1489 c.c. version of the BMC "B" series petrol engine, the MG and Riley having twin carburettors. An estate car version of the Morris (Traveller) and Austin (Countryman) was offered from 1960.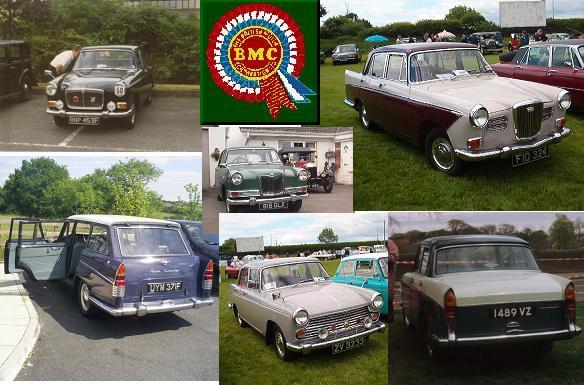 In late 1961, the entire range was updated, including a 1622 c.c. engine, and softer body lines, especially around the rear wings. By 1962 the new range was on sale, and it now included a 1489 c.c. diesel powered version of the Cambridge (A60) and Oxford (series 6) saloon.The other cars had become Wolseley 16/60, MG Magnette Mk. 4, and Riley 4/Seventy Two. In 1966 BMC apprentices also produced a one off Wolseley estate and either an MG or a Riley version as well. While neither of these are thought to exist now, an A60 Countryman was modified into a Wolseley estate replica during the 1980s, and another A60 was "Magnetteized" during 2008. The photo above depicts a montage of various versions of the British and Irish versions of these cars. For other markets local variants were produced, such as the six cylinder Austin Freeway and Wolseley 24/80 in Australia, and the Riley inspired Di Tella 1500 saloon, estate and commercials in Argentina.
In total it's estimated that around one million of these cars were produced in all its various forms between 1958 and 1971, many of them for export. By the end of the 1960s they had started to fade out of production, with the MG being the first casualty in April 1968. The Austin, Riley and Morris Traveller were dropped in 1969, and finally the Morris saloon and Wolseley in the spring of 1971. Not long after the MG version was deleted from the catalogue, Morris saloon KTP 761F and Austin A60 Countryman UYM 371F were registered in Plymouth and London respectively in May 1968, just three weeks apart. Years later these two vehicles would come into my life, but more of that later.....
French manufacturer Peugeot also used the same basic body shape as the basis for its 404 model. The 404 was of virtually the same length and engine size as the later BMC cars, and was in production from 1960 until 1975. However Peugeot also offered the 404 as a pick-up and a convertible, alongside the saloon and estate models, and went on to sell well over 2 million of them altogether.
BMC also offered what was described as an Austin A60 van and pick-up (as well as a Morris version), but in reality this was based on the pre Farina A50 shape car, albeit with the 1622 c.c. engine. The 1489 c.c. unit was also used by Shamrock, a short-lived Irish manufacturer, who produced five fibre-glass bodied left hand drive convertibles in 1962, apparently aimed at the U.S. market.
Celebrities who owned some of these cars included Winston Churchill (two Oxfords) and June Brown (of Eastenders fame) with an A60. Another A60 was used in the film "The Italian Job", and a Wolseley 16/60 also made regular appearances in that long forgotten (hopefully!!) soap "Eldorado". Former Coronation Street actor Johnny Briggs (Mike Baldwin) drove an A60 as a taxi in a couple of episodes of "The Brothers" in the early 1970s. And there was a scene in the Harry Worth (remember his famous "mid-air" trick reflection in the shop window?) show where his ageing "sit-up-and-beg" 1940s Ford Prefect was towed away and crushed, to be replaced by a new Cambridge. More recently, of course, Farinas of various types (and other cars and commercials) have been used as props (or "dressing cars", to use the TV producers terminology) in the TV show Heartbeat from time to time, including one of the cars featured on this site.
Back in the 1960s and 1970s, I was growing up with a succession of these cars in our family. The first one I recall was a Mark V Oxford saloon, registered YZA 205. Sadly this one ended its life in wet conditions on a narrow Co. Wicklow road, following an altercation with a van on Kilmacanogue Bridge before that stretch of road was bypassed. Fortunately (other than a few cuts and bruises) no-one was injured, but only for that van things could have been much more tragic. The Oxford was replaced briefly by a Wolseley 16/60, possibly registered NZE 784, though I'm not certain on that one. After that came beige coloured JZE 11, an Austin A60 Countryman, which I recall had one headlight fitted with green glass to act as a fog-lamp. Despite the A60 being replaced by a Ford Anglia in 1973 or so, the memories remained with me, and I always hoped that one day I'd own one.
As an aside my copy of the Irish "Car Salesman's Guide" (bought at an autojumble in 2005) dated March 1968 (just two months older than the cars featured on this site) makes interesting reading. The price listed for a new Morris Oxford at that time was £907 ex works including turnover and wholesale tax. Delivery and number plate charges varied from £3 to £16, depending on the import point of the car and its destination. The annual rate of road tax started at £16 5s for cars rated at 8 horsepower, going up to £37 10s for the 16 horsepower rating. On the second-hand side, trade in values for the Oxford ranged from £665 for a 1967 car with 18,000 miles, down to just £180 for the 1962 version. The same prices applied to the almost identical Austin Cambridge, while the Wolseley equivalent values were £999, £715, and £230. The cheapest new car then available was the Fiat 500 at £450, and the dearest one listed was the Mercedes 250SE deluxe, at a mere £2990.
So, fast forward to 1999, and the story continues here.....
---
Some related links:
---
Email Farina history My Morris Oxford My Austin Cambridge 50th anniversary photos Ted Hunt's Oxford
---