The Classic Buses Website homepage
---
SOME QUICK LINKS WITHIN THIS WEBSITE;&nbsp Email Links THE COMPLETE WEBSITE MENU Events Diary Halfcab list Small-Ads Classic Irish Buses
Website launched in August 1996, and this page was last updated on 9 May 2019.
---
*** STAR PICTURE ***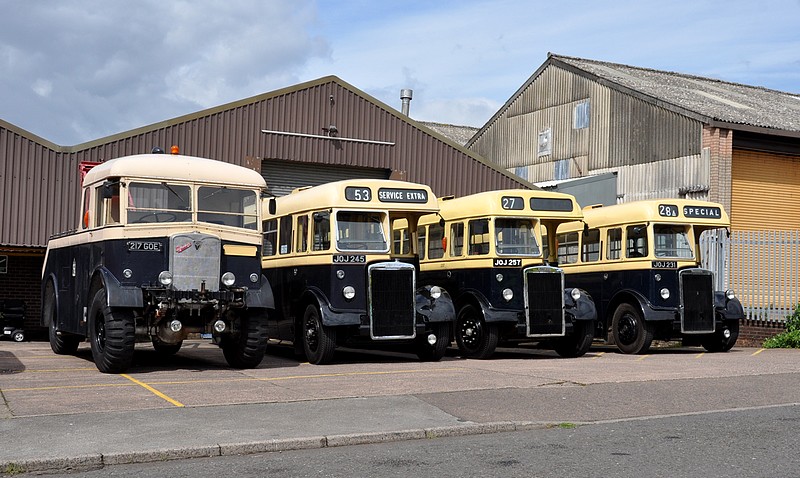 A great event took place on 28 April 2019 when three Birmingham City Transport Leyland PS2 Tigers were seen together, almost certainly for the first time in 50 years. Lined up at the Aston Manor Road Transport Museum are No.2245 (JOJ 245) of The Transport Museum, Wythall, freshly-restored No.2257 (JOJ 257) from Quantock Heritage, and Tim Bickley's No.2231 (JOJ 231). No.2255 is reputed to exist as well - maybe we'll see that one day too. For more details about these fine buses take a look at my webpage here.
Accompanying them on left is former Birmingham AEC Matador breakdown tender 217 GOE which started life as a command vehicle for the Army during World War II. A great photo by kind permission of Ken Jones.
---
Rewire Security offer affordable GPS tracking solutions to keep watch on your vehicle.
---
A new Mystery Picture for you to think about. This one's from Yorkshire.
Some great new / old pictures at the bottom of my Sri Lankan page, and a mystery bus!
....and don't forget to check the constantly-updated Free Small-ads Page for something that might be of interest to YOU !
For a complete list of the contents of this website, click here, or scroll down the page.
---
?? MYSTERY PICTURE ??
Michael Wright sent me this picture in April 2019 to ask if I could throw any light on the bus and the operator. His Grandad (Ernest Ward, on the right with the cleanest boots!) worked for the firm but that's about all Michael knows, apart from still having his driver's badge ("City of Wakefield No.948"), although it's the chap on the left who seems to be the driver in this picture.
Well, the bus is a Morris Commercial from around 1929 I would say, and the route - Leeds to Wakefield on an easterly diversion through Rothwell and Stanley - later became West Riding route 92. It must have been in demand because West Riding were running it every 20 minutes by the 1950s! But what type of Morris Commercial bus is this, and who were "N & W Motor Service"? Perhaps they were absorbed into West Riding eventually.
If you can enlighten us all, please get in touch with me on the usual email address. Thanks.
Well, Peter Delaney came back very quickly with a torrent of useful information! Here's what he wrote;
"N & W would be Newton and Ward Ltd, a company formed in August 1928 to 'acquire and carry on the motor omnibus business heretobefore carried on at Rothwell, Yorkshire, by Messrs Newton and Ward in partnership', and had its registered office at Oulton Lane Garage in Rothwell (although neither Mr Newton nor Mr Ward were directors of the company).
"Leeds City Council noted in December 1925 that several firms from outside the city had agreed to conditions to be included on their licences, and amongst those firms was Newton & Ward, who were running from Lee Moor into Leeds. Six months later in June 1926 the Leeds Watch Committee approved a proposal for Newton & Ward to acquire the motor omnibus service between Leeds and Swillington previously run by Burks Brothers. The firm was also listed in the March 1928 issue of Commercial Motor magazine as having bought some (unspecified) Leylands.
"At a meeting on 31 August 1932 the company was formally put into voluntary liquidation, with the winding-up meeting held in Leeds on 29 November that year. The location of the first meeting at Belle Isle, Wakefield may be 'relevant'? The directors of Newton & Ward Ltd were H England, G H Margrave, A Corker, R Harkey, A Carrington and J Stonehouse. H England was the first General Manager of West Riding, and he was succeeded by G H Margrave with H England becoming Managing Director. It looks as if there was a connection with West Riding, although whether this was a formal one (such as West Riding buying Newton & Ward) I have not been able to find. I wonder if the Ernest Ward in the picture is related to the Ward of Newton & Ward?"
Well that's a good question at the end there, and it also makes you wonder if the other chap is Mr Newton! Anyway that's terrific stuff from Peter, and it will be interesting to see if Michael Wright can follow up some of those leads to see if he can find more family connections. I'll keep you posted. Meanwhile thanks very much to Peter for his comprehensive response.
LAST MYSTERY
The series of bus rallies that took place in London during the 1970s and 80s were organised by Mike Kay.
---
Welcome to the home of classic buses and coaches on the net - I'm Dick Gilbert. This site is all about nostalgia for British passenger transport vehicles from the 1920s to the 1960s, with an unashamed bias towards 'halfcabs'.
Each page has a different colour scheme which is supposed to be reminiscent of some bus or coach company from the era, and this one is meant to represent Western / Southern National. As a result of this arrangement, some of the pages are hard to read, and some will scramble your brain. I'm sure you'll manage.
My interest in British buses began in the late 1950s and early 1960s, and the buses and coaches that were around then are all 'classics' now. It was an interesting period, when there were still pre-war and wartime 'utility' machines about (although mostly on the point of retirement), and a large number of halfcab vehicles that had been built immediately after the war. At the same time, new products like the Leyland Atlantean, AEC Regent V, and a host of 'modern' coach designs (Plaxton Panorama, Harrington Cavalier, Weymann Fanfare etc.) were appearing. It was a transitional period when vehicles from the 1930s, 40s, 50s and 60s could all be seen in use at the same time.
Having been born in south London, London Transport was the first operator that I lived with, then we moved to Sussex and I grew up with Southdown, Maidstone & District, East Kent, and the municipal fleets of Eastbourne and Brighton, as well as the large number of excursion coaches that used to visit the south coast every summer.
In the early 1960s I used to make trips to London to visit Victoria Coach Station, or see the last of the London Transport trolleybuses, or the last halfcab single deckers (TDs). Unfortunately, although I saw what I went to see, most of the photographs I took are not particularly brilliant, or have been lost. However I do have some black & white pictures taken at Victoria Coach Station, London, and in Sussex between 1960 and 1962 which are barely reasonable, and some of them appear around this site. Here's one;
This was taken at 'The Crumbles', Eastbourne, in the summer of 1962, where Claude Lane was running the narrow gauge Eastbourne Tramway (now moved to Seaton, Devon). He had used this ex Lincolnshire Road Car Leyland KPZ01 Cub as a lorry in the past, and it was left to rot outside his depot. New in May 1937 it was FW 8855, originally fleet number LC502, one of thirty delivered that year with Brush B20F bodies. I guess someone might rescue it these days.
I attend a few rallies around the country, and like to see the old machines that people have restored. Reviews and/or pictures of some of the shows I attend appear on the pages here, although it can take a while before I get round to it. The whole idea of the site is to entertain the sad souls (like me !) who have a soft spot for old PSVs, and also be a sorting office for information on the subject.
It's all for fun, so relax and have a wistful rummage through the scrapbook. If you weren't around in the 1960s (and they say that, if you were, you won't remember it) then these pages might provide an insight into the variety of glamorous machines that could be seen on British streets at the time.
Incidentally, this site has no connection whatsoever with Classic Bus magazine, but I thoroughly, absolutely, unreservedly and totally recommend it to anyone with an interest in the subject. It is published 6 times a year, and regular readers all wish it was 12 times a year. You can order it through your local newsagent or go to this website. When it falls on your doorstep it's like when the delivery guy has brought you a really good pizza.
Please keep in touch, as changes are taking place here all the time, and let me know if you spot a mistake somewhere - I do try to keep things pretty accurate. I know that there are some real boffins out there, and I need you to tell me when something is inaccurate. So welcome to the site, browse around and make yourself at home.
---
GUIDE TO SITE CONTENTS
MAIN AREAS OF THE WEBSITE
THE CLASSIC BUSES PROFILE PAGES
THE CLASSIC BUSES "TRAVELLERS TALES" SECTION
THE CLASSIC BUSES WEBSITE INTERNATIONAL SECTION
---
SOME QUICK LINKS WITHIN THIS WEBSITE;&nbsp Email Links THE COMPLETE WEBSITE MENU Events Diary Halfcab list Small-Ads Classic Irish Buses
---