Bus Rallies and Shows - Page 1
---
SOME QUICK LINKS WITHIN THIS WEBSITE;&nbsp Home Email THE COMPLETE WEBSITE MENU Events Diary Links Small-Ads Halfcab list Classic Irish Buses
---
Last updated 5 October 2017
This page lists personal views of local bus rallies and transport shows at which buses were present. Some are large, some are small, but most reports are biased and way out of date! I have also put together a diary of rallies, events, open days and running days where buses may be featured, and it can be found on the Events Diary page.
This colour scheme is a tribute to United Counties.
---
LOTHIAN BUSES OPEN DAY - Saturday 23 September 2017
As part of the Lothian Buses Central Garage open day, a varied collection of classic Embra buses were operating on route 26 between Eastfield and Atholl Crescent. A total of ten buses were noted in use on the day; Daimler CVG6 FSC 182, Leyland Titans LFS 480 and ASC 665B, Leyland Atlanteans ESF 801C, JSC 900E, BFS 1L and JSX 595T, Leyland National KSX 102X and Leyland Olympians C777 SFS and E322 MSG. Some photos by Kevin Horgan follow to show the variety of buses in service on the day.
FSC 182 is one of a batch of 20 Daimler CV buses bought in 1949, with Metro Cammell bodywork which bears a passing resemblance to contemporary deliveries to Birmingham Corporation in the same era, but fitted with Manchester Corporation style destination box on the front.
LFS 480 represents the order of 100 Metro Cammell bodies Leyland Titan PD2/20s delivered to Edinburgh in 1954 as part of the tramway replacement programme.
Ten years later, the fleet intake comprised a batch of 50 PD3/6s with Alexander forward entrance bodies, a feature rarely seen on tin-front Leylands, Edinburgh possibly being the only operator to purchase them.
Following on from the PD3s above, Edinburgh turned to the Atlantean for its next delivery, ESF 801C being the first example of a batch of 25 with the panoramic windowed Alexander body. After these Atlanteans came a further 25 PD3s to complete the 1966 delivieries. Behind ESF 801C is seen BFS 1L, the first of the 1972/73 batch of 50 AN68s.
JSC 900E was the final member of the 1967 batch of Alexander bodied Atlanteans, differing from its A type bodied PDR1 sisters by being a J type bodied PDR2, later converted to open-top as seen here.
In 1979 Edinburgh Corporation's successor, Lothian Regional Transport, bought a batch of 23 AN68s with JSX registrations and Alexander bodies, these being similar to BFS 1L, seen above.
While most Edinburgh Corporation and Lothian buses were double deckers, small batches of single deck buses and coaches were also bought from time to time. KSX 102X was the first of 20 Leyland National mark 2s, its fleet number following on from the 1961 Leyland Leopard, YSG 101, now preserved in its original three door layout.
---
ASTON MANOR OPEN DAY - Sunday 9 July 2017 (by Shane Conway)
As part of a weekend expedition to the West Midlands area, the day prior to my visit to Aston Manor was taken up with a visit to the Severn Valley Railway, sampling the delights of diesel haulage behind a Class 52 diesel, and an evening trip to Bridgnorth and back on a Class 108 DMU, both of these being yet more "firsts" for me - this year seems to be filled with them!! Aston Manor on the Sunday was to produce yet more of them....
Three shuttle routes were being operated on the day - the most intensive being that to and from Walsall bus station. Kicking off there I boarded a Routemaster (RM506), which owes its Birmingham connections to the fact of being once owned by West Midlands Police as a community bus or some such, and has now been restored to London Transport red. Other than that, the vehicles on display on the museum forecourt were all of West Midlands origins.
One of four survivors of a batch of 30 buses, JOJ 231 was numerically the first of the group. Mostly these PS2s worked on route 27 to Bourneville because of a low bridge en route. It is a curious coincidence that route 27 in Dublin also served a Cadbury's factory, although its buses were usually double deckers.
Not having seen a Bedford VAL for many years, the chance to sample this was too good to miss. In line with the one time Bedford slogan (you see them everywhere) there was a time every small operator seemed to have one parked up somewhere, but that was in the distant past. New in 1972 (despite the "G" reg plate), this one has (among other things) been adorned in blue and yellow as a Beatles Magical Mystery Tour coach. The present reg is a reference to its model type and engine type.
Another once ubiquitous type, this former Midland Red Leyland National is preserved in the livery of Midland Red West, one of the successor companies created in the 1986 carve up of the NBC empire.
Passing the VAL and a Birmingham Guy Arab, we have one of the 1984 batch of fourteen MCW Metrobuses fitted with guide wheels for the short-lived West Midlands route 65 Tracline service. The buses were altered to standard spec after three years, but 8110 has now regained its guide wheels in preservation.
Another unique machine, LJW 336 is the sole Saunders Roe bodied Guy Arab LUF made. All other bodies of this design were fitted to Leyland chassis. LJW 336 spent its early years as a Guy Motors demonstrator, before sale to Blue Line, in whose livery it is preserved.
The sole survivor of Birmingham's 50 Park Royal bodied PD2s, JOJ 222 was making its first passenger carrying journeys for many years on the day. Its route was a short one to the premises of Sunningdale Classic Cars, where I got this photo.
One hour after the PD2 photo, I had arrived at the Chasewater Light Railway on board the third example of a JOJ-registered bus out on the day. This time it was a Metro-Cammell bodied Guy Arab, in impeccable condition as seen here.
The Routemaster referred to above, seen with a selection of native West Midlands buses, all bar the PS2 being used on the Walsall route during the day. JOJ 231 remained on static display throughout the event.
The last run of the day, back to Walsall on this Trent Willowbrook bodied SOS which was new in 1940 and fitted with a replica body in 1978. A fine machine, driven by AMRTM chairman Martin Fisher, seen here in front of the bus. The end of a most enjoyable day.
---
HAVERHILL HCVS RALLY - Sunday 9 July 2017 (by John Wakefield)
Held in conjunction with Haverhill Town Council the East Anglian Section HCVS Rally was held on the town's South Car Park. The event is open to all classic and vintage vehicles including cars, commercials and PSVs, some of which are pictured below.
FJE 982D, a 1966 Bedford VAM5 / Duple Bella Venture entered by C G Myall of Bassingbourn. Currently one of only two roadworthy Bella Venture bodied VAMs, it is Class 6 tested and used on heritage private hires.
LTA 752, Lodges of High Easter, former Lincolnshire Road Car open-sided Bedford Duple Vista OB new to Southern National. A full PSV and part of Lodge's heritage fleet.
LIL 7804, a 1983 Mercedes L608D / Plaxton Mini Supreme owned by Felix of Long Melford, new to Shearings as ANA 114Y. A full PSV and one of only two still surviving as coaches.
GR 9007 and VV 9146, two Crossleys owned and restored by John Jackson and Tony Melia of Wormingfield. GR 9007 with a Crossley body was new to Sunderland and VV 9146 with a Roe body new to Northampton.
WEX 685M is an ex Great Yarmouth 1973 AEC Swift entered by Adam Colby of Dereham.
RF538 (NLE 538) is a London Transport 1952 AEC Regal IV entered by the RM40 Group, Wales.
RF355 (MLL 992) is another 1952 AEC Regal IV entered by Paul McOwan of Ashen, Suffolk and UFM 53F, a 1968 Bristol RELL6G new to Crosville, entered by Chris Sampson of Colchester.
Many thanks to John Wakefield for sending the photos and the information.
---
90th BIRTHDAY PARTY FOR A LEYLAND LION
On 2 July 2017 the Aire Valley Transport Group held a special event to celebrate their newly-restored Leyland Lion KW 1961 which was also 90 years old.
All-Leyland PLSC3 Lion KW 1961 was new to Blyth & Berwick in 1927, moving to Jersey in 1932 where it became JMT No.51 until 1958 when it went into preservation. The special event took place at the Keighley & Worth Valley Railway's Ingrow Station and there was also the chance to have a ride on this historic vehicle which hasn't been on the rally scene for over 50 years.
KW 1961 was accompanied by a small display of other West Yorkshire buses, some of which can be seen here;
JUB 29 - a glorious 1928 Keighley-West Yorkshire Leyland Titan TD1.
CWX 671 - Keighley-West Yorkshire Bristol K5G from 1938.
FWW 596 - 1947 Bedford OB, formerly West Yorkshire 646.
LWR 424 - West Yorkshire Bristol KSW6G 4044, now a recovery vehicle.
Details of the Aire Valley Transport Group and their collection of vehicles can be seen on their website and thanks very much to Alex Lawson for sending me the pictures.
---
I T H BUS and COACH RALLY - 22 April 2017 (by Shane Conway)
April 22nd 2017 saw the staging of the 45th Irish Transport Heritage bus and coach rally at the Ulster Folk and Transport Museum, with this year's event also marking the 50th anniversary of the founding of Ulsterbus, an organisation from whom much of this year's classic selection originated. As with the previous year's event, there was a good mix of displays, with a couple of surprise entries. This year I managed to sample trips on four vehicles, ex Citybus RELL 2547 initially on the timed road run, changing to sister bus 2446 at a timing point, then to Leyland Tiger 2635, also ex Citybus and with a Gardner engine. A final trip was on a Tiger Cub on the afternon shuttle service to Bangor, with me in the firm belief that I had never before been on a PSUC1 anywhere, at any time....
This trio of former NIRTB/UTA buses was parked separately from the main display, possibly for space reasons. From left to right, we have a Leyland Tiger Cub, Leyland PS1 and a Bedford OWB.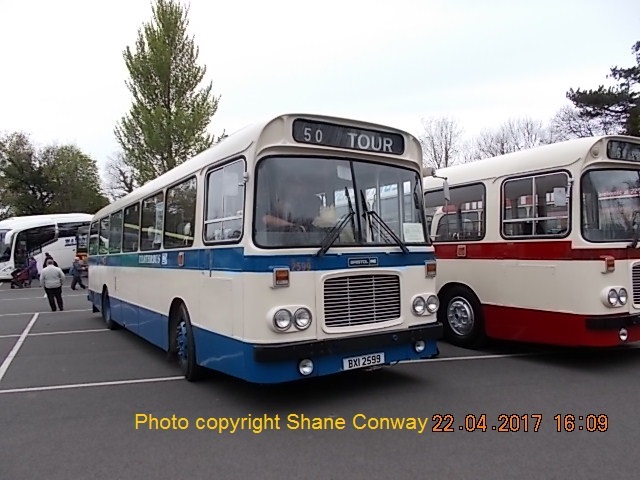 At the 1994 event I photographed Bristol RELL BXI 2600, numerically the last in the Ulsterbus fleet, but not the last one to be bodied or to enter service. Since its unplanned destruction in 1996, the mantle of youngest RE on the planet has fallen to its sister BXI 2599, which is preserved in Nottingham these days and had not been in Ulster for ten years. However it returned for a week's visit in connection with the 50th, and its owners picked up a bit of silverware when the awards were being dished out.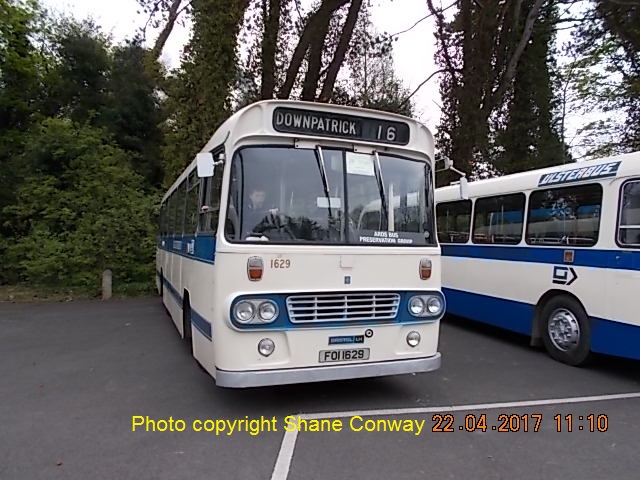 Ulsterbus bought 100 Bristol LH/Alexander B45F in 1973, of which this was both the first into service, and the last one to be withdrawn. The now unique vehicle has been in preservation for over 20 years, and was the sole example of the Ulsterbus lightweight fleet on display.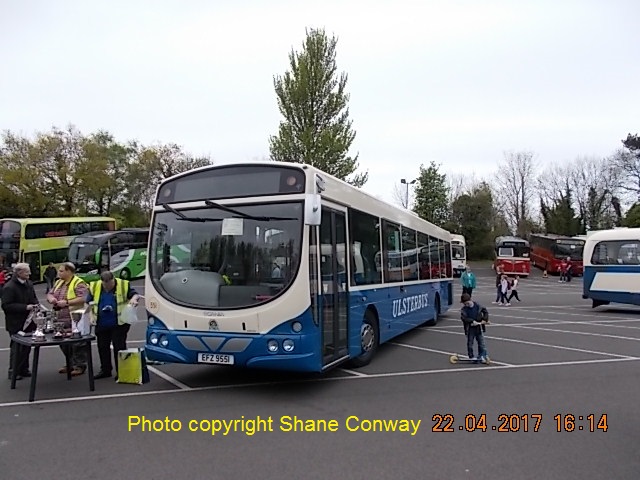 This thingy is, I am told, a Wrights bodied Scania of some description -- I know not what and care even less. However, seeing as Ulsterbus went to the trouble of painting it into a retro/heritage colour scheme based on their original livery, it was definitely worth getting a quick photo of it.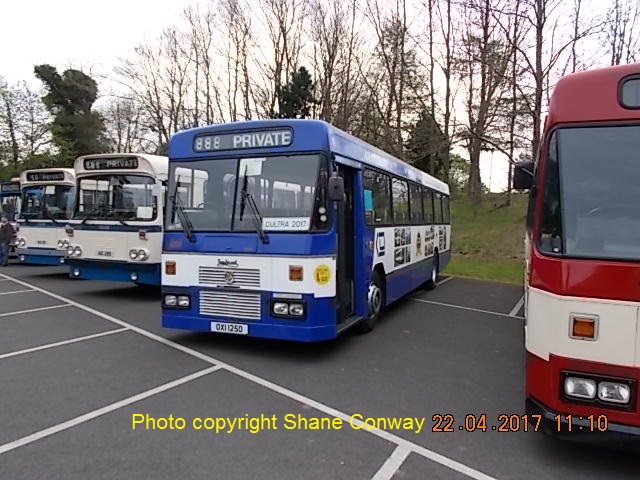 Another interesting livery spotted was this adaptation of one briefly carried by Leyland Tiger FXI 409, with a red themed version being applied to Citybus RELL 2171, around 1989 as I recall. Both versions were inspected by management staff and rejected for being "too fussy", but 1250's owner has gone to the trouble of doing his bus in similar colours, decorated with various Ulsterbus photos, including one of mine, which was nice to see....
Spotting this about to depart for Bangor, a quick dash (even at my age!!) saw me boarding it, my first time ever on a Tiger Cub, I believe. This was North Western's final Tiger Cub bought, and has been highly restored. The livery, if not the actual bus, has been immortalised on an EFE model, in AEC Reliance guise.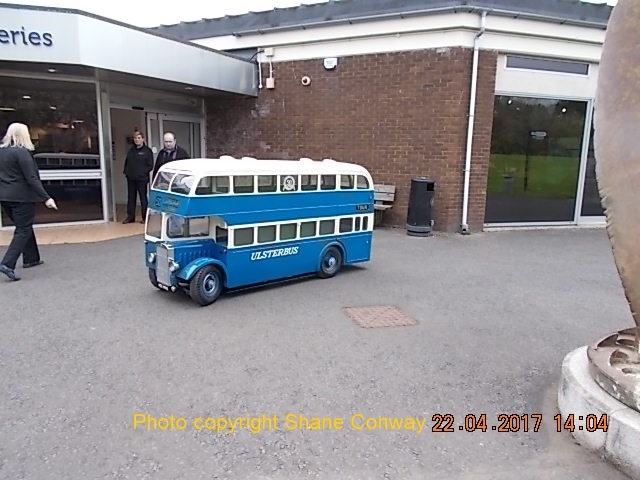 As part of the 50th anniversary, the Cultra museum folk put on a display of photos, posters, ticket machines etc., which was worth a look. A video display voiced over by the late Werner Heubeck, the charismatic M.D. of Ulsterbus from 1967 to 1988 was also worth a look, and I was left wondering how the company might have fared in its early years if he hadn't been appointed to that career path. Parked outside was this little gem, which I never knew existed until now. Based on the UTA lowbridge PD2s, this can hold six children and a driver I was told. But "elfin safety" prevented its use on the day.....
---
I T H BUS and COACH RALLY - 23 April 2016 (by Shane Conway)
April 23rd 2016 saw the staging of the 44th Irish Transport Heritage bus and coach rally at the Ulster Folk and Transport Museum, with an (as always) interesting mix of old and new vehicles covering a variety of makes. On the classic side of things, AEC, Albion, Bedford, Bristol and Leyland were represented, mostly covering vehicles with Northern Ireland connections, in particular the standard Alexander (Belfast) X type bodied Bristol RE and Leyland Leopard vehicles which typified Ulster's bus services for many years.
Three former NIRTB/UTA Leyland PS1s were in attendance, all with GZ reg numbers. GZ 7628 carries the older NIRTB livery which it would have been seen in when new, while the other two buses are restored in the later Ulster Transport Authority colours.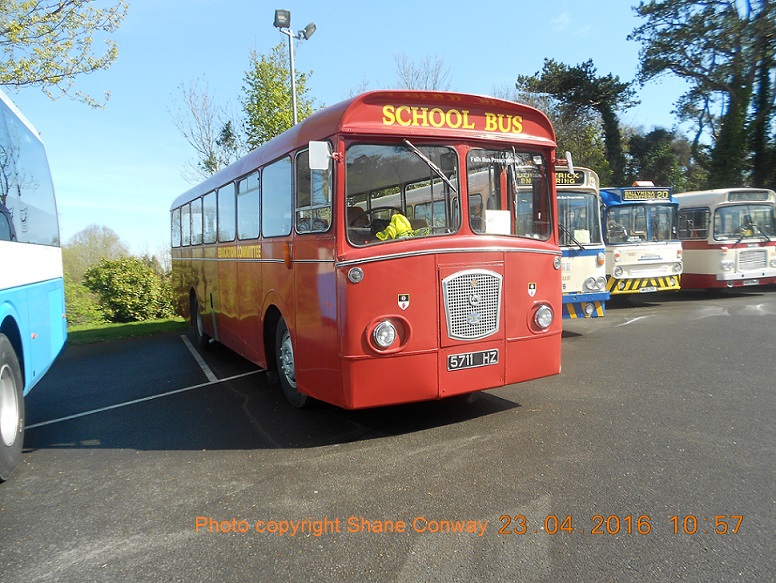 5711 HZ is one of two surviving M H Cars bodied Albion Vikings, both new to the Tyrone County Education Committee in 1966. The only other surviving example of this coachbuilder's output is the preserved Bournemouth Daimler Fleetline (ALJ 340B); none of the 151 similar Fleetlines built for Belfast has survived.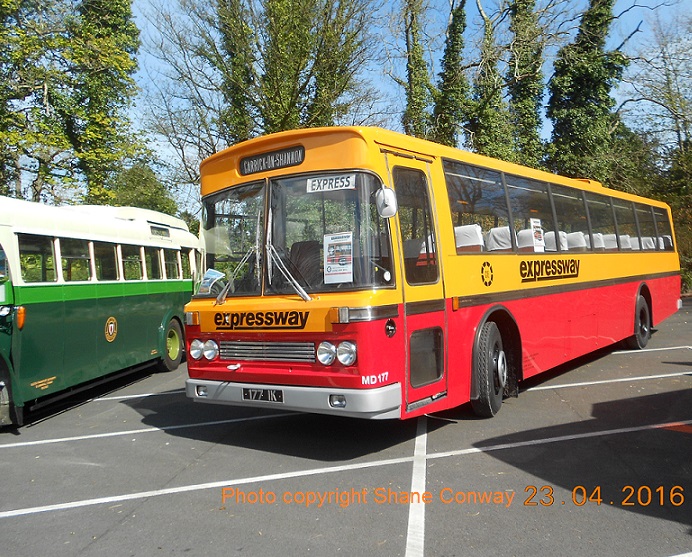 The only example of the 213 strong M class Leyland Leopards bodied by CIE currently on the road, 177 IK has been restored in the post 1975 Expressway livery of red and orange. The M class were the first large batch of 12 metre single deckers to enter service in the British Isles, from 1971 to 1974. 177 IK is one of those later fitted with a DAF engine, hence the "MD" reclassification.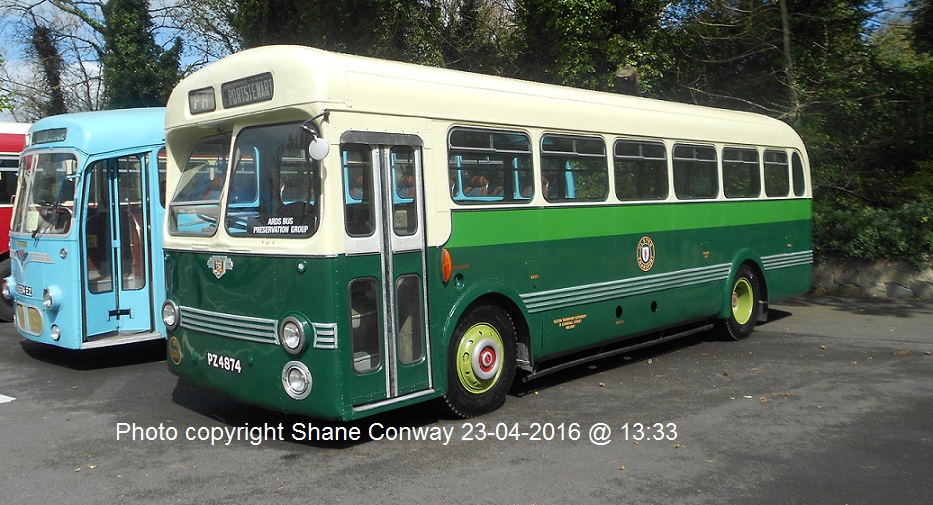 PZ 4874 dates from 1954, and was new as a Leyland Motors demonstrator. Acquired by the UTA in 1955, it was sold by Ulsterbus for preservation in February 1972, the very month that CIE placed M177 (above) into service!! Only five buses to date have carried "PZ" registrations, the others being a quartet of UTA Leyland Titans new in 1955.
Cross channel visitors make an appearance most years; this year saw a preserved ex Devon General AEC Reliance with Park Royal body. A chance to sample this bus on the road run was an opportunity too good to miss, and its classic AEC sound effects did not disappoint!! Alongside is seen the preserved NIRTB Bedford OWB, with a 1985 replica body built by Ulsterbus.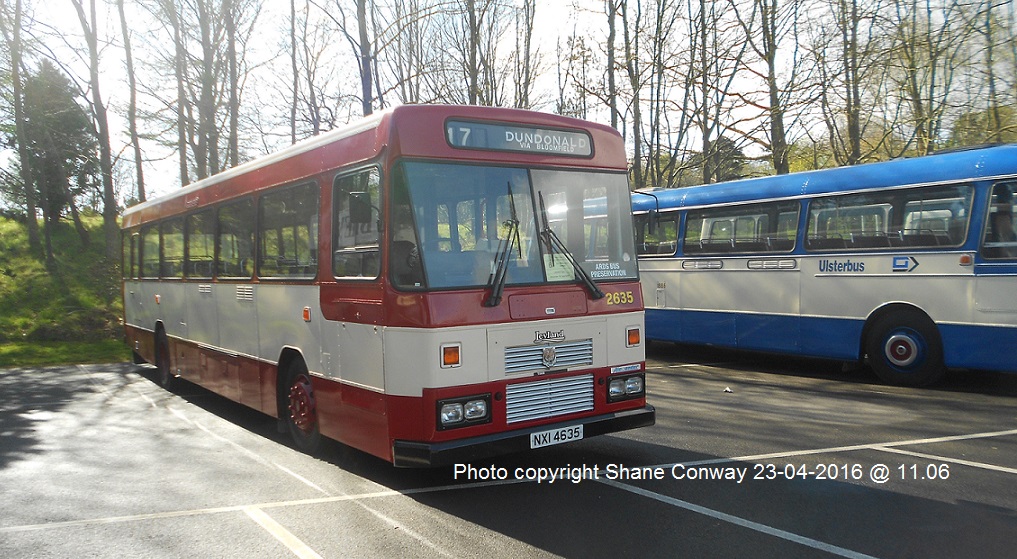 The final example of the batch of 35 Alexander (Belfast) N type bodied Leyland Tigers for Citybus of Belfast, NXI 4635 saw fifteen years service from May 1989. It has been in preservation since 2007 and is now restored to its original red and ivory colours.
---
DUBLIN PORT RALLY - 26 September 2015 (by Shane Conway)
The second Dublin Port Rally took place over a balmy late summer weekend (Saturday/Sunday) and drew an entry of around 150 vehicles on the first day, covering classic buses, trucks, cars and military vehicles. A shuttle tour service was also operated, this time using one Routemaster, again with this scribe as conductor, with a very unique stand-in bus running later in the day when the RM crew took a much needed meal break. A few photos to illustrate the variety of some of the exhibits (on the first day) follow.
First up is one of two visitors from the North West UK area. A112 HLV was new in February 1984 to Merseyside PTE as one of a batch of 54 Atlanteans, all with this style of Alexander bodywork. Alongside is ex London Buses MCW Metrobus M1255, now with Malahide Coaches on school contracts.
Recently acquired by Dublin Coach, HG 9651 is one of a batch of six Brush bodied Leyland PS1s new to Burnley, Colne and Nelson in 1947, flanked by ex CIE R788 and ex Ulsterbus 285. Two of the six PS1s were rebodied in 1960 by East Lancs as front entrance buses.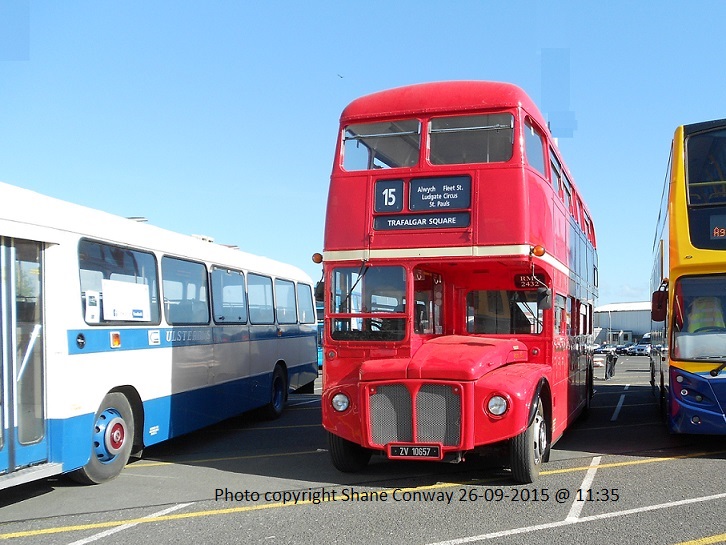 Another classic bus now operating in the Dublin area is Dualway Coaches ZV 10657, the former RML2432 which was new in March 1966.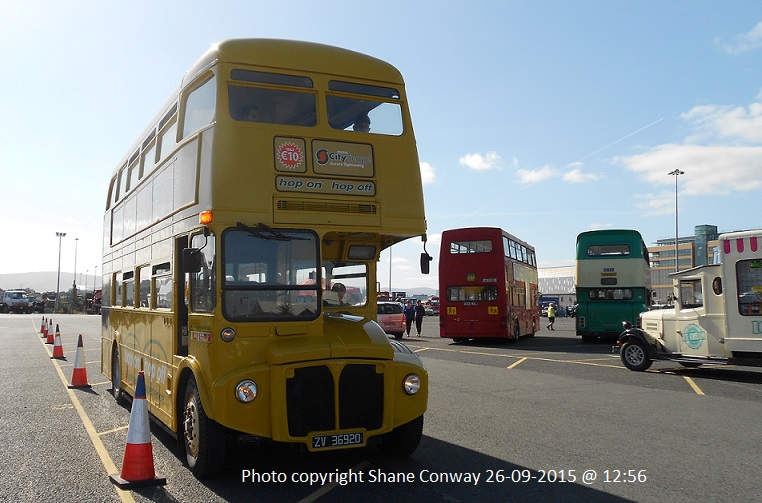 A second Routemaster, Dublin Coach's ZV 36920 (RM1185) was recently repainted into this yellow livery which has been adopted for the operator's Dublin City sightseeing tours.
Late in the afternoon, this impressive trio arrived together, showcasing the three types of CIE bodied Leyland Leopards. 1966 bus C234 is flanked by E152 (new 1964) on the left and 1972 bus MD177 on the right, the latter only recently restored.
A second triple line-up to be seen was this group of CIE Leyland PD3s, all in different liveries and with (incorrect) destination displays. From left to right RA106, RA73 and RA37.

The stand-in bus for the Routemaster trips was this 1984 General Motors "fishbowl" citybus, ex Toronto Transit Commission 2290, which is now preserved in the Dublin area. Almost 45,000 of these were produced between 1959 and 1986, a total which makes production runs of UK built buses look like small change!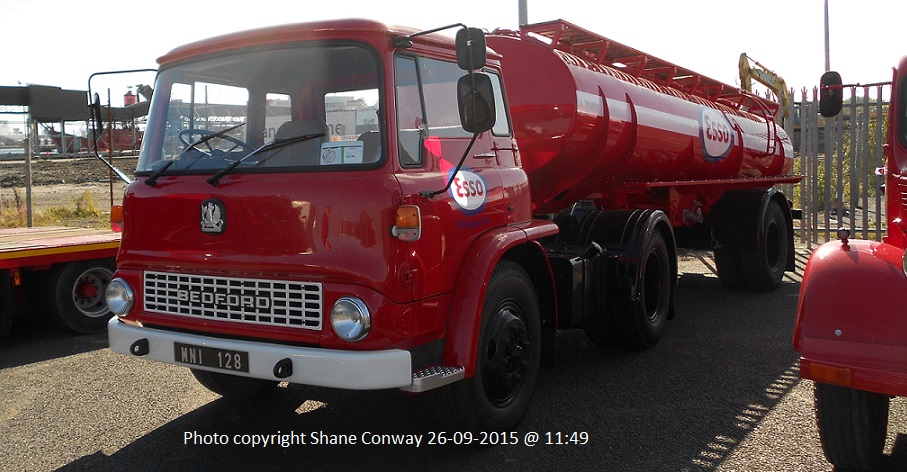 One of the many trucks entered was this smartly restored 1969 Bedford TK petrol tanker from Co. Wicklow.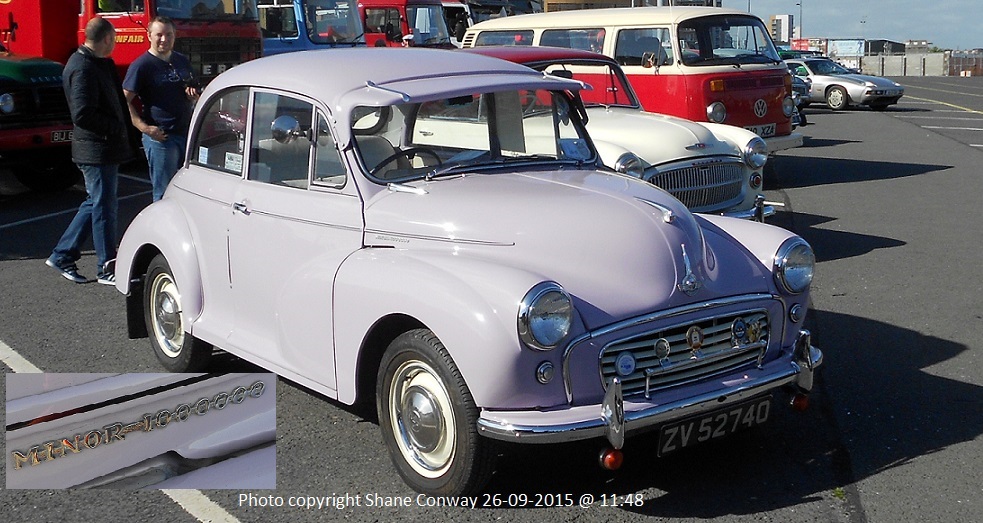 Another vehicle entered was this rare lilac-coloured Morris Minor 1,000,000, one of 350 produced in 1961 to mark the 1 millionth car to roll off the production line at the BMC Cowley plant.
---
SOME QUICK LINKS WITHIN THIS WEBSITE;&nbsp Home Email THE COMPLETE WEBSITE MENU Events Diary Links Small-Ads Halfcab list Classic Irish Buses
---