Bus Rallies and Shows
---
SOME QUICK LINKS WITHIN THIS WEBSITE;&nbsp Home Email THE COMPLETE WEBSITE MENU Events Diary Links Small-Ads Halfcab list Classic Irish Buses
To support this website, please click here to do all your Amazon shopping. Thanks.
---
Last updated 24 April 2017
This page lists personal views of local bus rallies and transport shows at which buses were present. Some are large, some are small, but most reports are biased and way out of date! I have also put together a diary of rallies, events, open days and running days where buses may be featured, and it can be found on the Events Diary page.
This colour scheme is a tribute to United Counties.
---
I T H BUS and COACH RALLY - 22 April 2017 (by Shane Conway)
April 22nd 2017 saw the staging of the 45th Irish Transport Heritage bus and coach rally at the Ulster Folk and Transport Museum, with this year's event also marking the 50th anniversary of the founding of Ulsterbus, an organisation from whom much of this year's classic selection originated. As with the previous year's event, there was a good mix of displays, with a couple of surprise entries. This year I managed to sample trips on four vehicles, ex Citybus RELL 2547 initially on the timed road run, changing to sister bus 2446 at a timing point, then to Leyland Tiger 2635, also ex Citybus and with a Gardner engine. A final trip was on a Tiger Cub on the afternon shuttle service to Bangor, with me in the firm belief that I had never before been on a PSUC1 anywhere, at any time............
This trio of former NIRTB/UTA buses was parked separately from the main display, possibly for space reasons. From left to right, we have a Leyland Tiger Cub, Leyland PS1 and a Bedford OWB.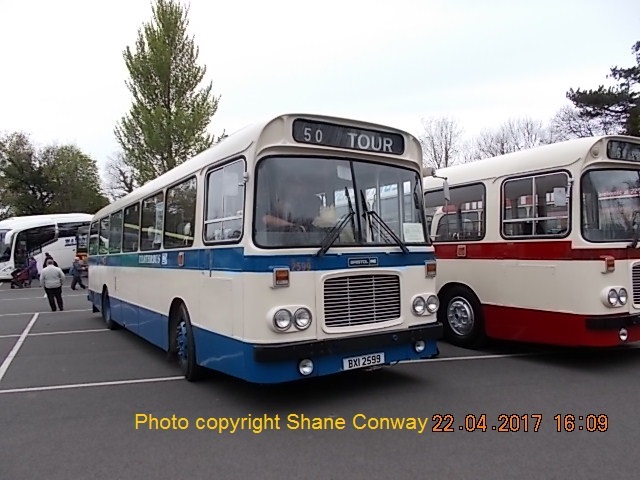 At the 1994 event I photographed Bristol RELL BXI 2600, numerically the last in the Ulsterbus fleet, but not the last one to be bodied or to enter service. Since its unplanned destruction in 1996, the mantle of youngest RE on the planet has fallen to its sister BXI 2599, which is preserved in Nottingham these days and had not been in Ulster for ten years. However it returned for a week's visit in connection with the 50th, and its owners picked up a bit of silverware when the awards were being dished out.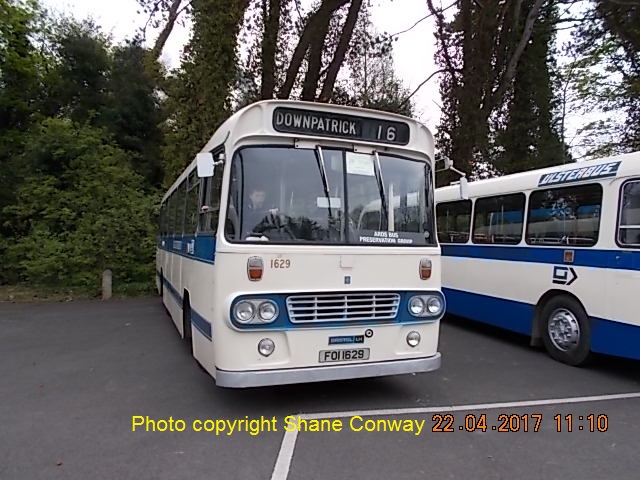 Ulsterbus bought 100 Bristol LH/Alexander B45F in 1973, of which this was both the first into service, and the last one to be withdrawn. The now unique vehicle has been in preservation for over 20 years, and was the sole example of the Ulsterbus lightweight fleet on display.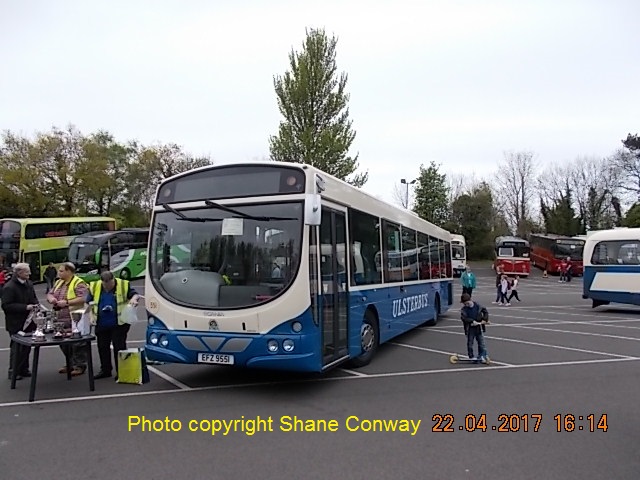 This thingy is, I am told, a Wrights bodied Scania of some description -- I know not what and care even less. However, seeing as Ulsterbus went to the trouble of painting it into a retro/heritage colour scheme based on their original livery, it was definitely worth getting a quick photo of it.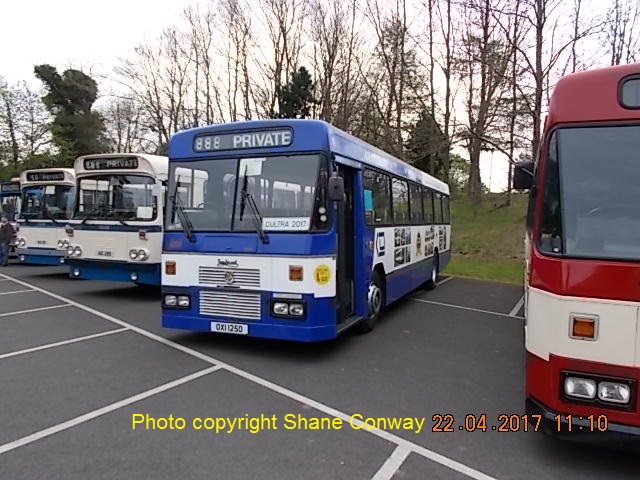 Another interesting livery spotted was this adaptation of one briefly carried by Leyland Tiger FXI 409, with a red themed version being applied to Citybus RELL 2171, around 1989 as I recall. Both versions were inspected by management staff and rejected for being "too fussy", but 1250's owner has gone to the trouble of doing his bus in similar colours, decorated with various Ulsterbus photos, including one of mine, which was nice to see...........
Spotting this about to depart for Bangor, a quick dash (even at my age!!) saw me boarding it, my first time ever on a Tiger Cub, I believe. This was North Western's final Tiger Cub bought, and has been highly restored. The livery, if not the actual bus, has been immortalised on an EFE model, in AEC Reliance guise.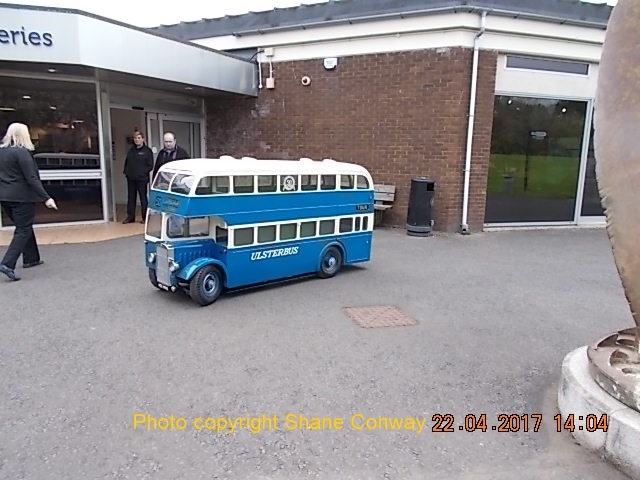 As part of the 50th anniversary, the Cultra museum folk put on a display of photos, posters, ticket machines etc., which was worth a look. A video display voiced over by the late Werner Heubeck, the charismatic M.D. of Ulsterbus from 1967 to 1988 was also worth a look, and I was left wondering how the company might have fared in its early years if he hadn't been appointed to that career path. Parked outside was this little gem, which I never knew existed until now. Based on the UTA lowbridge PD2s, this can hold six children and a driver I was told. But "elfin safety" prevented its use on the day....................
---
I T H BUS and COACH RALLY - 23 April 2016 (by Shane Conway)
April 23rd 2016 saw the staging of the 44th Irish Transport Heritage bus and coach rally at the Ulster Folk and Transport Museum, with an (as always) interesting mix of old and new vehicles covering a variety of makes. On the classic side of things, AEC, Albion, Bedford, Bristol and Leyland were represented, mostly covering vehicles with Northern Ireland connections, in particular the standard Alexander (Belfast) X type bodied Bristol RE and Leyland Leopard vehicles which typified Ulster's bus services for many years.
Three former NIRTB/UTA Leyland PS1s were in attendance, all with GZ reg numbers. GZ 7628 carries the older NIRTB livery which it would have been seen in when new, while the other two buses are restored in the later Ulster Transport Authority colours.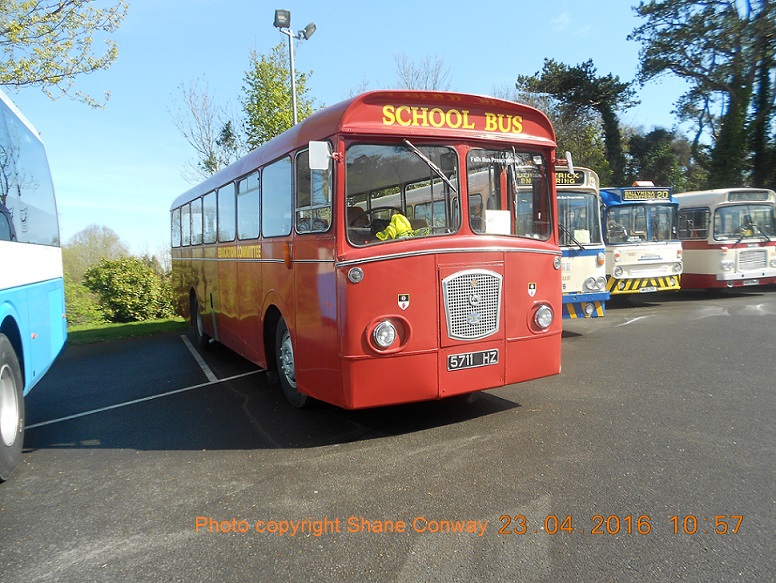 5711 HZ is one of two surviving M H Cars bodied Albion Vikings, both new to the Tyrone County Education Committee in 1966. The only other surviving example of this coachbuilder's output is the preserved Bournemouth Daimler Fleetline (ALJ 340B); none of the 151 similar Fleetlines built for Belfast has survived.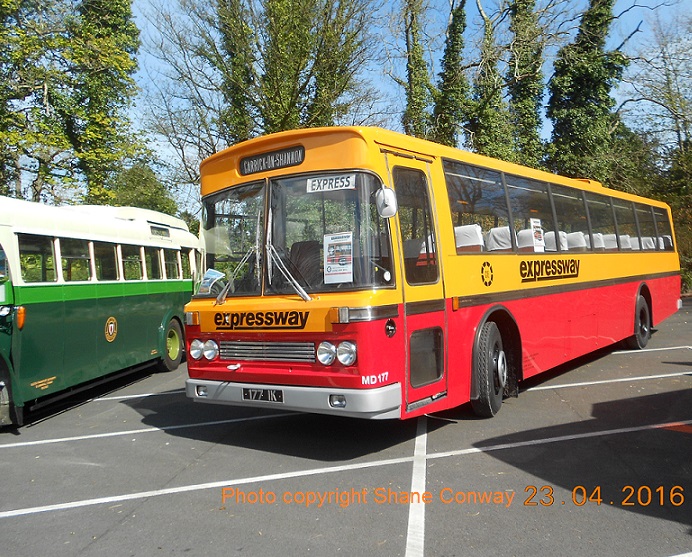 The only example of the 213 strong M class Leyland Leopards bodied by CIE currently on the road, 177 IK has been restored in the post 1975 Expressway livery of red and orange. The M class were the first large batch of 12 metre single deckers to enter service in the British Isles, from 1971 to 1974. 177 IK is one of those later fitted with a DAF engine, hence the "MD" reclassification.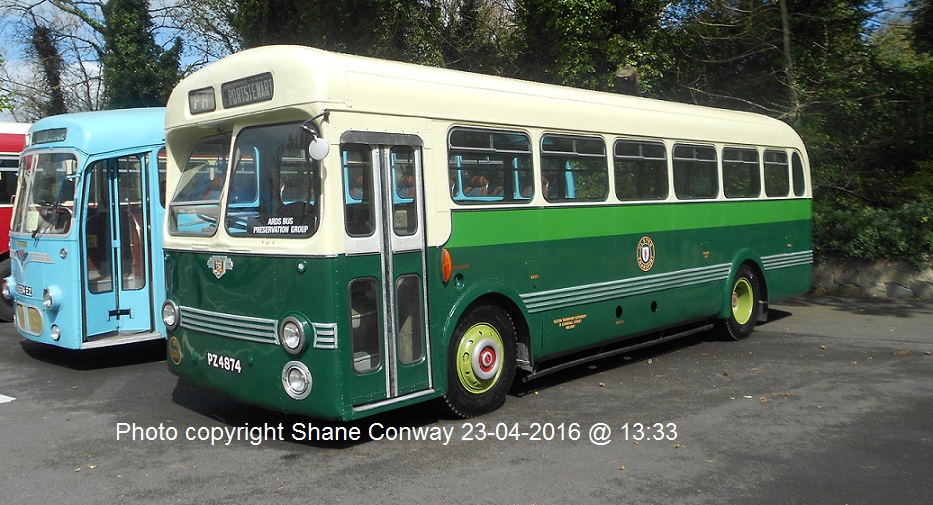 PZ 4874 dates from 1954, and was new as a Leyland Motors demonstrator. Acquired by the UTA in 1955, it was sold by Ulsterbus for preservation in February 1972, the very month that CIE placed M177 (above) into service!! Only five buses to date have carried "PZ" registrations, the others being a quartet of UTA Leyland Titans new in 1955.
Cross channel visitors make an appearance most years; this year saw a preserved ex Devon General AEC Reliance with Park Royal body. A chance to sample this bus on the road run was an opportunity too good to miss, and its classic AEC sound effects did not disappoint!! Alongside is seen the preserved NIRTB Bedford OWB, with a 1985 replica body built by Ulsterbus.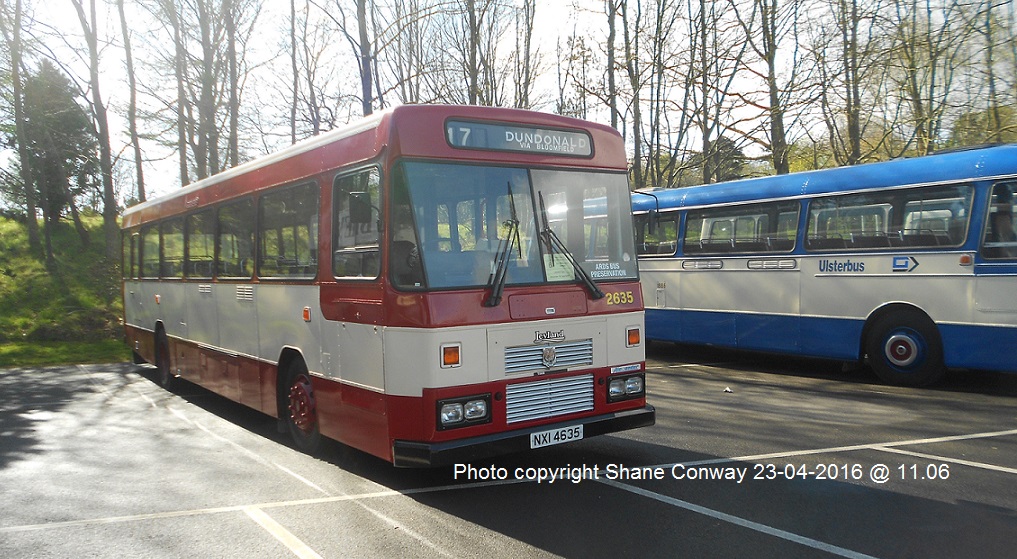 The final example of the batch of 35 Alexander (Belfast) N type bodied Leyland Tigers for Citybus of Belfast, NXI 4635 saw fifteen years service from May 1989. It has been in preservation since 2007 and is now restored to its original red and ivory colours.
---
DUBLIN PORT RALLY - 26 September 2015 (by Shane Conway)
The second Dublin Port Rally took place over a balmy late summer weekend (Saturday/Sunday) and drew an entry of around 150 vehicles on the first day, covering classic buses, trucks, cars and military vehicles. A shuttle tour service was also operated, this time using one Routemaster, again with this scribe as conductor, with a very unique stand-in bus running later in the day when the RM crew took a much needed meal break. A few photos to illustrate the variety of some of the exhibits (on the first day) follow.
First up is one of two visitors from the North West UK area. A112 HLV was new in February 1984 to Merseyside PTE as one of a batch of 54 Atlanteans, all with this style of Alexander bodywork. Alongside is ex London Buses MCW Metrobus M1255, now with Malahide Coaches on school contracts.
Recently acquired by Dublin Coach, HG 9651 is one of a batch of six Brush bodied Leyland PS1s new to Burnley, Colne and Nelson in 1947, flanked by ex CIE R788 and ex Ulsterbus 285. Two of the six PS1s were rebodied in 1960 by East Lancs as front entrance buses.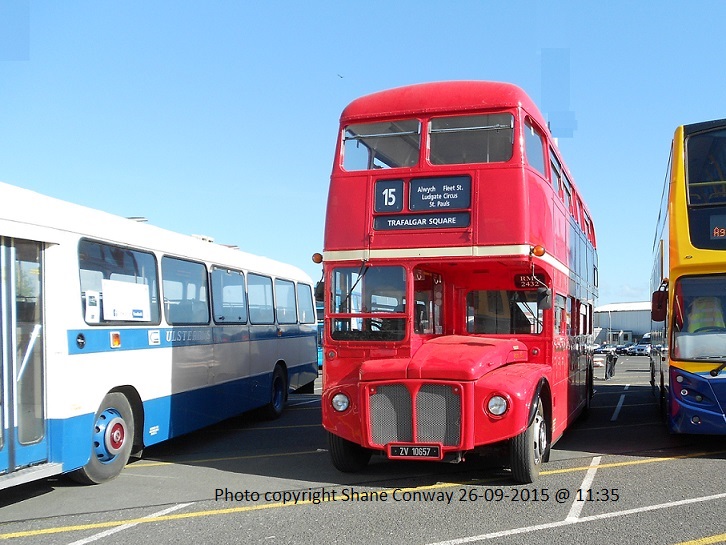 Another classic bus now operating in the Dublin area is Dualway Coaches ZV 10657, the former RML2432 which was new in March 1966.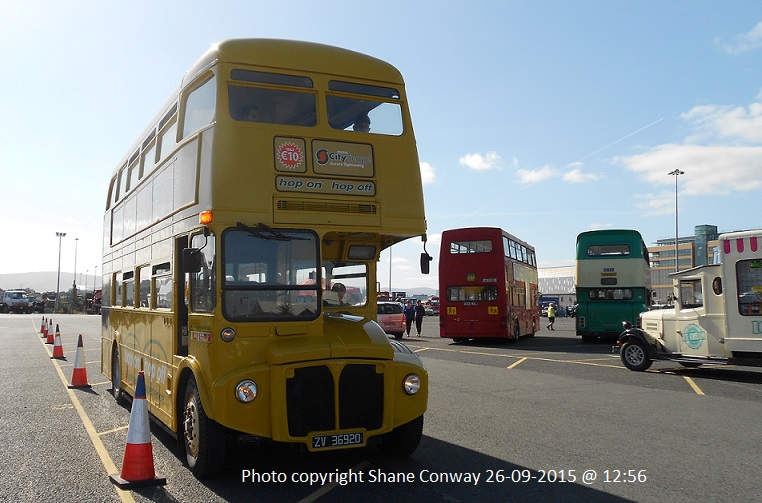 A second Routemaster, Dublin Coach's ZV 36920 (RM1185) was recently repainted into this yellow livery which has been adopted for the operator's Dublin City sightseeing tours.
Late in the afternoon, this impressive trio arrived together, showcasing the three types of CIE bodied Leyland Leopards. 1966 bus C234 is flanked by E152 (new 1964) on the left and 1972 bus MD177 on the right, the latter only recently restored.
A second triple line-up to be seen was this group of CIE Leyland PD3s, all in different liveries and with (incorrect) destination displays. From left to right RA106, RA73 and RA37.

The stand-in bus for the Routemaster trips was this 1984 General Motors "fishbowl" citybus, ex Toronto Transit Commission 2290, which is now preserved in the Dublin area. Almost 45,000 of these were produced between 1959 and 1986, a total which makes production runs of UK built buses look like small change!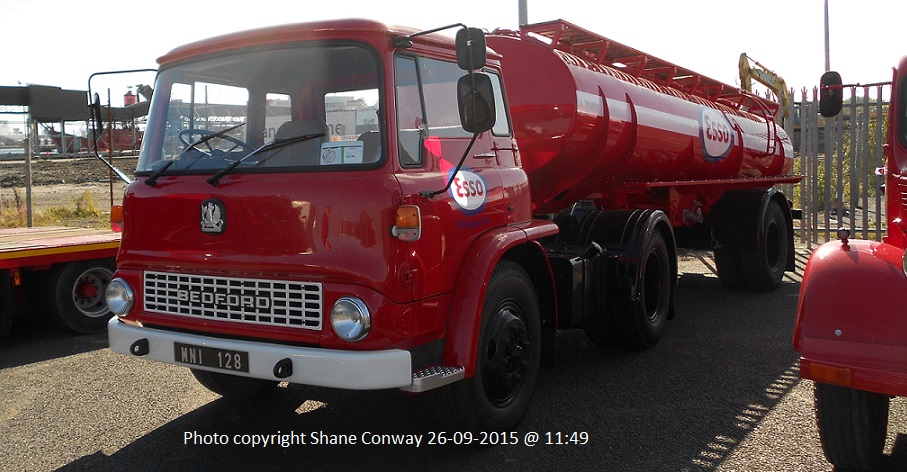 One of the many trucks entered was this smartly restored 1969 Bedford TK petrol tanker from Co. Wicklow.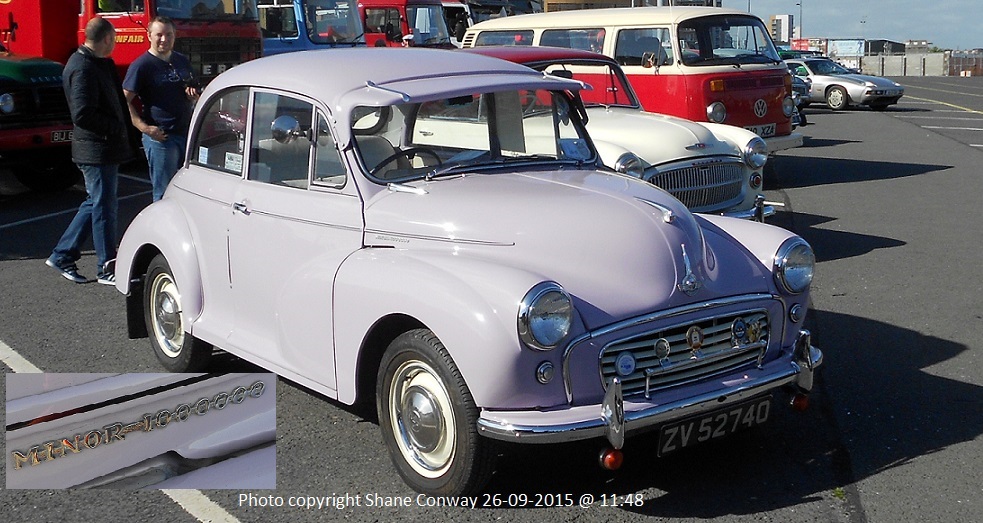 Another vehicle entered was this rare lilac-coloured Morris Minor 1,000,000, one of 350 produced in 1961 to mark the 1 millionth car to roll off the production line at the BMC Cowley plant.
---
EXETER TWILIGHT RALLY - 9 November 2014
Nick Muir kindly sent in some photos taken in Exeter city centre, depicting preserved Exeter Corporation buses running late afternoon winter Sunday services in their native city. This event has been run since 2010, which was the 40th anniversary of the takeover of Exeter's green and cream buses by Devon General.
First up is EFJ 666, a 1938 Leyland Tiger TS8 with a Cravens B32R body which entered service in December of that year.
And a rear view of EFJ 666, showing its unusual (for a single deck bus) open rear platform.
Next we see Daimler CVD6 JFJ 873, a 1950 Weymann B35F bodied bus.
TFJ 808 is a 1956 Guy Arab IV bodied by Massey Brothers in Wigan.
Finally, VFJ 995 is one of a batch of five Weymann bodied Leyland PD2/40s, dating from May 1958. Thanks to Nick (conductor on JFJ 873 on the day) for sending in the photos.
---
DUBLIN PORT RALLY - 28 September 2014 (by Shane Conway)
The first (hopefully the first of many) Dublin Port Rally took place on on a balmy late summer Sunday and drew an entry of around 200 vehicles, covering classic buses, trucks, cars and military vehicles. A shuttle tour service was also operated, using two Routemasters, one of which had this scribe as conductor, and taking buses and passengers into a secure cargo handling area of the port complex not usually open to the public. Before that got underway, I managed to get photos of some of the exhibits.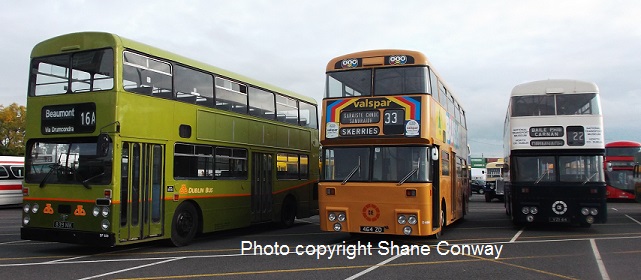 Owned by Darren Hall, 464 ZD is one of the 840 Atlanteans bought new by CIE between 1966 and 1977. New in 1972, it later became a sightseeing bus and lost its centre door, but fortunately not its roof, unlike its contemporaries. Alongside is one of the early single door buses, with one of the Van Hool McArdle bodied AN68s on the left of the photo. Also visible are one of the famous GNR-Gardners, a brand new Borismaster, and an ex Toronto GMC "fishbowl" city bus.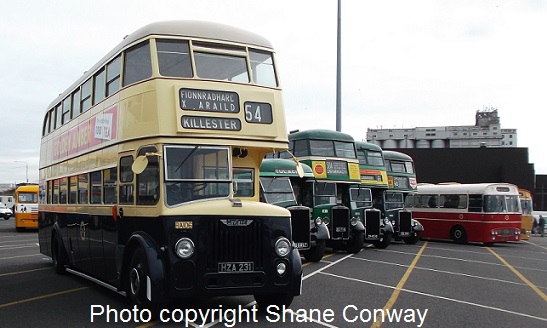 Gerry Mooney's superbly restored Leyland PD3, ex CIE RA106 of 1960, is seen in the company of several other examples of the CIE fleet of Leyland buses. Next to RA106 is Tiger PS2 P347, then Titans R1 (a 1937 TD4), R389 (1949 PD2) and R788 (1958 OPD2), with Leopards C176 and 160 at the far end, and Bedford VAS5 SS1 hiding behind the PD3. P347 and C160 were both allocated to Ballina garage in County Mayo in 1966, but then went their separate ways and were only re-united at this event, after a mere 48 years....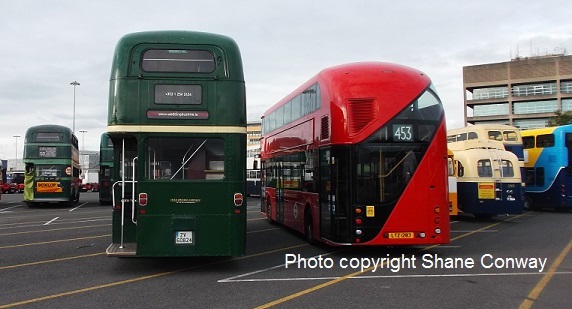 Entered by Wrightbus, LT283 is seen alongside former London Transport green Routemaster RML2434. This was one of the two RMs used on the tour shuttle, which attracted quite good loadings on each run. I had a look inside the LT later in the day, well laid out internally, but the external styling takes a bit of getting used to, especially compared to its more traditional predecessor.
Another green ex London bus, GS84 was the sole Guy bus entered in the event. Ex Trent Tiger Cub HRC 102C is seen alongside, as well as Ireland's oldest working Ford Transit minibus, owned by the same family from new.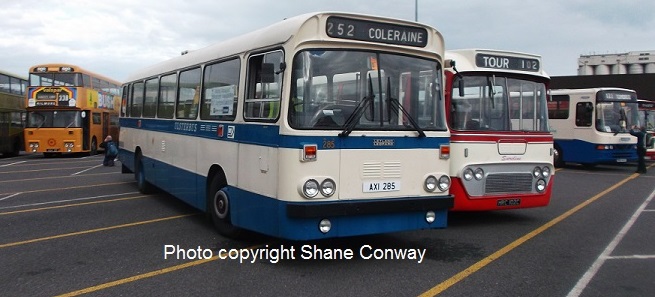 One of several examples of the standard Ulsterbus Leyland Leopard now in preservation, 285 is now owned by Richard Davis of the Manx Transport Enthusiasts Association in Douglas, Isle of Man, although the bus is currently outstationed in the U K, meaning its owners undertook no less than four crossings of the Irish Sea to collect the bus, bring it to and from Dublin, and then get back home.
My workplace for part of the day, the former RM1185, seen on the docks area while doing the tour of the port. Usually the only way to see this area is from the deck of a passing ship. Both buses (the other being RML2434) used on the tour last worked together on the final day of half-cab operation on London's route 38 to Clapton, some nine years earlier.

Finally, a couple of examples of the variety of trucks that arrived for the day. JZE 156 and UZO 226 both have bus connections, as their later service years were spent as towtrucks with Dublin Bus. Now reconverted to their original tractor unit format, they are seen here in the company of a rare Commer tractor unit. Shortly after this event, a scale model of JZE 156 in this format was produced by B-T Models.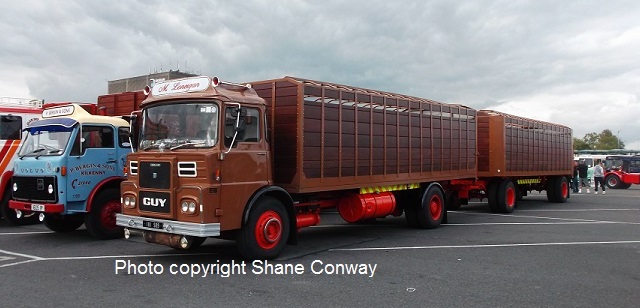 Easily the longest vehicle entered, this smart looking Guy Big J truck and drawbar trailer combination was fully restored a few years back. Its owners also have a similarly liveried AEC Mandator with matching trailer; both of these vehicles have been the subject of features in Irish Vintage Scene magazine.
---
SOUTH COAST EXPRESS - 22 June 2013
The South Coast Express was a coach service from Bournemouth to Margate, started in 1929 jointly by Southdown, Hants & Dorset, and East Kent (and later incorporating Royal Blue) and which continued in various forms up to the 1980s. Each year the Thames Valley & Great Western Omnibus Trust organises a road run for coaches - usually with a Royal Blue / Associated Motorways connection - but for 2013 it was decided to re-create the South Coast Express. Your Classic Buses Website roving reporter went to check out part of the East Sussex leg of the journey.
We join the procession as it climbs the A259 coast road steeply out of Eastbourne up onto the south downs above Beachy Head and the cliffs of the 'Seven Sisters'. This represents a fearsome ascent of some 500 feet in little more than a mile. First to reach the top was Jonathan Radley's Red & White Bristol RELH RC968 (OAX 9F) dating from 1968. The convoy was scheduled to pass through Eastbourne at 1335 and Jonathan was right on schedule.
A moment or so later another Bristol RELH reached the summit. This was Mel Williams' Royal Blue 1460 (OTA 632G) with a good queue of cars behind him. In the background you can see the splendid panorama of Eastbourne town, with Pevensey Bay at top right, and the coastline stretching on towards Bexhill and Hastings.
Not far behind was John Handford's Bristol MW6G EDV 502D, Royal Blue 1420 from 1966, with "Brighton" on its blind. It was really blustery up on the top of the ridge, and the rain had only recently cleared, but the forecast was for improvement, and that's what we eventually got.
More than a decade older was John Grigg's Bristol LS6G, Royal Blue 1299 (OTT 98) dating from 1953. It's quite a challenge for any vehicle to negotiate this long hill, so congratulations to the owners and drivers who made it, particularly with older coaches.
With Eastbourne Downs Golf Club situated off to the left, here is David Sheppard's 1962 Bristol SUL4A in Western National livery as 425 (275 KTA). The jolly passengers waved happily to me as they went by.
A mile and a half further west, the road plummets back down to the village of East Dean, only to climb rapidly up again to Friston - a climb of 200 feet in only half a mile. This can bring even the strongest to a grinding halt, so it's a relief to see that Richard Johnson's 1966 Bristol MW6G Royal Blue 1423 (EDV 505D) has made it up into Friston, albeit with a fine queue of vehicles in tow.
Also at Friston is Royal Blue 2200 (OTT 43), Roger Burdett's 1953 Bristol LS6G, which has successfully panted its way up the hill from East Dean, and now has a bit of level driving ahead of it before the next onslaught at Cuckmere Haven.
About 3 miles further on, the Cuckmere (pronounced "Cookmere") valley, back down at sea level, is crossed by a causeway ending at Exceat (pronounced "Exit") Bridge, only wide enough for one vehicle at a time. About half an hour behind the leaders, this is Gary Dwyer's lovely East Kent AEC Reliance KFN 220 crossing the bridge. I love these vehicles and it was delight to see it.
By the time Lionel Tancock's delightful 1947 Wilts & Dorset Bristol L6B (EMW 284) crossed the bridge over the River Cuckmere, the sun was out and it had turned into quite a pleasant day. After the bridge, the road turns up the west side of the valley, climbing about 150 feet in half a mile to enter the town of Seaford.
Here comes the boss! Colin Billington's 1951 Bristol LL6B, Royal Blue 1250 (LTA 729), came roaring lustily off the bridge and round the corner, so it seemed to be having no difficulty with the ups and downs of Sussex.
In a way, this was the oldest vehicle so far, as the guts of Richard Perry's East Kent Beadle rebuild came from a 1938 Leyland TD5 double decker. I remember when Beadle rebuilds were very common (although I never saw one on the South Coast Express) and have a soft spot for them, so it was great to see this old stager in action.
The coaches I recall seeing most frequently on the South Coast Express were these, and they epitomise the service as I remember it. This 1961 Bristol MW6G, Royal Blue 2246 (625 DDV), belongs to Graham Thorogood. In the left background you can just see the coast road descending rapidly down the other side of the valley - another challenge for the brakes!
We're now about 50 minutes since the first coach led the wagon train past me, and I had to depart for another appointment, so this fabulous Maidstone & District 1962 Harrington Cavalier (Mike Pack's 28 TKR) is where I had to leave the proceedings. I was surprised that I didn't see any other photographers recording the event over this stretch of the south downs, but I guess that means I'm the only one who got pictures like these!
Anyway, sincere congratulations to the organisers - I thought it was a wonderful thing to have done, and a joy to behold.
P.S. A nice bit of video (not mine) at Winchelsea here.
---
HCVS LONDON TO BRIGHTON RUN - 5 MAY 2012
Terry Blackman very kindly sent these pictures taken in Madeira Drive, Brighton, at the end of the annual Historic Commercial Vehicle Society London to Brighton run.
Entrant J8 was a fabulous Leyland Tiger TS7, new to Stockport as their number 191 in 1937. David Hoare's JA 7591 has an uncommon English Electric body with a centre entrance. The "GSR" logo on the side deserves some explanation; several vehicles were used in the filming of the 1999 movie "Angela's Ashes" (with Robert Carlyle and Emily Watson), and this was one of them. Filmed in Ireland, they were given false Irish registration numbers and liveries, and JA 7591 was painted with this "Great Southern Railway" insignia, which it still wears.
Entrant K1 was a Leyland Comet - fairly rare in UK, but common as muck in New Zealand. MHY 765 was the first Comet PSV chassis, and was delivered to Orient Coaches of Kingswood, Bristol in 1950 but currently lives in Sheffield. The 32-seat body is by Duple. Present owners Terry and Hazel Ellin acquired the coach in 1995 and have been lovingly restoring it ever since.
Entrant K8 was Roger Burdett's fine Bristol MW6G from 1961. It was Western National 2267, but wore Royal Blue livery for express coach services. I remember coaches like this on the South Coast Express service swinging through Eastbourne, where we considered them pretty unusual and exotic (Sussex was not renowned for Bristol products). Four of this batch survive out of sixteen delivered that year (2254-2269) but this would seem to be the only one currently 'out and about'.
Many thanks to Terry for these photos.
---
NORWICH BUS RALLY, NORWICH SHOWGROUND - 5 SEPTEMBER 2010
John Wakefield kindly sent me these pictures of some fine coaches seen at Norwich. As usual with John, most of them are Bedfords!
Bedford OB LTT 913 had just emerged from a four-year restoration. New to Sunbeam of Torquay in 1949, it was entered by the BK Museum, Hepworth, Sufolk.
This Plaxton-bodied Bedford SB5 was new to Appleby, Conisholme in 1974 and still wears their livery. Entered by Stones of North Somercotes.
A pair of 1962 Bedford SB / Duple Super Vegas. XDL 730 (an SB8, new to Southern Vectis, Isle of Wight as No.249) has been a motorhome for about 20 years, but is in very good shape, and was entered by Reuben Youngblood. 675 OCV (an SB3, and the last coach to be acquired by Crimson Tours of St.Ives, Cornwall before they ceased operating) was brought along by Len Wright who has proudly owned it for many years.
LAO 630 is an Albion Victor with a (probably unique) Duple body, new to J.H.Henderson of Alston, Cumbria in 1952, and entered by Easton's of Stratton Strawless.
Thanks very much to John for the photos of these slightly more unusual vehicles.
---
BRISTOL VINTAGE BUS GROUP, BRISLINGTON RUNNING DAY - 28 MARCH 2010
Ken Jones very kindly sent me these pictures from the Bristol Vintage Bus Group mini running day.
Left to right in this picture at Flowers Hill are DHW 293K (Bristol Omnibus 1972 Bristol LH6L No.353), LFM 767 (Crosville 1950 Bristol L5G No.KG118), NHU 2 (Bristol Omnibus 1951 Bristol LSX5G No.2800), and AHU 803 (Bristol Omnibus 1934 Bristol JO5G No.2355).
Here's a closer view of the delightful AHU 803, which belongs to the Bristol group, and is seen at Willsbridge, near Keynsham. Originally built as a coach, it was rebodied as a bus in June 1947.
Fewer than ten Bristol JO5G vehicles survive today, so we are fortunate to have this outstanding example with us. Here is the beautifully restored interior. Many thanks to Ken for sending these excellent images.
---
CHATSWORTH PRESERVED BUS GATHERING - 22 JUNE 2008
Chris Wagstaff was travelling through the magnificent Chatsworth Park in Derbyshire on 22 June when he noticed some elderly buses parked in front of Chatsworth House, so he went to investigate. Fortunately Chris thought immediately of the Classic Buses Website, and kindly whipped out his trusty camera. Here are the results.
We must start with one of Chris's favourite types - the Bedford OB. This is ATS 408, a typical Duple-bodied example from 1948. Delivered new to a company in Scotland, it is now operated by Simpson & Smith, of Killamarsh near Sheffield, wearing the livery of Cosy Coach Tours.
And here's another one. FWW 596 also has a Duple body, but this time with windows in the roof to brighten up the interior. It was delivered new to West Yorkshire Road Car Co. in 1947 as their number 646 (later renumbered CP1), and now lives in Bradford.
From the other end of the country comes HOD 30, a 1948 Western National (Royal Blue) Bristol L6A with a Beadle coach body. It was wonderfully restored in the late 1990s and is now operated by Yesteryear Coaches of Shipley.
LTA 629 also comes from the West Country, having been delivered new to Devon General (Grey Cars) in 1950 as their number TCR629, although it has more commonly been seen in Scotland in recent years. It is an AEC Regal III with a classic Duple "A" style of body.
JRA 635 is one of two ex-Chesterfield Leyland PS1 Tigers to survive, although the other one is in poor shape. No.48, new in April 1947, is now owned by TM Travel back in its home town of Chesterfield. The 35-seat bus body was made by Crossley.
Looking terrific in its Yorkshire Woollen District Transport livery is HD 7905, a 1948 Leyland Tiger PS1 with a Brush 34-seat bus body. This one would have won the Classic Buses Website award (if there was such a thing!). Restoration was completed in 2002, and it now lives in Leeds.
Lastly we have JFJ 873, a 1949 Daimler CVD6SD with a Weymann bus body, new to Exeter Corporation as No.73, later No.173. It now belongs to John Handford, and lives in Solihull. Sister bus JFJ 875 also survives.
Many thanks to Chris for sending these fine photos.
---
IPSWICH TRANSPORT MUSEUM - 7 OCTOBER 2007
"Come and Ride on our Buses!", was the invitation at Ipswich Transport Museum, Suffolk for their open day on 7 October 2007. Owen Phillips was rostered for conducting on the day, but still managed to take some fine photos, a few of which are shown here;
The first picture shows three of the vehicles seen on the day. On the left is ADX 1, the first motorbus purchased by Ipswich Corporation. New in May 1950, Ipswich No.1 is an AEC Regent III with a Park Royal body, and has been with the Museum since its withdrawal from service in 1973. Next is GR 9007, a glorious Crossley DD42, privately owned and hailing from nearby Essex, although originally from faraway Sunderland where it was new in 1947 as their No.13. This bus has been the subject of a massive restoration exercise by Tony Melia and John Jackson, which has taken around 10 years, and was finally completed in 2007. On the right is KNG 374, a Bristol K5G bought in 1950 by Eastern Counties and numbered LK374. It is a part of the Museum collection and this event was its launch to the public, now fully restored if not quite up to MOT standards yet. It certainly does look good in Tilling red and cream and is the only ECOC lowbridge K restored. Unfortunately none of those three fine vehicles was in operation during the day, and they were only on display.
Below is another Ipswich Regent;
Ipwich No.63 (ADX 63B) is a 1964 AEC Regent V with a Massey body which has been a Museum resident for over 20 years. It was owned by Ipswich buses from new in 1964 to the early 1990s when the MD had its ownership transferred to the Ipswich Transport Museum. Subsequently they have maintained it in operational condition, and it is largely original, as with ADX 1 above.
Another local bus is shown below;
Owned by well-known restorer and Eastern Counties enthusiast Patrick Burnside, this is Eastern Counties LC556 a Bristol SC4LK which entered service in 1959. Rescued from a scrapyard in the 1970s, it was kept at various sites until Patrick acquired it in 1993. Like the Crossley shown above, its restoration was eventually completed this year. A work of art, and congratulations to Patrick. Finally another Museum exhibit;
VF 8157 is a Chevrolet LQ with a Bush & Twiddy body, and dates back to 1930. Operated by Mulleys from 1940, the vehicle is actually a combination of two, and the present body is not the original. Rescued by preservationists in 1959, its actually pedigree is a little murky but the condition in which it is now displayed brilliantly demonstrates the classic style of coach available in the 1930s for trips to the coast or works outings. A magnificent exhibit.
For more details of the Ipswich Transport Museum see there website here, and many thanks to Owen for sending me the pictures.
---
EASTBOURNE BUSES RUNNING DAY - 23 JULY 2006
A few photos taken on a splendid Sunday in 2006 when classic buses were running throughout the town, and also recreating regional routes. The event was organised by Country Bus Rallies, and supported by the Eastbourne Regent Preservation Group, Eastbourne Borough Council and the East Sussex Omnibus Society.
A delightful bus on a wonderful day in pleasant surroundings - what more could one ask ? Preserved 1939 Eastbourne Leyland LT8 Lion No.12 (JK 8418) passes the Carpet Gardens near the Pier, on its way along the seafront towards the Foot of Beachy Head. (Photo: Dick Gilbert)
Also passing the Pier is Steven Wood's fine ex-Eastbourne Regent V No.69 (KHC 369) which worked hard all day. Steven says he knows the yellow isn't right, but that's how it was when he bought it, and he'll get round to changing it eventually! (Photo: Dick Gilbert)
This picture was taken at Eastbourne's Miniature Railway site (used for the static display) the previous day, and shows Eastbourne AEC Regents No.42 (AHC 442), 69 (KHC 369) and 67 (KHC 367). Unfortunately 67 developed a mechanical problem after about an hour on the Sunday and had to be taken out of service. (Photo: Steven Wood)
Here is Scott McAvoy, proud conductor of Eastbourne 1950 AEC Regal No.11 (AHC 411). The driver was Garth Porrell, and Scott describes himself as "KK72042 Bus Rally Conductor for hire for rallies in Kent, Hampshire and Sussex, comes with full uniform and Ticket Machine!". (Photo: Ray McAvoy)
Southdown Route 15 was originally jointly operated with Maidstone & District between Eastbourne and Hastings, running inland via Hailsham. The part between Eastbourne and Polegate was recreated on the running day by Southdown 1956 Leyland Titan PD2 No.786 (RUF 186), and here we see it storming along Upperton Road with a very full load, on its way out of town. (Photo: Dick Gilbert)
Another jointly-run route between Eastbourne and Hastings was the 99, which took the coast road. The section as far as Pevensey Bay was recreated by ex Maidstone & District 1951 Titan PD2 DH379 (NKT 875), seen here awaiting its next departure at Eastbourne Railway Station, used as the hub for all routes throughout the day. (Photo: Dick Gilbert)
A green RT would have been a very rare visitor to Eastbourne in the 1950s and 60s, but Peter Sapte's RT3148 looks quite at home under the wonderful Victorian roof over what had originally been platform 5 and a siding at Eastbourne railway station, but is now used as a taxi rank. The RT was operating "Route 14" which connected the station with the static display at the Miniature Railway. Altogether a wonderful day, and I hope it will be held again. (Photo: Dick Gilbert)
---
COBHAM OPEN DAY - 4 APRIL 2004
Some pictures of vehicles that caught my eye at the London Bus Preservation Trust Open Day held at Cobham bus museum and Wisley airfield in 2004.
Star of the show (for me) was Les Burchell's outstanding Southdown Leyland TS7 Tiger No.1179 (DUF 179). Built in 1937 as one of a batch of twenty for Southdown with typical and glamorous Harrington coachwork, it has been in preservation since 1957. This coach was described by the legendary bus guru Tony Peart as "..one of the most beautiful and original late 1930s Leyland Tigers in existence". I'll go along with that.
Also from the Southdown fleet was newly-restored Leyland Titan PD2/12 No.786 (RUF 186). Built in 1956 as one of over 100 basically similar vehicles delivered to Southdown in the 1950s, it is the only survivor of ten Beadle-bodied examples. Recovered in a rather ropey condition from France in 1997 by Eric Stobart, the restoration was virtually complete when photographed here, although Southdown transfers were still to be applied. On the left is Southdown No.547 (PUF 647), a Park Royal bodied Guy Arab from the same era.
A splendid Leyland PS1 Tiger with Scottish origins was EAV 458, originally No.117 with Sutherland of Peterhead. Built in 1948 with a classic Duple body, it is now owned by Brian Nash of Enfield, as No.1 in his Falcon Coaches fleet.
Seen previously on this website, it was a delight to be reunited with Dennis Lancet MJ 4549, and I need no excuse to show it again. Built in 1932 for Smiths of Westoning, I think it is the oldest Dennis Lancet in existence, and has a rare Short body. Owned for many years by Roy Miles, and much loved by his family, this vehicle is wonderful, historic, beautifully presented, and a real pleasure to see. It still has a hand starter, and Roy would be very grateful to anyone who could fit an electric one for him, as he's finding it hard work these days!
Finally here's a little gem which lives near me in Sussex. 1958 Albion Nimbus XTA 839 was originally No.839 in the Devon General fleet, where these small buses were ideal for work in country lanes. Now owned by Fred Taylor, it had only been painted a few months before being seen here.
---
---
SOME QUICK LINKS WITHIN THIS WEBSITE;&nbsp Home Email THE COMPLETE WEBSITE MENU Events Diary Links Small-Ads Halfcab list Classic Irish Buses
---