Classic Buses News & Mail (Page 2)
---
SOME QUICK LINKS WITHIN THIS WEBSITE;&nbsp Home Email THE COMPLETE WEBSITE MENU Events Diary Links Small-Ads Halfcab list Classic Irish Buses
---
Last updated 25 June 2017
Why not share a story or a nice picture here ? To send contributions you can Email me here.
See more archived news items and pictures on Page 1 (latest) or Page 3 (oldest).
---
MAGNIFICENT CROSSLEY WAS A SCHOOL PROJECT
A 10-year restoration project has been completed at last by staff and students at a Liverpool college, St Margaret's Church of England High School, using high performance coach enamels provided by HMG Paints of Manchester, No.1 coatings supplier to the UK bus and coach industry. There is a strong Manchester association, since the 60 year old bus was built by Manchester manufacturer Crossley, famed for the 'Mancunian' buses that plied the city's streets from the 1930s.
There is also an interesting Christian association, since St Margaret's upholds all the principles that underpin a Christian school, while the Crossley brothers were themselves committed Christians, who refused to supply their vehicles to breweries and adopted the early Christian symbol of the Coptic cross as their bonnet emblem.
St Margaret's CE High School in Aigburth Road was established in 1879 and is now a dual specialist school, having been awarded both Technology and Language College status. It has run a Transport Society, or 'bus club', since 1971, to give students hands-on experience of structural and mechanical restoration. Its latest project is a Southport Corporation 1951 Crossley SD42/7, although previously it restored a 1949 Leyland Tiger PS1 coach, CMS 201.
The school is registered with the National Association of Road Transport Museums and, over the years, has received technical help from Manchester's Museum of Transport. So Deputy Headmaster John Wilkinson, who runs the bus club, approached the Collyhurst coatings company for support back in 1999. Since then it has supplied more than 100 litres of refinishing products at highly preferential rates, welcoming the opportunity to showcase the important preservation and decorative functions of paint.
John Wilkinson, who has a long-term interest in buses and coaches, found the dilapidated Crossley bus mouldering in a field in Chesterfield and, having first offered it to a county museum, the school decided to undertake the restoration itself, starting in 2002. The fortnightly Transport Society originally worked on old cars and motor cycles, but John found that buses offered far more scope for students to get involved, typically involving a dozen or so each session. He also has the expert help of Senior Caretaker, Campbell Dean, a time-served coach painter, and the school's Design Technician, Peter Pendleton, who reconstructed all the bus' internal woodwork, from templates produced by students.
Having stripped out the seating and interior components down to the composite framework, the bus club produced new aluminium body panels and sourced a genuine replacement bonnet and engine cover from a fellow enthusiast in Oldham. The final paintwork itself took a total of nine months to apply, employing two full coats of undercoat and three of gloss topcoat. In addition to traditional Coach Enamel for detailed work, HMG supplied DG142 Synthetic High Quality Primer/Undercoat and SAH300 Polyurethane Enamel for the larger panels, both of which were originally developed for leading bus operator Stagecoach and together produce an unbeatable, high gloss finish.
These products are especially formulated for brush application, with a long wet edge time and no bristle drag, and according to John Wilkinson enabled an outstanding handpainted finish: "Campbell achieved a superb gloss appearance and if you can see any brush marks, I'll give you a sticky bun," he says. "We've since taken the vehicle to the MOT testing depot, where people are used to seeing modern buses, and they have been amazed by the standard of the paintwork. When he was a professional coach painter, Campbell used to swear by a traditional brushing topcoat that's no longer readily available, but now he insists that the HMG system is even better."
The school's Crossley SD42, one of a range of models built between 1947 and 1952, is finished in the Southport Corporation livery of Ayres Red and Ivory. The 1949 Leyland Tiger single deck coach is painted Azure Blue and Cream, also in HMG paints, and together these classic vehicles present a memory-provoking nostalgic sight.
**************************************
BRISTOLS IN MACAU
My ever faithful correspondent Vic Brumby has sent some intriguing pictures from his remarkable archive of unusual buses - or buses in unusual places. This time we travel back in time to 1977, and across the world to what was then the Portuguese colony of Macau.
This looks to be an 'off the shelf' ECW-bodied dual-entrance Bristol L5G at first sight. I have what purports to be a list of the entire Bristol L production run, and it doesn't mention anything about Macau. So can someone throw some light of this? The registration number would seem to be M-14-18. And there's more....
M-10-52 would appear to be a Bristol stablemate, but with a very different (and presumably locally-built) body; and finally Vic took a picture of a third example - clearly one that has it's finest days behind it.
M-12-09 seems to have been converted into some kind of service vehicle. Anyway I'm sure it won't be long before someone writes in with details of the Macau Bristols. I look forward to hearing from them, and my thanks to Vic for yet more magnificent photos.
Well it didn't take long for my Irish friend Shane Conway to give us the clues. He said;
"Just seen the Macau pics - I think they are ex UK buses. There was an article in Buses Extra many years ago about Macau's buses. They also had Bristol Ks, some may have been ex Bristol Omnibus. The additional front doorway was a local alteration as far as I recall."
Then he quickly added;
"Just had a trawl through Gerry Tormey's site:
M-12-09 = CVF 846 (Eastern Counties LL46, to Lincolnshire 2069, to Macau in 1957)
M-10-52 = JHT 863 (Bristol Tramways C2728, to Macau in 1960)
M-14-18 = MHW 999 (Bristol Tramways C2766, to Macau in 1966)
They had 30 in total, all ex U.K. buses."
Well done Shane (and Gerry too!). Problem solved.
Terry Partridge sent me the definitive information in July 2012, based on records published in Mike Davis's book "Far East Buses - Volume 1, Macau, The British Bus Years". This lists all 30 of the Bristol L5G imports, the earliest being two 1939 examples from West Yorkshire (imported in 1956), and the latest were two from United Auto dating from 1950 (imported in 1966).
Other sources of these buses included Southern and Western National, Bristol Tramways, Eastern Counties, and "Eastern Counties via Lincolnshire Road Car". Thanks very much to Terry for that interesting list.
**************************************
'MOLLIE ON TOUR' IN 1954
Graeme Fernie from Sydney, Australia has very kindly sent me these delightful pictures of coaches on tour. They were taken in 1954 by Mollie Thomas (1908-2008) during a trip she made to the UK and Europe that year.
Mollie gave the above image the caption "Oban, West Scotland". Maybe it was taken on her way north up the west coast. The "Royal Hotel" in Oban is still there. The coach is Scottish Omnibuses (SMT) C201 (JSF 826), which is a 1952 Bedford SB with a Burlingham 'Seagull' body.
The second picture is titled "Morning tea stop on way to York", so clearly Mollie is about to bid Scotland farewell and head south in another Scottish Omnibuses coach (this time one of a 1953 batch of AEC Regal IVs with Alexander bodies, numbered B463-479, KSC 540-556), but not before apparently taking a cuppa at the Wedding Inn, Gretna Green....or is she?
In fact the Gretna Green Wedding Inn is nowhere near Gretna Green! Now just called the "Gretna Green", it is near Newton Aycliffe in County Durham.
Next we head way down to the south west of England, where a Southdown coach has brought Mollie to Padstow.
The Metropole Hotel in Padstow is also still there today. Meanwhile, hiding on the right is Southdown No.830 (MUF 430), one of a pair of Leyland Royal Tigers with Harrington 'Wayfarer' bodywork delivered in 1953. This was a luxurious 26-seat tourer with lots of legroom and a sliding sun-roof, so Mollie was travelling in style. The destination blind says "Devon & Cornwall".
But Mollie had hardly started; the next stage of her tour was to take her across the Channel.
Here we see an East Kent underfloor-engined Dennis Lancet being loaded onto the cross-Channel ferry at Dover. All vehicles were traditionally loaded by crane there until 1953 (no 'Roll-on Roll-off' ferries in those days!) when loading bridges were first introduced for cars. Presumably that luxury was not yet available for heavy vehicles in 1954.
Mollie seems to have travelled on this coach through France, Belgium, Germany, Austria, Italy, Monaco and Switzerland. The photo below is simply labelled "Verona".
Now we can see that the coach is HJG 8, the sixth of a batch of 30 Dennis Lancets still being delivered brand new to East Kent when Mollie boarded it in 1954. Those first six Duple Ambassador bodies seated a spacious 32 passengers, while the rest of the delivery seated 41. Mollie was still travelling in great comfort!
I assume that's the East Kent driver in his smart summer uniform. As for "Kangaroo Tours", well maybe someone can tell us more about them. It's certainly got nothing to do with the Australia / England rugby tours of the same name - there wasn't one in 1954.
Allan Haynes adds more to this; "The nose-on picture of HJG 8 in Verona - that is very definitely not the EK driver standing in front of it ! They did not issue white suits, even for tours to warmer parts. And his 3" wide webbing belt... He is an official of some sort, possibly a Carbiniero, and seems to have taken command of the parking of the Dennis. The actual driver is the bloke inside in rolled-up shirt sleeves aiming for the back of the coach. East Kent summer uniform I think I remember involved the same navy serge trousers as the rest of the year, and a grey dust jacket with red trimings. I did have two uncles who drove for EK, but it was a long time ago...."
Thanks to Allan for that, and many thanks to Graeme for passing on these interesting photographs.
**************************************
DERELICT DENNIS
This is a former mystery picture from the homepage.
Nigel Lemon said "One summer evening in 1970, probably July, I saw this vehicle on tow behind a lorry passing westbound along the A41, little more than a mile before the centre of Chester: this was in the days before the Chester By-Pass, and I would liked to have seen how this convoy negotiated the centre of the city! Anyway, a few days later I made a point of visiting Tom Hollis's yard at Queensferry (always an interesting place) to see if this had been its destination."
"My hunch proved correct: but although I had a few brief words with TH, I feel sure that I didn't discover what the origin of the Dennis was. Forty years on leaves me wondering whether someone somewhere else might know more, both as to the origin of the bus and also its fate."
The destination box on this pre-war Dennis Lancet reads "Colchester Division Conservative Association, Annual Outing 1935, Hunstanton". Is that genuine? And what was the history of this bus?
As usual, there was no shortage of responses.
Owen Phillips thought it was likely to be an Eastern National bus from the mid-1930s with an Eastern Counties body, and I was inclined to agree. The 1934 "AVW"-registered batch looked just like this (apart from the absence of a rear roof luggage pannier). But it doesn't explain the trip to Hunstanton in 1935.
But then John Wakefield got involved, and he contacted Geoff Mills who revealed the following;
The bus is Eastern National Dennis Lancet 1 / ECOC-bodied BTW 482, new in June 1935 as No.3543 (chassis number 170797). It became a caravan in August 1951 at Wormingford, Essex occupied by a Mrs. Munson. When she died it was acquired by John Jackson (co-owner today of a Sunderland Crossley), and it was probably John who put the 'Hunstanton' notice on the front - he being a staunch Conservative.
On 26 April 1970 it was towed to Tom Hollis's yard at Queensferry, and that must have been when Nigel spotted it. From there it went to Plumtree, Notts, where a group of enthusiasts intended to restore and exhibit it. Unfortunately the project failed and the bus was subsequently scrapped.
So that's the story. Many thanks to John and Geoff for the information.
**************************************
ANOTHER DERELICT DENNIS
This is another former Mystery Picture from the homepage. Derek Wilkinson purchased the image in 2011 at a transport museum, but couldn't identify it. No registration number is visible. John Bennett initially said he thought it was a Dennis EV, of which not very many were built. The EV was basically a 1929 facelift of the Dennis E.
John later added this further comment; "I am advised that this is one of the West Bromwich Dennis EVs with a body by WJ Smith. They were EA 4371 to 4373 and 4727/8."
Another mystery solved, by the sound of it. If anyone has more information about it, do let me know.
**************************************
NEWLY RESTORED RAMBLER BEDFORD
Terry Blackman kindly sent this picture. He explains that the glorious coach is "Rambler of Hastings 1935 Bedford WLB with Duple body, making its first appearance since restoration at the Hastings Trolleybus Restoration Group's 19th annual classic vehicle rally at the Oval, Hastings on 15 May 2011. It has gradually been restored since acquisition in late 2008".
CMG 30 was delivered new to Garner's Coaches of Ealing. After military service during the war, it passed to a Devon owner, and has been in preservation for many years. In fact, after a previous restoration process by a Surrey owner, it won 2nd prize in its concours class at the HCVC London-Brighton run in May 1967, and the Ian Allan trophy the following year. So it's no stranger to the rally business, but a wonderful sight nonetheless. Many thanks to Terry for the photo.
John Wakefield kindly added the following details about the vehicle; Chassis No 110051, Body No 5401 6/35 new to Garner, Ealing 6/43 Edward Saunders, Winkleigh (re-reg JTA 608) by -/64 Burt & Mitchell, Exeter (preservation) 4/66 E.J.Baker Motors Ltd., Bordon 10/66 Eric Taylor Tintinhull (reg. reverted to CMG 30 5/67) -/91 Steven Taylor, Tintinhull on death of Eric Taylor in 1991 11/08 Colin Rowland (Rambler Coaches) Hastings
**************************************
"ON HIRE TO ROYAL BLUE"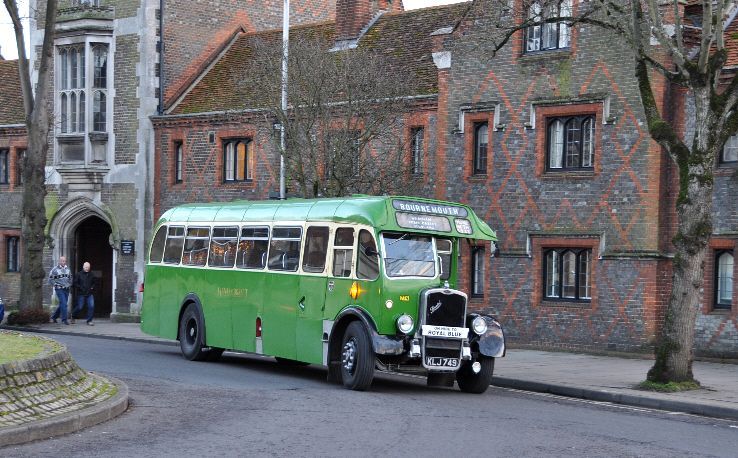 This was a ** Star Picture ** on the homepage at the beginning of 2011, but it deserves to be preserved permanently, so here it is. Ken Jones went to Winchester on 2nd January 2011 for the King Alfred Running Day, and took this fine picture of KLJ 749, apparently "On Hire to Royal Blue". Hants & Dorset 779, a 1950 Bristol LL6G with a Portsmouth Aviation body, is seen negotiating the roundabout at the end of the Broadway in Winchester, and is currently preserved by owners in Bristol. Many thanks to Ken for the photo.
**************************************
CITY COACH MEMORIES
Dennis Coote contacted me in November 2010 to chat about the City Coach Company which operated in south Essex. He spent his schooldays travelling on their buses, a fleet which incorporated a very wide variety of interesting vehicles, ranging from 1939 Leyland Gnus, and 3-axle Tigers to post-war Titans, including LEV 917 which is preserved in UK (a history of that bus can be found here).
Formed in 1923 as a 'pirate' operator, the firm is best remembered for its Wood Green to Southend service. City Coach sold out to the British Transport Commission in 1952, and Westcliff-on-Sea Motor Services acquired all their vehicles. Eastern National then took over Westcliff later that year.
Dennis took some photos of their buses around 1947, and has kindly sent them to me. Even he would admit that the quality is not great, but the content is rare and fascinating, so here they are.
Dennis recalls his "... school days travelling from Laindon to Brentwood on these wonderful buses (my mother always referred to the buses as 'Old Toms', no idea why). My favourite was a Leyland Tiger DUC 912, fleet number LT12. One of my fellow passengers was Joan Sims, the Carry-On star, whose father was the stationmaster at Laindon Station." On the right in the above picture is that very bus - DUC 912, a fabulous 3-axle Tiger TS7T from 1937. The body, I think, is by Beadle. Next to it is LT10 (CUL 804), another six-wheel Tiger TS7T, new in 1936 and wearing a Heaver body fitted in 1947. Then we see what looks like one of the Bedford OB / Mulliner buses delivered in 1946 and, on the left, another pre-war Tiger.
Photographed by Dennis in Brentwood around 1947 is number LT 17 (CXW 442), a full-fronted pre-war Leyland Tiger.
Finally here is Bedford number B14 (JVX 943).
Apart from LEV 917, the only other known City Coach survivor (unless you know better!) is Leyland Titan NVX 311, which is rumoured to exist in the USA. It was reportedly last seen in North Carolina in 2007. There's a picture on this page http://www.historicbeaufort.com/ which apparently shows the bus, and dates from 2000 or earlier, but that particular tour has now been taken over by an open top Routemaster.
Many thanks to Dennis for these unusual photos, and the oppportunity to remember a charismatic operator from the past. If anyone can add more detail to these images I would be delighted to hear from them.
**************************************
LISBON REGENTS
Robert Lanham contacted me in May 2010 to say that he and a group of colleagues interested in British bus exports had arranged a trip around Lisbon, Portugal in the Carris Museum's beautifully restored AEC Regent No.217 - apparently a very rare occurrence. Here is a picture of Carris 217 taken by Robert in Lisbon in 1981 (it is currently displayed in an earlier livery and configuration).
Robert also sent a picture of its stablemate No.255, now registered KSV 102 here in the UK and seen below next to Ipswich Regent No.1 on the promenade at Felixstowe during a road run on 2 May 2010. 'Mirror image' halfcabs take some getting used to - the drivers are shaking hands through the cab windows!
As far as is known, only these two Carris Regent IIIs survive (217 from 1952, and 255 from 1954, both with Weymann bodies) and two Regent Vs (301 from 1957, and 426 from 1961). Four Carris single deck Regal IIIs from 1948 are also preserved - three of them in the UK. Carris has been the major public transport facility in Lisbon for over a century, and their Museum has a website here.
Many thanks to Robert for sending the interesting photos.
**************************************
KENYAN GUY ARAB
Here's another fascinating image from the archive of my faithful correspondent, Vic Brumby;
It's Kenya Bus Services No.152, seen in a Kenyan field in 1973. Vic says "it's probably down to the diff by now." No.152 was a Guy Arab IV with a Park Royal 70-seat body, delivered to Nairobi in December 1956 with local registration number KFJ 176. About 20 were bought during 1955-57 for service in Mombasa and Nairobi, and Uganda had similar examples too. The speed limitation was reputedly 25 mph.
Not a sight you see every day, and I just love the picture. Many thanks Vic.
**************************************
CHELTENHAM DISTRICT TRACTION PICTURES
Deryck Hudleston kindly sent me these pictures from a book he recently acquired about the buses of Cheltenham District Traction Co (Deryck's old home town), a company not often mentioned. The book concerned was Cheltenham's Trams & Buses by John B Appleby, and was published several decades ago. Sadly the author is no longer with us, but Deryck obtained permission from John Senior of MDS Book Sales to reproduce these images. Because they are copied from a book, the quality isn't outstanding, but the rarity of the pictures convinced me to publish them here.
The first picture above shows 1930s AEC Regent I No.9 with a well-proportioned Weymann body.
Next we have Albion CX19G Venturer No.29 (EAD 729). This was the first of five delivered in 1940 (29-33, EAD 729-733) with very traditional Weymann provincial bodywork. The CX19 'G' version had a Gardner 6LW engine instead of an Albion unit. These buses were Cheltenham's first Albions, but not their last, as we can see below.
Two more Albions from the post-war examples are shown above, led by No.69. The town's second, and last, Albion delivery came in 1949 when it took six more CX19 Venturers, 68-73 (HDG 444-448 & FCY 763) with Metro-Cammell bodies. One of these - No.72 - survives (see below).
Finally here is a utility lowbridge Guy Arab. I'm not sure which one it is, but it seems the company acquired Arab Mk.1 Nos.40-48 (EDG 968-976) in 1943, variously bodied by Strachans, Northern Counties or Duple, Arab Mk.II Nos.49-52 (FAD 250-253) bodied by Park Royal in 1944, and Nos.55-59 (FAD 831-835) with Strachans bodies in 1944, so I guess it's one of all those.
There are some survivors from this fleet, including 1949 Albion Venturer No.72 (HDG 448) which is fully restored at the Transport Museum, Wythall, and 1961 Bristol FSF6G Lodekka 802 MHW. The company, formed in 1929 and acquired by Red & White in 1939, lives on as part of the Stagecoach group. Many thanks to Deryck for sending me these images, and thanks also to MDS Book Sales for permitting their reproduction.
**************************************
GUERNSEY ALBIONS
Peter Davies kindly sent me this interesting information about his Albion Victor (YFO 127, originally Guernsey 8226 in 1958, Victor FT39 KAN / Reading B35F), and others he has known!
Guernsey fleet number 77 is one of a string of Albions supplied to Guernsey Motors and Guernsey Railway. Designed externally to look like coaches they are in fact buses, licensed to carry 35 seated passengers and 7 standing. Being 27ft long and with a width limit of just 7ft, passengers were in 'close contact' with their fellow travellers!"
"The four cylinder Albion diesel engine proved reliable, powerful for its size and economical (15 to 17mpg). The chassis has the benefit of being a straight ladder section design and as a result it was simple and strong. The five speed constant mesh crash gear box is a delight, the gearstick is light to move, close at hand, precise and has a relatively short travel. The Victors were not fitted with overdrives and depending on rear axle ratios the top speed varies from 34 to 48 mph. 77 was originally fitted with a low ratio axle, 34mph, however during Brian Catchpole's ownership in the 1980s and 90s an ex Harrods van mid-range axle was installed. 40mph! Magic!"
"Red and White of Chepstow took over the Guernsey Railway in 1949 and Guernsey Motors in 1951. Red & White were associated with the Albion agents "Watts of Lydney" and henceforth Albion was the preferred supplier. A total of 39 Victors were added to the fleet up to 1958. The body was designed specifically by Mr. J.A. Davies, the Guernsey Railway Co. Managing Director, and who had come from the Newbury & District Bus Company, itself owned by Red & White."
"Guernsey operated school, private hire, service, and island tour schedules and wished to imply to its travellers (tourists in particular) that it operated a fleet of luxury coaches. With this in mind the Guernsey body followed the Duple Vista outline, but with bus seats. This reduced the number of vehicles required and significantly improved the flexibility of the fleet. The dual purpose Heaver body's appearance hardly changed from 1950 to 1958. In 1956 Heaver's stopped supplying the wooden framed composite bodies and changed to an all aluminium frame. There were many minor changes but the most obvious was the loss of the inset windows and flared lower panels, resulting in a completely flat side. In late 1957 Heaver's ceased trading and "Reading and Company" of Hilsea near Portsmouth started manufacturing the same design bodies for Guernsey."
"I purchased six Albion Victors from the company at the St Peter Port auction in 1980, five for friends and number 77 for myself. Three friends came with me and enough batteries for one bus. The buses came back in threes, three by the roll-on roll-off Channel Islands Ferry, and three as freight on the Commodore Clipper, where they were stowed below decks and craned off in Portsmouth. 77 came on the roll-on roll-off service with the only set of batteries, the other two buses being "tow start only". Our arrival at Portsmouth in the dark involved driving 77 out of the ship, turning round and returning on ship to tow start the other two buses in reverse (we could only tow from the front of the buses, i.e. nose to nose), not a popular move with Channel Island Ferries. I had also purchased all the Albion spares from the company, in 25 Johnny Walker boxes."
"In 1981 I realised that owning three Victors (JMT 10 and NKO 953 of Fuggles) and only having garage space for two was a disaster in the making, and 77 was sold to Brian Catchpole. Later, finding empty space in my garage enabled me to buy back 77 and use it for another five years, including using it to transfer the wedding guests to and from the church when I got married. The arrival of a 1944 6x6 GMC truck put space at a premium and something had to go, so the Albion passed on to Martin Willetts. In 2009, I had regained a bus space in the garage and coincidentally Martin wanted to sell the Albion! You've guessed it, I purchased the bus for the third time. A new ceiling and the completion of a rewire has just been completed. A repaint is due before Christmas."
"The Guernsey Albions are a preservationist's delight, with virtually no wood to go rotten, only two steel panels to go rusty and, booking in at 4 tons ULW, it's relatively easy to work on. One person can easily take the cylinder off and change the engine if need be. It will do 18-19 mpg on long runs and 15 mpg on locals. Being only 7ft wide but still carrying 35 passengers, with half-drop windows, an art déco interior and almost pre-war body, adds up to a very period bus with a unique appearance."
"I could of course be biased, having owned at one time or another 1559 (ex The Grays, Guernsey), KCD 697 (ex St Dunstans and Hovis), 6436 (Guernsey 36), NKO 953 (ex Fuggles), 6442 (Guernsey 52), 804 (ex Jersey Motor Transport) and 8227 (Guernsey 77). I was also fortunate in being able to "rescue" another six Guernsey Victors by purchasing and importing the buses on behalf of friends. I would be pleased to hear from any Victor owners to share "experiences" and information."
Thanks Peter for the information and photo. If you'd like to contact him, email me and I'll pass messages on.
**************************************
1948 DAIMLER WITH A TANGLED HISTORY
This picture was taken by Clive Holt in July 2008 at Toddington (that's the Gloucester Warwickshire Railway Toddington - not the one on the M1), and was forwarded to me by regular contributor David Beardmore. It caught my eye because you don't often see this coach (I've never seen it), and it has an interesting history.
DUX 655 is a 1947 Daimler CVD6SD with a Metalcraft body fitted (possibly) in 1948. It was new to Smith's Eagle Coachways (T.G.Smith) of Trench, Shropshire, went into preservation in 1974 and is currently owned (and beautifully kept) by a group in Hereford - led, I believe, by the same person that saved it all those years ago.
So what was the body fitted to this coach when new? About 3/4 the way down this page http://www.countrybus.co.uk/independent/soa.htm is a picture of what would appear to be sister vehicle DUX 654 in its original form. Can anyone can throw some light on the matter? Meanwhile thanks again to Clive and David for the photo.
David Hurley kindly sent the following; "These two Daimlers had an involved history (extracted from PSV/OS pub 2PD5, Sept. 1971)."
"Both were delivered in 1947 with ACB bodies - 654 C33F, 655 C35F. 654 was rebodied in 1957 with a second hand ACB C35F body from UJ 1441 which had originally been new on 655. 655 was rebodied in 1948 with the Metalcraft C33F body that it still carries."
"BUT according to Circle records the original body was not placed on UJ 1441 until 5/50! Either the Metalcraft rebody date should be 1950, OR the swap onto UJ 1441 was earlier. I can't see them not using a virtually new body for two years when there was a general vehicle shortage. So the photo of 654 probably shows what 655 looked like originally!"
Thanks David. I think the body swap date was actually 1950, and the mention of 1948 was an error on someone's part. Anyway I that's evidence enough for me to add DUX 655 to my list of preserved halfcab single deckers, because it was once!
The cream on the cake was when I received this email from Des Lewis in July 2010; "Just surfing the web and came across the Classic Buses News & Mail. Just to make myself known, I am the owner and the person keeping the 1948 Daimler CVD6 DUX 655 on the road since purchase on April Fools Day 1974". Good to hear from you Des, and congratulations on keeping a fine vehicle in such good shape for so long.
And then, in November 2011, I received this from Nicholas Smith;
"I happened upon your webpage and nice pic of DUX 655. My grandad was Harold Smith, the son of Tom Smith (T.G.Smith) of Smith's Eagle Coachways who owned DUX 655 before it was sold to Des Lewis, current owner."
"I was 2 at the time it was sold, so don't remember the actual bus in action, although I do remember my great grandad Tom Smith counting cash on his dining room table at his house in Trench, Shropshire (the house is still there, although the old bus garage is now a newer car repair garage) and I have seen DUX 655 at the Malpas Yesteryear Rally some 10 years ago! I had an email from Des to say that the bus is still going strong and had actually been on a trip to Ireland (this would be last year)."
Many thanks Nicholas. That vehicle has certainly generated some interest.
**************************************
1947 REGAL RESTORATION UPDATE FROM MALTA
Peter Skerry has sent me more information about the ongoing restoration of 1947 AEC Regal KUM 386. (Just to recap, with chassis number O6625309 it was new to Wallace Arnold Tours with a Duple "A" style C35F body. It was sold to Hardwicks in 1952, and then served with Wimpey, contractors, as a staff bus from 1955 to 1959. It is believed to have arrived in Malta around 1964).
Having been in a field for several decades, it is hard to believe that the rejuvenated chassis shown above is the same vehicle. Remarkably, the engine started up when it was first recovered! Since then the chassis has been shotblasted and straightened as necessary, then painted and reassembled.
A suitable Duple body has been kindly donated by Terry Partridge. The body is from derelict Western National 1303, a 1951 Bristol LL6B which has been stored at Winkleigh, Devon for some years. Terry bought it because he wanted the chassis for spare parts. It should have arrived in Malta by October 2009. Peter says "It is a 30 foot model on a Bristol chassis with top corner windows, which of course will be reconstructed as a 27'6" body without those windows. It has been broken down into various sub-units for shipment and whereas some body panels, glass, stairwell and possibly firewall will be re-used, the bulk will be largely for the purposes of templates for a new structure. As such, a fair amount will be scrapped, but we have no choice but to bring them here without Duple drawings."
The work continues, and Peter asks that anyone who can provide any information or assistance in the restoration, or has pictures of the original vehicle, contact him via this website. Meanwhile here is a photo of the body at Winkleigh before dismantling. We will keep you informed of progress.....
**************************************
MANCHESTER RELIC
Here's an interesting picture you won't have seen before. Rediscovered by Peter Caunt, it shows a Manchester Corporation Leyland Titan TD1 in 1953.
New in 1930, No.246 (VR 5768) was one of Manchester's first and only delivery of Titan TD1s, numbered 209 to 248, and acquired to replace single-deck trams on the 53 route between Cheetham Hill Road and Trafford Park. The forty buses were a mixed bunch - although all had lowbridge 'piano fronts' - bodied by Short Bros, Strachans and Brush, with this particular example being a Strachans product. The upper deck had a sunken gangway on each side, and seven rows of triple seats in the middle.
In 1935-36 a major rebodying programme was undertaken, and 246 received a new Crossley 52-seat lowbridge body, with a sunken gangway on the offside only. Many Manchester buses were hired to London Transport (and later to Crosville) due to wartime shortages from 1940 onwards, and 246 may well have been one of those. In 1945-46 the fleet was renumbered, and all Leylands had 3000 added to their fleet numbers, so No.246 became 3246. The very last of the TD1s were withdrawn in 1950, including this one.
Peter took the picture in 1953 when the bus was in use as a store on a farm at Slattocks Bridge, between Manchester and Rochdale. He says that the body was quite complete, and the pneumatic bell push would press, although it didn't ring the bell! You will not be surprised to learn that there are no surviving Manchester TD1s. If only....
My thanks to Peter for sending the picture.
**************************************
REGENT MOTORWAYS
This was previously in my "Star Picture" spot, but it seemed worth storing in the 'archives'. Mike Butler contacted me some time ago because his father used to drive for Regent Motorways of Redditch, Worcestershire, and he wanted to know more about the firm. Later he came across a treasure trove of colour slides taken by his father in 1965-67 - all with dates and locations. Here's one of them;
This splendid collection of 1960s coaching products was recorded at Regent Motorways' Studley depot in 1967, and shows (from left to right);
?unknown? - ?Bedford? / ?Plaxton Embassy?
RNP 722 - AEC Reliance / Duple Elizabethan, new in 1956
276 HLC - AEC Reliance / Duple (Northern), new in April 1964 to Global, London W1
SWP 722 - AEC Reliance / Harrington Wayfarer IV, new in 1957
GNP 722C - AEC Reliance / Harrington Grenadier, new in June 1965
The Grenadier on the right apparently won a prize at the Brighton Coach Rally in 1967, and Mike's father drove other Regent coaches at the rally on several other years. The number 722, by the way, was apparently considered lucky by their 1960s managing director John Jakeman. Regent Motorways had a large and varied fleet which, over the years, included Harrington 'fin' bodies, Seddon Pennines, and several Bedford VALs.
A great picture, and my thanks to Mike for sending it (and several others!).
Mike Lloyd wrote in with the following additional note; "Great pic of Regent Motorways' vehicles. I have a fleet list dated 1.68 (PSV Circle) and the only vehicle which fits the description of the unknown possible Bedford is 186 CUY, Bedford SB1 Plaxton Embassy new in 1961 and acquired by Regent 2/67 from Luxor Coaches, Abbots Langley, Herts (where I spotted it!). It had been new to Supreme, Stourbridge. Hope this is of some help."
Allan Haynes wrote "Re the picture of the Regent Motorways lineup at Studley, Redditch - my wife's old stamping ground - I drove for Spring's Coaches of Ashton under Hill, Evesham in 1976-77. As the "new boy" I of course got the oldest coach, an SB1 Plaxton, by then old and tired and pretty decrepit. I almost recognise the number and I have a feeling it was red and grey, not red and cream like the rest of the fleet - so does anyone know where 186 CUY went after Regent? I can't imagine there were a lot of Plaxton SBs about in Worcestershire by 1976 so I guess this could be a picture of my bus. If I had stayed long enough I might have graduated to the Ford R192 Viceroy, but I moved my (part-time) allegiance to the Midland Red and learned proper bus work. Daimler 'deckers, horrible Ford saloons, and the lovely Leopards, still my favourite chassis of all time. Also a couple of weeks on a D9 when one of the Daimlers died. Definitely the weirdest vehicle ever."
Later Mike Lloyd found out where 186 CUY went - "After a short life with Regent, it was apparently sold on to Fogarty, Broadway in 6/68 and then moved to Castleways at Winchcombe, date uncertain, but they withdrew it in 3/76. All this is from my records, based on PSVC publications. I imagine it did not live long after withdrawal by Castleways, but you never know - certainly I have no further details."
**************************************
WALLACE ARNOLD TIGER TURNS UP AT THE FAIR
Douglas MacDonald sent me this picture, which was originally in my "Mystery Picture" slot. It's a showman's Leyland Tiger TS8 with a Burlingham body, and the registration JNW 376. I guessed it might have originated with Wallace Arnold.
Robert Preston from Sheffield had all the answers. He said "You are right about the mystery Leyland Tiger fairground vehicle JNW 376 being originally operated by Wallace Arnold. Here are the details and history from the PSV Circle Fleet History of Wallace Arnold, Part 1:-"
"1940 Leyland Tiger TS8 / Duple C32F motorcoach, JNW 376. Chassis No.306797. Body No.9423 Series 2."
"Re-engined with a Leyland 7.4 litre diesel engine in October 1947, and the body rebuilt by Wilkes And Meade in 1949. In December 1952 it was re-bodied with the 1949 Burlingham C33F body (No.3610) from MUB 435, a Wallace Arnold 1949 AEC Regal III, which received a new Plaxton FC35F body in 1953. It is believed that the fleet number of the Leyland, for at least some period, was 66. JNW 376 was withdrawn from service in 1954, then to N. O'Hara, Spennymoor in October 1954, on loan to Wilkinson, Darlington, 1955, and to a showman by 1959, withdrawn October 1960. Its last owner was F.C.Lester, Farnley, Leeds."
And Peter Tulloch confirmed it;
"From my collection of record cards I can positively identify JNW 376 as being a Leyland TS8 with chassis number 301697 or 306797 (there is a little confusion in the record I have!) which carried a (post war?) Burlingham C33F (re)body. My records show that it was acquired by N O'Hara of Low Spennymoor (later of Bishops Auckland) from Shaw Bros of Byers Green (date not recorded), who in turn had acquired it from Wallace Arnold (also date not recorded). It passed to 'Fairs' in June 1957. The registration dates from 1940."
Finally in December 2016 came the definitive answer from Bob Kell;
"I received a considerable surprise when I found my photograph of O'Hara Leyland Tiger JNW 376. I confirm that the information from your contacts appears correct (and I have shared information with Peter Tulloch). The photograph was taken on 20 September 1957 at Stokesley Show (Yorkshire North Riding)."
Bob's 'considerable surprise' is because he does not sell many prints of his photos and, of course, holds the copyright to all his work. How this image came onto the internet is a mystery, and it is presumably a copy of a pirated version. Bob has kindly agreed to let the matter rest on this occasion, but it does serve as a warning to all webmasters and photo suppliers to check the copyright status of the images they publish (copyright remains with the photographer until 75 years after their death!). I do my best to get permissions but it's easy to get caught, and at least one website has been shut down as a result of inadvertent publication of images. Please be careful for my sake - I don't want to get into hot water! - and my thanks to Bob Kell.
**************************************
PICTURES FROM SOUTH AFRICA
Every now and again Alan Kenny calls me from South Africa and sends some little photographic nuggets, either from his travels or his archive. Here are a few of his recent contributions;
In 2008 Alan visited the James Hall Museum of Transport in Johannesburg and spotted a couple of interesting vehicles. Above is RT2634 (LYF 359), built in 1951 and exported to South Africa in 1964 after retirement from London Transport central area service. It appeared to be in good condition, and was carrying a 2008 road licence. Below is another exhibit at the Museum, an AEC Regent V that was No.839 in the Johannesburg fleet, one of fifty delivered in 1959 and bodied locally by Busaf.
I'm sure Alan would agree that the sight of an open door to a bus garage is too tempting to an enthusiast - you've just got to look inside to find out what's there. Sadly, these days the answer is probably 'not much', but it was not always so; sometimes you could discover Aladdin's cave. The picture below was taken by Alan of Southdown's Elm Grove garage on Hayling Island, while he was on holiday there around 1959. While Beadle-bodied Tiger Cub 1036 (OUF 136) pokes its nose out into the sunshine (has it just had a wash?), one's attention is drawn to the wonderful aged deckers in the background. Must just jot down which ones they are, for the record.....
In May 2008, Alan returned to the scene of the crime and found the depot still standing, although it is now a hardware store. Thanks very much to Alan for his pictures, which are always welcome.
**************************************
See more archived news and pictures on Page 1 (latest) or Page 3 (older).
---
SOME QUICK LINKS WITHIN THIS WEBSITE;&nbsp Home Email THE COMPLETE WEBSITE MENU Events Diary Links Small-Ads Halfcab list Classic Irish Buses
---