Classic Buses News & Mail (Page 1)
---
SOME QUICK LINKS WITHIN THIS WEBSITE;&nbsp Home Email THE COMPLETE WEBSITE MENU Events Diary Links Small-Ads Halfcab list Classic Irish Buses
---
Last updated 17 March 2018
Why not share a story or a nice picture here? To send contributions you can Email me here.
See more archived news items and pictures on Page 2 (older) or Page 3 (older still).
---
NEWS IN BRIEF
Preserved ex Warrington Leyland PD1 / Alexander EED 8 destroyed by fire in its home town on 1 March 2018. (Mar 2018)
A petition to protect historic vehicles from scrappage schemes. (Jan 2018)
Bedford YRQ ABW 183J, new to Carterton Coaches, has been repatriated from Malta after 33 years. (Dec 2017)
Mendip Mule Motorbus of Devon has ceased operating due to objections and abuse by local people. (Oct 2017)
London Duck Tours has suspended amphibious services with DUKW vehicles while they seek a new docking site. (Sept 2017)
**************************************
TWO WONDERFUL OLD PICTURES FROM BOURNEMOUTH
In February 2018 David Winter very kindly sent me these two glorious images from Bournemouth, acquired from his grandparents. The one above shows a vehicle owned by "W.Whitelock, Cotlands Road, Bournemouth". William J Whitelock formed a horse bus company named Shamrock (hence the shamrock leaf in the crest) in the town in 1885, moving up to motor buses in 1913. He merged his company with competitor Bournemouth Rambler in 1924 to form the well-known coaching company "Shamrock & Rambler" which lasted until 1989. This picture pre-dates pneumatic tyres so is probably from the early 1920s.
Shamrock Coaches acquired EL 4534, a Leyland "O" with a 28-seat charabanc body by Bartle in May 1920, and EL 6136, a Leyland 40hp 28-seat charabanc in February 1921. I believe that this is the former.
The second picture (which may have been taken as much as 5 years later than the previous one) show an "all weather coach" belonging to "S&S, Enterprise Motor Coaches, Bournemouth" apparently visiting Cheddar Gorge. "S&S" stood for Symes & Sons. Enterprise had a small booking office in Commercial Road between Lyons Teashop and Burton Tailoring but their main depot was in Terrace Road, Edmondsham.
By 1930 they were operating Dennis and McCurd vehicles and this view shows No.15 in their fleet. McCurd Motors of Slough was the last in a series of motor manufacturing companies set up by Wallace A.McCurd, but their vehicles were not common. Enterprise bought four McCurd coaches in 1928 with 26-seat bodies by Duple (RU 7675, 7858, 7859 and 7860). RU 7858 was No.11 in the fleet, so this has to be one of the other three. Enterprise ceased trading around 1939.
At first I assumed that the inscription "Visiting Gough's Cave Cheddar" under the coach was an addition stuck to the photo after the event but I now understand that there were a number of photos taken at this exact location. A local photographer must have quite a good little business going, but would have needed to move fast to get the processing and printing done while the passengers visited the caves, which I presume is how it was done. So that board really existed!
Many thanks to David for sending the pictures.
**************************************
WEST BROM BUSES AT THE BLACK COUNTRY LIVING MUSEUM
Mike Rhodes of the Black Country Museum Transport Group kindly sent me this picture of West Bromwich Corporation Daimler CVG6 No.174 (GEA 174). It was new in 1952 with a Weymann 56-seat body and ran in service until the early 1970s when it was given to Dudley Libraries by WMPTE for the then fledging Black Country Museum. The bus was in store for many years but then had a complete rebuild over 9 years. Since 2013 it has been regularly taken to shows and is on display at the Black Country Living Museum where it is the flagship of the vehicle fleet. Mike took the picture in Dudley in 2015.
Mike also told me that West Bromwich No.32 (EA 4181), a Dennis ES bus dating from the end of 1929 is at the Museum and nearing the end of restoration as a runner. Recent pictures of this bus are rare, but here's one he took showing it tucked up in the depot for the winter along with three trolleybuses, a Guy Vixen coach, a Guy GS bus, a BMMO D9 bus and two cherry pickers!
Mike says "As you can see it has been completely repainted on the outside. Inside has had various woodwork replaced and the seats are currently being stripped and redone. The engine goes and stops although setting it correctly is proving troublesome. It has been driven round the site under its own steam and the volunteers working on it are really looking forward to it being completed and used. It will nicely compliment the Museum's West Bromwich Corporation Daimler and Guy GS."
Thanks to Mike for the pictures, and I hope he'll keep us updated about the Dennis.
**************************************
SAVE HISTORIC VEHICLES FROM SCRAPPAGE SCHEMES
This a link to a government petition requesting to make it illegal for Historic Vehicles to be processed through scrappage schemes. At first sight it seems unlikely that anyone would agree to have a classic bus destroyed in order to save a few pounds on a new car, but one never knows what unscrupulous car salesmen might do to make a sale. To protect our heritage, add your signature.
**************************************
LANCASHIRE TIGER FINDS A NEW HOME
Rachel Fielding from Blackburn emailed in October 2017 to say that she and Paul Fielding have purchased KTJ 502, an ex Haslingden Leyland Tiger PS1 with a Burlingham body and are enjoying her to the full. Here's a picture to prove it. Thanks Rachel.
**************************************
REGALS GATHER AT DAWN
How about this for a wonderful sight? Four fabulous AEC Regals at Roger Burdett's facility just before departing to the Oxford Bus Museum Vintage Transport Festival on 30 July 2017. They are (left to right) Burnham's 1948 Regal III CFK 340, Eastern Belle 1953 Regal III NXL 847, York Pullman 1954 Regal III JVY 516 and (my favourite) Salisbury / Standerwick / Ribble 1934 Regal I FV 4548. Thanks very much to Ken Jones for the photo - it made my day!
**************************************
NEW BOOK ABOUT KENT INDEPENDENTS
David and John Watts have published a history of JHW Watson of Rochester, who traded as Wilberjim Coaches. The book also provides a detailed look at many other independent operators in the north Kent area and is generously illustrated with a large number of fascinating pictures dating back to the earliest days of bus and coach services, many never previously published and some from this website!
Anyone with an interest in the history of buses around Medway will find this a jolly good read. "Who is this Mr Wilberjim" is available at &pound13.50 including post and packing by emailing John Watts.
**************************************
GUY VICTORY RETURNS HOME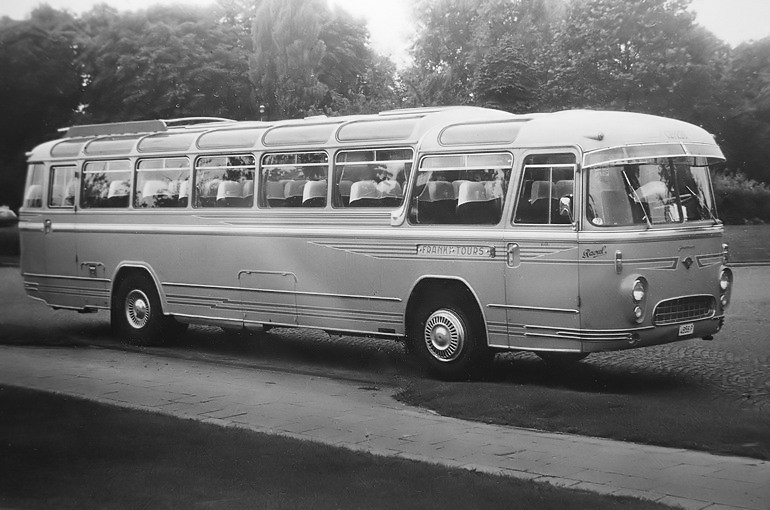 The Guy Victory in service with its original Jonckheere body
Martin Fisher emailed in June 2017 to tell me about what is believed to be the only Guy Victory in Britain. He said "A couple of years ago I was contacted at the Aldridge Transport Museum by someone from Belgium who told me he owned a 1961 Van Hool bodied Guy Victory which had been used as an office since being withdrawn from service in 1979. I expressed a lot of interest, as British chassis exported to Europe in that era seem to be completely overlooked by the enthusiast community - there are very few survivors of the many mainly AEC, Guy and Leyland exports into the near continent.
Last autumn the owner called me again from Bruges and offered to donate the Guy to the Museum. I was very excited by the prospect of bringing such a distinctive coach into the UK and effectively took it on as a personal challenge to get it recovered. In March 2017 I inspected the coach in Bruges and then, at the end of April, we brought her 'home', storing her by chance very close to her birthplace in Wolverhampton. The all-steel welded body actually dates from 1965, after the original Jonckheere body was damaged when she rolled into a ditch in the Black Forest, though most of the fittings were transferred from the original body."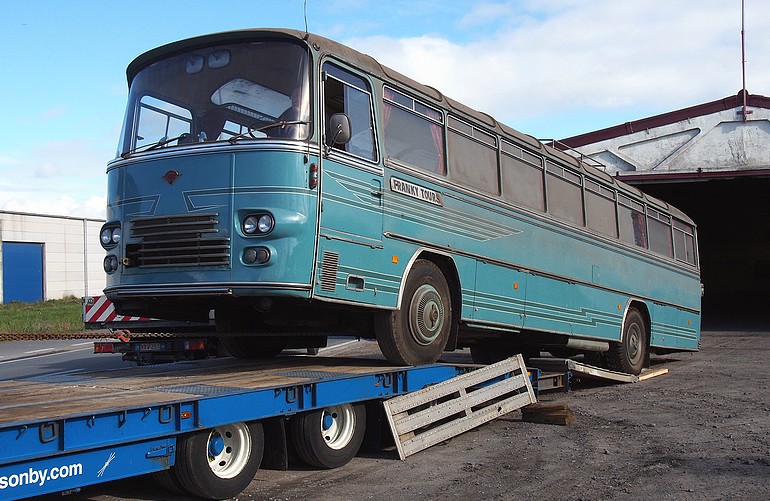 Loading the Guy Victory (with Van Hool body) in Bruges for the journey home
"Although the overall condition of the coach is amazing, restoration will be quite a long and expensive task. The Leyland O.680H engine hasn't run since 1979 (although progress has already been made in checking it over and freeing the stuck fuel pump rack) and there are no seats other than the rear five passenger seats and one normal pair. Where we can get a set of 1960s Jonckheere seats from I have no idea, but something similar will be found, I'm sure. However, in these times of distancing the UK from Europe, a reminder of the export market that we once had seems timely. The museum will be starting a funding campaign very soon, and we are really looking forward to seeing the Guy back on the road."
Thank you Martin, and perhaps someone knows where he can find some original seats.
**************************************
DETECTIVE WORK IN SOMERSET
Back in June 2016 Philip Slynn sent me this picture which he had acquired in a slide collection left by a friend. He said the location was Kings Quarry near Watchett, and the date was October 1967 (the precise location is probably W.G.King's stone quarry at Triscombe, Somerset, just north of Quantock Heritage's place). Triscombe is also close to Burnham-on-Sea and I wonder if that's the name at bottom left of the inscription on the side. That's relevant because there's a Channing Close in Burnham-on-Sea. Perhaps it says "Channing, mobile garage". Anyway Philip was interested to know what the vehicle might be. Well, it turned out to be a long story, but I'll be as brief as I can.
I thought it looked like a Harrington body so I contacted Harrington guru Nick Webster. He said "I'll bet this is an ECW body. At the behest of North Western Road Car ECW actually got hold of a Harrington and copied it. N.Western had lots of Harringtons at the time, many of which swapped chassis and were rebodied from Harrington to Harrington to update and extend their lives. But I think perhaps Harrington could not make enough, or fast enough. The first of the ECWs were built in 1935 on 1930 Tilling Stevens B10A2 chassis. The particular features I can spot in the photo you sent are the door handles are in a round dish (very ECW - seldom triangular) the sharp angle to the top of the cab side window and the backward curve to the emergency door frame, which looks like it might be broken glass, but is in fact the shape of the window frame. ECW did some similar bodies on Dennis chassis, but this is not a Dennis, because you can always see the steering box hanging out the front on a Lancet."
That was really useful information, but I decided to push the quest further. As far as I can tell North Western bought about 320 B10s in the early 1930s, most of which were rebodied by ECOC around 1935, so that's a huge number to choose from when it comes to identifying the bus in the quarry. However maybe the clue is in the location - why Somerset? The answer could be Bristol Tramways, who bought 30 ex North Western B10s in 1941 (numbered by Bristol as 221-230 and C301-320), and all of them had been rebodied by ECOC. Four were bombed in 1942, and the rest were scrapped in the same year, but the bodies were kept and transferred to 26 older Bristol B vehicles dating from 1930-33 (HW and HY registrations), and I now believe that this bus could be one of those 26.
If anyone has anything further to add, I'd be delighted to hear from them. Meanwhile thanks to Philip for sending a picture with such an intriguing history.
**************************************
LAST LONDON STD SURVIVES IN SERBIA
Some of you probably already know this, but I had forgotten and was reminded of it by Marin Pažanin, who is one of the moderators of the excellent Autobusi.org website in Croatia. 176 Leyland STD buses were built for London Transport between 1937 and 1946. The 90 pre-war examples were Titan TD4s with Leyland bodies, 11 'unfrozen' wartime deliveries were Titan TD7 with Park Royal bodies, and the post-war batch of 65 were Titan PD1 with Leyland bodies. Only one survives, and this is it.
All the pre-war and wartime examples were scrapped, but the whole post-war batch were exported to Yugoslavia in the mid 1950s. The sole survivor - STD171 (HLW 100), originally a Croydon-based bus dating from 1946 - has been preserved by GSP, bus operator in Novi Sad, Serbia. It now has offside front and rear entrance doors, has lost its original engine, and the interior is in a poor state. Wouldn't it be nice to have this back in the UK? However I understand that GSP don't want to part with it, which makes it surprising that they don't take a bit more care of it.
Many grateful thanks to Portos of the Autobusi.org website for the picture, taken in 2012. You can see more of his images here.
**************************************
WEST YORKSHIRE LODEKKA IN GOOD SHAPE
Keith Renshaw kindly sent me some information and pictures of West Yorkshire 1966 FS6B Lodekka YDX 221 (NWU 265D) which he operates with Simon Wood. Originally with a Bristol engine but now a Gardner 6LW, it entered service in December 1966, allocated to the York West Yorkshire Joint Committee fleet and thus had a Y-prefix to its original fleet number. In the 1971 renumbering scheme it became 3821, the '3' indicating the York fleet in which it served continuously until withdrawn in November 1980, by which time it was one of the last two Lodekkas in the fleet.
For the next 5 years it was a regular attendee on the rally circuit, but was later sold to a driving school. By 1990 it was in a yard in Crossflatts, near Keighley, and in danger of being scrapped. Preservationists then acquired it for &pound1400 but it was sold again in 1991, and then again in 1994 when a group rescued it and brought it to Keighley Bus Museum. Finally Keith Renshaw and Simon Wood (who took the photos) took over the vehicle from 2001 and are responsible for the current fine condition and preservation in its home county of West Yorkshire, despite it being 50 years old in 2016! Thanks very much to both of them for the words and pictures.
**************************************
A MEMORIAL TO CHARLES HENRY ROE
This picture of 1962 Roe-bodied Daimler CVG6 572 CNW (formerly Leeds No.572) seen by me at Taunton in 2006 is to draw your attention to an online petition set up by the Transport Yorkshire Preservation Group. Charles H Roe's Cross Gates factory in Leeds finally closed in 2011 when Optare moved elsewhere, and the building was demolished a year later. Now TYPG would like a small memorial (maybe a blue plaque or similar) to the man himself and the legacy he created, ideally on or near the former works.
As there is no other recognition of Mr C H Roe locally, the Group would like to petition Avant Homes, Leeds Civic Trust and Leeds City Council to allow the creation of a memorial to him in Cross Gates. You can add your name to the petition by clicking here.
P.S. Bob Wingrove says that's him lurking on the right. No time for lurking, Bob - get back on the bus!
**************************************
RTL STILL WORKING IN SOUTH AFRICA
We've come across this bus before, but not for a long time. Alan Kenny, who has been contributing to this website for many years, was on safari in South Africa in January 2016 and spotted this 1950 ex-London Transport Leyland RTL 841 (originally registered KYY 811) at the Lord Milner Hotel, Matjiesfontein in the Western Cape province.
It was imported by Cape Electric Tramways in 1966 and worked with them for 10 years, but ended up in Matjiesfontein running tours of the village. Alan says that the last licence expired at the end of October 2000 so presumably it's now only used on private roads. Many thanks to Alan for the picture.
**************************************
SCENES FROM TROWBRIDGE
In January 2016 Stevie Oswin kindly sent me some pictures from Trowbridge, where his grandfather, Kenneth Down, was foreman from the 1940s until 1978, having worked for Devon General previously. I'd also like to thank Nigel Utting for providing the necessary facts for the captions. Nigel points out that everything suggests the pictures were taken around 1974 after Bristol Omnibus Company had taken over operations at Trowbridge, so all the vehicles shown would be under BOC ownership.
Firstly here is the great man, Kenneth Down in front of a former Western National Bristol KSW6B. Nigel Utting thinks that this is either LTA 843 (W139) or LTA 844 (W137). Both passed from Western National to BOC in 1970 and became driver trainers for a few years, and we assume that's what it's doing here. Nigel has a hunch that this is LTA 844, and I agree because other contemporary pictures show it having the shinier mudguards! Alongside is a Bristol Omnibus LS5G dating from 1957.
Western National (Glos. & Wilts.) was first established in Trowbridge in 1929 with a simple office under the Market House and a leased garage in Bythesea Road which was bought in 1935. The depot was abandoned in 1962 when a new bus station and garage was opened in The Conigre.
Here's a fine collection of buses at Trowbridge in the 1970s - two Bristol RELLs and a Lodekka. On the left is RELL6L 1279 (EHU 380K), new to Bristol Omnibus in 1972. Based at Trowbridge it was often to be found on Route 241 to Warminster. In the centre is a Bristol Omnibus RESL6L, No.529 (DAE 528K) on Route 250 from Trowbridge to Studley Green. Both REs wear "TE" plates (adopted in 1974) alongside the fleet number, indicating their residence at Trowbridge depot. On the right is 1963 FLF6B Lodekka No.2014 (819 KDV), one of seven which came from Western National in 1970. This one became No.7316 in the Bristol Omnibus fleet.
Just turning to the left a bit, we can see the two RELLs shown above on the right. Everything in this picture was new to Bristol Omnibus. In the centre are two MWs. I suspect that the all-green example is one of the 1959 Bristol MW6G buses with xxx DAE registrations delivered in 1959, and the other one (or is that two?) is a 1957 Bristol LS5G with a YHY registration, as seen in the first picture of this article above. And what is the strange thing on the left? More details below.
Here is that FLF6B Lodekka, apparently over the pit at Trowbridge. New to Bristol Omnibus in 1964 as No.C7164 (AHT 720B) it is seen in a later life working for the "Bristol Area Home Heating Centre". Nigel explained that this was actually an overall advert on behalf of the Heating and Ventilation Council, a contract which ran from 1/73 until 3/74. All this detail strongly suggests the last three photos were taken in early 1974.
Thanks very much to Stevie for the pictures, and to Nigel for straightening out fact from fiction. He also recommends a visit to David Pike's excellent article about Trowbridge here.
**************************************
EXETER BUS STATION TO BE REDEVELOPED
Construction of the new Exeter bus station under way in 1963 with a Bedford lorry of a once well-known local haulage contractor, Frank Tucker. (Exeter Express & Echo)
At a packed Exeter Guildhall on 20 January 2016 an extraordinary meeting of Exeter City Council approved controversial &pound70m plans by Crown Estates for redevelopment of the existing bus and coach station site at Paris Street. In its place will come more retail development, a cinema, a swimming pool and a much smaller bus station. Paris Street will also be closed to through traffic and this will be redirected into neighbouring streets.
For bus and coach users and operators, the decision (under discussion since 1984) is unlikely to be good news. The replacement bus station will be smaller, forcing the use of adjoining streets for certain high frequency bus services operated by Stagecoach South West as will those of National Express coach services. There will no longer be parking facilities for touring coaches and these will be directed to park at an existing coach park away from the city centre and lacking any facilities for drivers.
The first Exeter bus station opened in 1931 near the top of Paul Street, but facilities for passengers were minimal and in 1949 much-needed extra space was created by leasing space in the adjacent car park. Plans for an improved station in Paris Street were prepared by Exeter City Council and work commenced with site clearance in August 1962.
The site sloped from north to south, so a two-level facility was constructed, in which the upper level became the bus station and the lower level the coach station. There were eighteen departure bays, into which buses drove head-on and reversed out, plus parking for two rows of buses alongside the boundary wall. The large covered passenger concourse for included seating, an enquiry office and waiting room, a tours booking office, parcels & left luggage office and a staff canteen. The lower-level coach station could comfortably accommodate 72 coaches and had a waiting room and toilets, an inspectors' room and chart room for monitoring express coach services. There was also a cafeteria and shop, open during normal shop hours, plus vending machines and phone booths.
Exeter bus station (with the coach station visible behind, to the left) newly opened in July 1964 with a selection of Devon General buses, including (just above the sweepers) recently delivered AEC Reliance 590 No.9 with 36' Marshall bodywork, now preserved (Exeter Express & Echo)
Devon General vacated Paul Street and commenced leasing the new premises in 1964. In the 1960s, the coach station was a hive of activity in the summer months with the luxury coaches of Greenslades Tours and Grey Cars departing on local and extended tours, the express coach services of Royal Blue, Associated Motorways and Yelloway Motor Services and others, plus visiting coach tours and local services provided by independent coach and bus operators.
In 1972 National Travel (South West) was formed, later to become National Express from 1978. Cross-country services were then axed and the company concentrated on competition with the railways, especially following de-regulation on 6 October 1980. 'Rapide' express coach services started by Trathens of Plymouth flourished and a joint operation was formed between National Express and Trathens with services from Paignton to London and Newcastle-upon-Tyne calling at Exeter.
By 1984, the shortcomings of the coach station and the decline in coach tours led to the movement of express coach services to the upper level (bus station) site from 1 April 1984. By then, services operated from just a couple of bus bays - a sad decline from what was once a very busy coach station, capable of accommodating, at a squeeze, approximately one hundred vehicles. The facility has performed an invaluable role at a convenient location for over 50 years but time moves on and, for better or for worse, it will be closed in 2016 and replaced by a new and more compact facility in Belgrave Road. This will replace the bus garage constructed there in the 1975 which is to be relocated to a new site on the city outskirts.
This information was supplied by the late (and much missed) Philip Platt. Finally here's a great picture from Dave Godley.
This is Exeter Bus & Coach Station as seen during its 50th Anniversary event on 5 July 2014. Have a close look at this view and see how many gems you can spot.
Redevelopment was delayed but the new date for closure is 28 October 2017.
**************************************
SOUTHDOWN TENDERS AND TRADE PLATES
This fine picture taken by Ken Jones at the "Southdown 100" event in Southsea in June 2015, shows Southdown breakdown tender 0184 (EUF 184), converted from a 1938 Leyland TD5 bus and now owned by the Southdown Omnibus Trust. It makes a relevant link to a recent addition to this website, Clifford Jones's memories of Southdown, his ownership of one of these tenders, and many other tales. Thanks Ken.
Incidentally Clifford (who knows a thing or two about these breakdown vehicles) has noted that the number plate is in the wrong place. When converted to a recovery vehicle the number plate was relocated under the windscreen where the brackets were for the trade plates. But those brackets now hold a "TOWING" sign which should be up on the cant rail where the holes for those brackets are still visible. The brackets themselves seem to have disappeared.
Having said that, all the Southdown TD5 breakdown trucks did have 'blank' plates below the radiator which bore no number. Presumably the brackets below the windscreen enabled various trade plates to be attached or changed as required. Perhaps, now that the vehicle has reverted to its permanent number EUF 184, the owner has decided to use the fixed plate instead. It's all so complicated...
Clifford has added further information to straighten out my trade plates comments above; "Each depot had a trade plate for their breakdown tender, e.g. my 0181 always carried trade plate 184 CD. The Eastbourne tender had trade plate 067 HC on it as a TD1, and 150 HC as a TD5. This was probably due to Eastbourne requiring more trade plate(s) and they got swapped, but HC is Eastbourne whereas CD on mine was Brighton."
"When 0184 was based at Chichester it would have had 339 PX on it, which was transferred to the AEC Matador when it came to Chichester, as the Chevy was retired at Horsham which had 097 BP on it. The slotted brackets were just in case they were temporarily needed elsewhere or went to another depot. Trade plates were never permanently fixed to a vehicle, as in some cases in the trade they were in rubber mounts to be hung on a vehicle."
"Just to complete the picture, trade plates were originally 'general' or 'restricted'. 184 CD on mine is always photographed with general trade plates, which had a red background and white letters, so they could be used on any vehicle, and it was permitted to carry a load. This was to facilitate the breakdown tenders going to Portslade to pick up engine/gearboxes etc. which was the intention of the gantry system. When general plates were withdrawn, restricted plates - red letters on a white background - could only be used and no load could be carried. Finally the privilege of using them on breakdown tenders was withdrawn and the original number plate had to be put back."
**************************************
THREE SURVIVORS IN CANADA
Alan Kenny contacted me in September 2015 and said "I am travelling in Canada now and came across these in Alert Bay BC. Two Bristol Lodekkas MWY 118, 957 BWR and AEC Regent V 138 NAL. All are complete with seats, the AEC platform is rotten, MWY 118 has no engine/gearbox. They were rescued from Victoria, where they used to run tours around town; all the others were apparently scrapped. They are parked at the Seine Boat Inn and are owned by the proprietor Colin, who was away when I was there."
138 NAL is a 1962 Regent V No.38 from the fleet of West Bridgford (later Nottingham City Transport), MWY 118 is a 1954 LD6G Lodekka originally West Yorkshire DX9, and 957 BWR was a 1963 Bristol Lodekka FS6B, also from West Yorkshire as their number KDX143.
John Hinson, who knows an awful lot about classic bus matters, says the buses were part of a collection belonging to Paul Tremblay, under the name of the Charity Plus Society. He said "For years they could be seen from Route 4 near the crossing with Route 19 near Qualicum Beach, Vancouver Island. In theory, the collection of vehicles constitutes a museum, although many of the vehicles are visibly in poor condition and their long-term future is questionable."
Well clearly these three are still around, so let's keep our fingers crossed. Thanks to Alan for the photo.
**************************************
MUSEUM NEEDS KNIGHT IN SHINING ARMOUR TO FIND STOLEN BADGE
Museum volunteers are appealing for help in finding a unique piece of Greater Manchester's transport heritage, stolen after thieves broke into a locked cabinet and made off with a distinctive silver 'knight's head'. The 4-inch high silver emblem, a miniature bust of a knight's head, was once fitted to an Atkinson bus that trundled the streets of Greater Manchester until it arrived at its last terminus in 1970. The bus was saved and is on display at the Museum of Transport Greater Manchester in Boyle Street, Cheetham but the knight's head disappeared until earlier this year and was donated to the volunteers who run the Museum.
The head was too precious to put back on the bus so it was displayed in a locked cabinet. But now heartless thieves have broken open the cabinet and stolen it, robbing the Museum and its visitors of a little piece of transport history. "Only one of these knight's heads was ever made, making it a complete one-off," said Museum spokesman Paul Williams. "It means nothing to the thieves but it's actually a piece of history. The thief may have taken it to sell to an unscrupulous collector, or because it's shiny they may have thought it was silver - but actually it's just chrome plating. It's worthless to the thief but it means a lot to the volunteers who give their time to charity to keep the museum open, and our fear is that if it was a thief looking for precious metal they've found out that it isn't - and they've just thrown it away."
The theft happened over the weekend of 9/10 August, and the Museum is now asking for help in returning the knight's head. "It may be on sale on eBay, it might be on a junk stall, it could even be lying in a corner thrown away", said Paul. "We want everyone who cares about Greater Manchester's history to be our eyes and ears to look out for our little knight in shining armour and help it come home."
If anyone hears anything about the theft or the whereabouts of the stolen Atkinson knight's head emblem, please call contact Collyhurst Police Station, Greater Manchester Police on 101 quoting crime number 141-827-M15; or Crimestoppers, 0800-555-111.
**************************************
DONALD ALLMEY 1937-2015
It is with deep regret that we report that Donald Allmey, former proprietor (along with his wife Jean) of Allmey Coaches of Eastcote and the Allco Passenger Vehicles vehicle and parts dealership, passed away on 6 June, aged 78.
Donald was a renowned enthusiast for all things AEC and was a founder member of the London Bus Preservation Trust (operator of the Cobham Bus Museum), along with his brother, the late Allan Allmey. Over the years, he and Allan rescued many former London Transport buses for preservation or operation and also operated mainly AEC Reliances in Donald's coach business. My thanks to Philip Platt for this information.
**************************************
'CHICK' PERKINS AND HIS KENT BUSES
John Watler kindly sent me these five photographs, showing driver Walter "Chick" Perkins during his career as a driver in east Kent. John says "The first shows him (second from left) together with his conductor and passengers. Unfortunately I do not know the date, type of bus, or location, however the route board says 'Ramsgate, Sandwich and Ash via Woodensborough, (and I think) Marshborough and New Street'.
My guess is a Ford Model T around 1925-27, but I'm sure someone will tell me more. What is that company name on the side? Could it be SERPENTINE? Probably it's one of the 50 or so firms that were swallowed up by East Kent Road Car before the war.
The picture above shows 'Chick' Perkins and his conductor with their open top East Kent Leyland Tiger FN 9544. This (and the picture below) were taken outside the old Molineux Institute building (demolished in the 1970s) at Minster at some time in the 1930s, with the bus heading for Ramsgate via the RAF base at Manston.
This TS1 was the only Leyland Tiger delivered to East Kent in 1929 and, although the Tiger was normally considered a single-deck vehicle, FN 9544 had this double-deck open-top Short Brothers body from new. It was called up for military service in World War Two and did not return.
This picture shows Perkins (on the right) with another driver in front of 1956 Weymann-bodied dual-purpose AEC Reliance LJG 325, possibly on the same trip as shown in the picture below. There were 22 vehicles in this batch and they remained in service until the early 1970s, with LJG 325 being sold to a dealer in early 1974.
The last image shows five East Kent Reliance coaches (presumably from the LJG batch) with a party of Royal Marines (then based in Deal) in front of Edinburgh Castle, possibly in connection with the Edinburgh Tattoo. 'Chick' Perkins is standing in the doorway of the central bus No 4.
My thanks to John for this interesting set of pictures.
**************************************
SOUTH WALES TREE LOPPER
This unusual image was sent by Jules Christian. It shows a South Wales Transport AEC Regent I bus converted in 1952 to a tree-lopper and recovery vehicle. The company was eventually to acquire a remarkable total of 515 Regents, of which 112 were of the Mk.1 model, starting in 1932. This particular example, ACY 9, was No.9 in a batch of fifty delivered at the end of 1936 (1-50, ACY 1-50) with Weymann metal-framed 56-seat bodies.
The design of this smart conversion is presumably to provide tree-lopping capability at the front, and a more general utility space at the rear. It doesn't seem to incorporate a crane, so perhaps the back was more often used a space for chucking stripped branches. Many thanks to Jules for sending it.
**************************************
COLIN SHEARS 1934-2015
It is with much regret that we report that Colin Shears, the well known and highly regarded enthusiast of old vehicles and the countryside, passed away peacefully on 20 March at the Royal Devon & Exeter Hospital in Exeter.
Born on 5 March 1934 and brought up in the Pennsylvania area of Exeter, he developed a keen interest in local road transport from a very early age. Even at school, he was drawing buses in his exercise books, much to the puzzlement of his teachers! He was a pioneer in the hobby of preserving old buses and other commercial vehicles, purchasing the first of many as long ago as 1956. Happily, this vehicle and many subsequent ones are still with us today and have brought much pleasure to past and present day generations wherever they have been displayed.
In 1963 Colin succeeded in purchasing a large former aircraft hangar in North Devon. With the help of fellow old vehicle enthusiasts over the past 50+ years this has enabled the rescue of literally hundreds of historic buses, coaches, commercial vehicles and cars. Fortunately, his son Daniel has taken on his interest and he now manages the vehicle collection as well as acquiring his own historic vehicles.
Colin also had a keen interest in other preservation and conservation matters as well as the countryside and particularly his beloved North Devon and Exmoor which he visited frequently ever since as a child when he travelled there with his parents. He was an early member of the Historic Commercial Vehicle Club and the Exeter based Crash Box Car Club and several other preservation and conservation bodies.
In latter years, Colin and his partner Margaret enjoyed numerous trips throughout the U.K. and abroad. These included many on the preserved paddle steamer 'Waverley', especially to his beloved Lundy island. Last year saw the completion and publication by the West Country Historic Omnibus & Transport Trust of his autobiography - a fascinating read!
We extend our condolences to Colin's family and to his partner Margaret on their sad loss of a man who was a pioneer and has left a lasting legacy of the history of road transport in the West Country. His funeral took place on Thursday 9 April at Exeter & Devon Crematorium. For his final journey, Colin was conveyed in his beloved 1938 Leyland Tiger TS8 EFJ 666, which he purchased from Exeter City Transport in 1956. It was driven by his son, Daniel.
(Many thanks to Philip Platt for this information and for forwarding the obituary.)
**************************************
A DENNIS FROM THE 1950s
Keith Nicholson kindly sent me this picture in February 2015. It shows 1950 Dennis Lancet FBO 350 while working for the Wokingham Young Conservatives, Berkshire. Keith says; "I bought the coach in the late 1960s from Wokingham St.John's Ambulance, I think for &pound50. Where the photo was taken I can't remember, but I used the bus for group outings. I sold it to a bus preservation group but I can't remember their name or location, perhaps in the West Country?"
"It needed no mechanical work but sometimes to get it going I had to put a paraffin-soaked rag in the intake and set fire to it. The only 'problem' I had was Wokingham police who stopped me every time they saw me out in the bus, and told me they would until I got a PSV licence. Smith's coaches in Reading kindly put me through the test and the police never stopped me again."
Keith also says he was told that the coach had an unusual body, and it did - Davies C33F. There weren't many Davies bodies on Dennis Lancets, and almost all were for Welsh customers (including five bus bodies for Merthyr Tydfil. Three of the Davies bodies were for E.R.Forse, Cardiff, including this one, FBO 350 in April 1950, along with FBO 850 and FBO 975 also during the summer of 1950. Forse were later bought by Western Welsh and this coach became their No.590.
Many thanks to Keith for the photo and information. The coach did indeed survive into preservation, but ended up being scrapped in 2005.
**************************************
A COUPLE OF MEMORIES FROM THE PAST
Robert Blackshaw kindly sent me these two pictures in March 2014. The one above was, he says, "Taken at Ipswich when the Eastern Counties garage and bus station were in the centre of the town". It shows 1951 Eastern Counties LL733, a Bristol LWL5G (LNG 733) in 1965 outside Ipswich garage, serving on Route 22 south to Mistley, near Manningtree in Essex, via Holbrook. Similar but narrower bus LL718 (KNG 718) from 1950 still survives with the Eastern Transport Collection, but none of the 8ft wide 1951 'LNG' delivery is still with us.
The second picture is at Victoria Coach Station in 1959. Robert says it is a "South Midland coach waiting at the back of Victoria for a late afternoon departure to Oxford". It's a 1950 Bristol L6B, South Midland No.555 (FMO 937) with a Windover Huntingdon body. It was retired in 1962 and sold to Creamline, Bordon. My thanks to Robert for sending the delightful pictures.
**************************************
RARE FREELINE PROJECT AVAILABLE
This sole surviving attendee of the first UK Coach Rally still survives in Cambridgeshire. It's NVE 1, a Daimler Freeline / Willowbrook C41C that was new to Burwell & District Motor Services in March 1955 after being exhibited at the 1954 Earls Court Commercial Motor Show.
The following year, 1955, it was entered in the first UK Coach Rally held at Clacton. It was withdrawn from service March 1971, running units removed, and sold to one of B&D's drivers in 1974, who still has it today. Although it has been standing in the open for almost 40 years the frame work (apart from rear roof which was damaged by a falling tree) is remarkably sound.
The coach is available for preservation (contact Brian Camps on 01223 811764). Sadly the number NVE 1 was sold off the coach some years ago and at the time of writing was being offered by a number plate dealer for &pound18995! The replacement number is ATW 528A.
The photo above shows NVE 1 at Bury St Edmunds in the 1960s, and is shown by courtesy of Ray Budd. The top (2013) photo and information for this item was kindly submitted by John Wakefield.
**************************************
ANYONE RECOGNISE THIS BODYWORK?
John Wakefield kindly sent me this picture. He says "this rare 1952 petrol-engined Bedford SB bus/coach with Dorset registration FFX 97, has been found in a former car breaker's yard in Crewkerne, Somerset. The current owner, Graham Parsons, who has it for sale says";
"This model is very rare and we haven't seen another which is exactly like it. It was used as a school bus in Lyme Regis all its working life as far as I know. It came off the road in 1969 (tax disc still in the window) when my father bought it. In 1970 my father made up a galvanised roof to go over the bus, removed all the seats - bar the drivers seat and the front passenger seat - and built shelves all down through it. From then until now it has been used as a store. The picture was taken in 1985"
The chassis number of the Bedford is SB 6269 and the old buff logbook shows its first registered to Dorset County Council, County Hall, Dorchester on 12th March 1952. So the question is, what is the body make? If anyone is interested in buying it they should contact Graham on 01460-74600. The photo (an old Polaroid print) is the best Graham can find as it's difficult to get an up to date picture owing to the bus being hemmed in by other vehicles.
If you have any ideas email me here with your thoughts.
John Sullivan says that some other Dorset CC buses were bodied by Locomotors.
David Powell says "Dorset C.C. had some Bedford school buses bodied by a Bournemouth firm called Lee Motors who also converted some Bournemouth B.C. buses to tower wagons etc. I think this may have been one of these especially as Lee operated a Vauxhall/Bedford dealership from premises in Trinity Street, Dorchester (now Iceland Frozen Foods)."
**************************************
BRIGHTON BELLE RETURNS TO SUSSEX
Over the 2013 August Bank Holiday weekend both Chris Stanley and I attended the thoroughly entertaining Hellingly Festival of Transport in East Sussex. The difference between us was that Chris remembered his camera, and I forgot mine. As a result Chris was able to take these pictures of the star exhibit at the show, in my opinion.
CAP 229 was one of a batch of Bristol K5G double deckers delivered to Brighton Hove & District in 1940. It was originally numbered 6352 but became merely 352 in the mid 1950s when it was upgraded and converted to convertible / open top for seafront route 17. Its red & white livery changed to all-white, as was usual at resorts around the country. The removeable roofs enabled the bus to be used throughout the year, an attribute that many open-toppers lacked.
352 was sold to Eastern Counties in 1962, where it remained for 6 years. After that it went to renowned dealer Ben Jordan, passing to a preservationist in Suffolk in 1975, and then to another owner in Northampton who started a long-term restoration. Around this time the removeable roof acquired a pair of large 'roof light' windows in the front dome. What that was all about I have no idea, but I'll try to find out.
And then in March 2012 it was generously donated to the Claude Jessett Trust, partly because the owner felt that the restoration needed greater attention, and also because he felt it was appropriate that it should return to Sussex. Now resident at Tinkers Park, Hadlow Down, it has become a close neighbour of mine. The bus is back on the road (it hadn't been seen 'out and about' for many years) and the work is progressing well.
Thanks to the team at Tinkers Park for bringing it to the show, and thanks to Chris Stanley for the photos.
**************************************
ANOTHER LONDON RT LIVES (JUST ABOUT!)
Stuart Hill kindly sent me these pictures. He took them on 24 June 2013 on a farm in the French Mayenne region near Caen. They show RT2180 (KGU 109) in a rather sorry state.
The bus was built in 1949, retired in 1972 and sold to a French promotion company, so it will soon have been in France for twice the time it was in service in London! I guess it's probably now well past any thoughts of restoration. Many thanks to Stuart for sending the pictures.
**************************************
LONDON CUB MAKES PUBLIC DEBUT
John Perthen very kindly sent me the photo above, taken on 1 December 2012 during the Ensignbus special Christmas services, involving classic buses running around Brentwood, Gravesend, Lakeside and nearby points. The surprise of the day was that Ensign revealed their newly-restored London Transport Leyland Cub, C4.
Apparently they have owned this bus for some years, and John says that the restoration - both inside and out - is nothing short of incredible. The Ensign website describes it as "A unique vehicle from a bygone age. Painstakingly restored by us to concourse standard over a four year period, C4 is a truly unique vehicle that is now available to hire. Finished in the condition it would have been delivered in back in the 1930s the vehicle exudes the elegance and slower pace of life in those times".
John apologises for the quality of the photo due to poor lighting conditions, but I reckon he's done very well. Many thanks to him for sending the picture, and the news.
**************************************
See more archived news and pictures on Page 2 (older) or Page 3 (older still).
---
SOME QUICK LINKS WITHIN THIS WEBSITE;&nbsp Home Email THE COMPLETE WEBSITE MENU Events Diary Links Small-Ads Halfcab list Classic Irish Buses
---