The Classic Irish Buses website
by Shane Conway
Site set up February 2001, and last updated on 22nd April 2019
Classic Irish Buses Classic Manx Buses Routemasters Email Photo gallery COMPLETE SITE MENU Links Morris Oxford car site Henry's Coastal Tours Classic Buses Website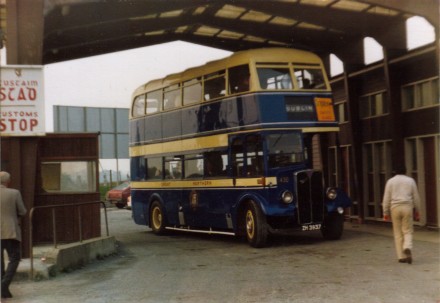 Just over 60 years ago, on September 30th 1958, the much respected Great Northern Railway ceased to exist as a seperate entity, being absorbed at midnight into both CIE and the UTA. To mark the occasion a road run was held in the Dublin area, using the preserved 1948 AEC Regent III (438; ZH 3937) on the routes where similar buses once plied. Leaving Eden Quay at 11.50, a time picked from the GNR timetable, 438 covered what is now route 32 of Dublin Bus out to the terminus at Portmarnock, before heading back and following the eastern end of route 31 into Howth village. The bus looked and sounded superb, with that classic AEC engine sound of a bus in top condition for its age. Appropriately, the route is the one I would have used in the 1960s, via Killester and Raheny, and the bus is seen at both ends of the Howth Road, at Fairview and near Blackbanks. Both photographs copyright Simon Lang.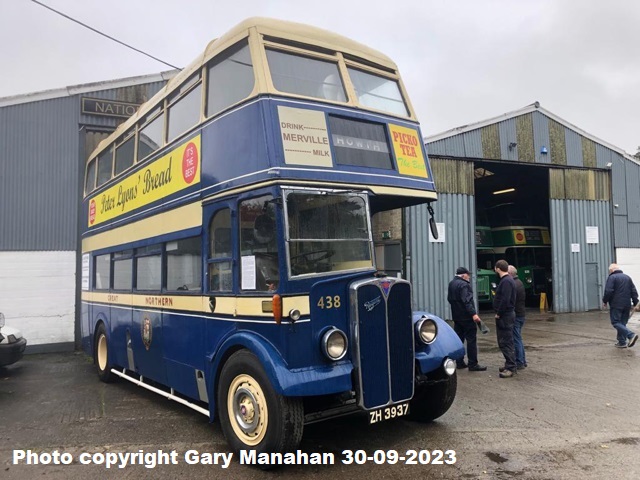 ---
What's new? (all updates for the last three months)
22nd April 2019: Leyland 1946 to 1955 page updated (GKG 54 updated)
22nd April 2019: Routemaster site updated (RML2298, 2432 re-registered)
---
Welcome to my website, the online home of classic Irish buses and coaches. I'm Shane Conway and my original (woeful) attempt at setting up the predecessor of this site was to initially record the passing of the last Dublin Bus Bombardier KD class deckers in January 2001. My interest in the topic of this website began with the wonderful (and much missed) CIE bodied Leyland Titan OPD2/10s allocated to Clontarf garage on the north side of Dublin Bay in the mid 1960s, mainly those working on routes 31 and 32, which passed within a quarter mile of my then front door.
This site is intended to be as definitive a history as possible of some of the various bus and coach fleets which have graced the roads of Ireland in the past. From the 1920s buses which started the replacement of Dublin's original trams, up to the Leyland and Volvo Olympians of Dublin Bus, and the thousands of buses in between, including those of Ulsterbus and their predecessors, Lough Swilly, Belfast Corporation and the various versions of Leylands operated by CIE all over Ireland over many decades, all have their place on this site, in the form of detailed fleet histories. Complementing these pages are chassis lists of Bristols, AECs and postwar Leylands in Ireland, some "light reading" travelogue pages of some of the places I've visited since the 1980s, a few photo collections, and also a couple of miscellaneous pages where some of our correspondent's pictures can be found. There are also sister sites covering London's Routemasters, the Isle of Man, and the 1960s Farina styled Morris Oxford and Austin Cambridge cars.
So, welcome aboard, I hope you will find something of interest as we journey down memory lane and recall Irish and Manx buses of yesteryear. If you like the site, tell others, if there's a mistake, tell me. Updates and corrections to the text, additional photo contributions and info on links to any other Irish transport websites are always welcome, even though it may take me a while to actually get round to using them.
---
Quick links guide to this site
Republic of Ireland buses and coaches:
Northern Ireland buses and coaches:
Chassis list summaries of Irish owned buses and coaches:
Manx buses and coaches:
British and overseas buses and coaches:
Classic cars, trucks and vans:
---
Thanks to the following people for their contributions:
Dick Gilbert, without whose help this website would not exist.
The various photographers who's work is scattered around this site.
Richard Davis for additional notes on the fate of some Manx buses.
Patrizio Castelli for additional information on buses in Rome
Please note that ALL photos (especially those by other photographers) on this site are strictly copyright, and that the material is considered suitable for viewing by all ages. While every effort has been made to ensure the information listed on the various pages is as correct or accurate as possible, updates or corrections to any mistakes are welcome.
---
Other (mainly) Irish transport websites
General bus interest
---
Photo gallery sites of transport pictures
---
Discussion forums for Irish transport
---
Vehicle sites
Richard Edge's site is a tribute to the 1980s Leyland Tiger.
Gerry Tormey's site covering Bristol LS, MW, SC and SU buses and coaches.
Rob Sly's site is a tribute to Bristol Lodekka, VRT, LH and RE buses and coaches
---
Museum and preservation websites
---
Operator sites
Vehicle manufacturers and service companies
---
A few non-bus websites
Ciaran Cooney's photographic record of Irish trains and stations plus a set of links to other Irish railway sites.
The official website of Judith Durham, lead singer with 60s Aussie folk group "The Seekers".
---
Classic Irish Buses Classic Manx Buses Routemasters Email Photo gallery COMPLETE SITE MENU Links Morris Oxford car site Henry's Coastal Tours Classic Buses Website
---