The Classic Irish Buses website
Visite au Paris, Decembre 2004
Page last updated on 10th November 2013
---
Classic Irish Buses Classic Manx Buses Routemasters Model buses Email Photo gallery COMPLETE SITE MENU Links Morris Oxford car site Henry's Coastal Tours Classic Buses Website
---
The third Classic Irish Buses visit to mainland Europe took in Paris at the end of 2004, mainly to see in the new year of 2005. The three day trip saw us parking at Dublin Airport at 05.39 on December 30th, and then travelling to the terminal building on one of Aircoach's articulated Mercedes Citaros to board our flight to Charles De Gaulle Airport departing at 07.10. The 1 h. 20 min. flight on an Aer Lingus A320 Airbus landed on time in misty overcast conditions, and after reclaiming our baggage we attempted to make our way to central Paris. Another bendi-bus took us to the railway station, and an hour and one change of train later we emerged into daylight once more near the Arc de Triomphe. The transport map we acquired at the airport listed 280 railway stations in Paris alone, reflecting the huge investment made by the French in public transport.
The Avenue des Champs-Elysees, with the Arc de Triomphe in the distance, and some typically heavy French traffic. The bus is one of the RATP Renault R312s.
On the short walk to the hotel, we noted the sheer volume of traffic around the Arc, and the apparent free-for-all disregard for the road space of other drivers. The most used component of any vehicle there has to be the brakes, followed by the horn......... How we witnessed no pile ups was difficult to figure out, but driving anything round that area is certainly not for those who are anyway nervous!!! An Irizar bodied Scania coach from Barry's of Weymouth drove past, registered LEN 616, formerly it had been one of Bus Eireann's SI class.
On foot exploration took up the rest of the afternoon, and shock number two was the outlandish cost of even the most modest meal. A lunch of two plates of fries and a burger, half a litre of mediocre red wine, and two coffees came to almost 43 Euro. Another surprise was when we read the receipt after leaving the cafe - the burger was described as "steak a cheval" - which to us translates as horse meat......... And so it went on, two coffees and two pastries in a cafe near the Louvre the following day was almost 21 Euro, and two coffees and one croissant in a third establishment was 13 Euro. Evening dinner though was in a much more reasonably priced Chinese restaurant, with friendly attentive staff, not to mention wine which actually tasted like wine, rather than vinegar!!!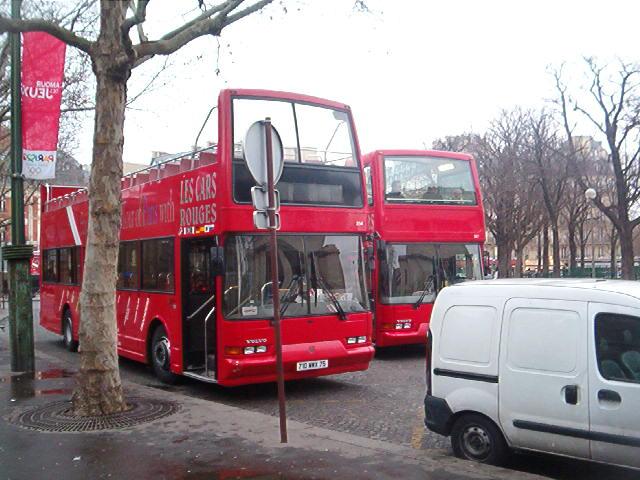 Two of the "mirror image" East Lancs bodied Volvo opentoppers of Les Cars Rouges, seen at the Trocadero gardens.
Day two was spent on the vehicles of "Les Cars Rouges", which as the name suggests is red opentop sightseeing buses. Priced at 22 Euro for two days travel, the fleet comprises East Lancs bodied Volvos, which I assumed were simply left hand drive B7TL versions of buses to be found on sightseeing and service work in the UK and Ireland. But on closer inspection they weren't what they seemed to be.... A few of them had the same arrangement of upright corner mounted engine as the Volvo artics in Dublin Bus, while others were underfloor engined, possibly suggesting that these are double deck bodies built on chassis usually used for single deckers. All were 12 metre long with dual door, dual staircase and moulded plastic seats. Seat belts (which are compulsory in France) were fitted. However, these were sopping wet, which presumably means the buses are parked in the open at night.
A second company, "L'Open Tour", runs similar vehicles in a pale yellow colour, some of which carry the Gray Line logo. LEN 616 turned up again, parked at the Trocadero gardens this time, but a photograph was not possible as it was surrounded by other coaches. On leaving the restaurant later that evening it was parked up just across the street, close to our hotel. Early on new years day, I went out again hopeful of snapping it - but once again unsuccessful as it had already departed!!!!
Two of the gas powered RATP Renault R312s, seen on route 30 at Avenue Kleber.
The urban bus service, RATP, runs mainly Renault R312 buses. Some are articulated, and some gas powered with roof tanks fitted. Any we saw had, in addition to the usual front destination screen, clipboards on each side detailing the route number and intermediate points. A small clipboard on the back (stickers in some cases) repeated the route number. Adverts were confined to a small portion on either side of the bus, with some vehicles having an advert panel below the windscreen, and a few buses having full size adverts on the rear panels. From the rear, they are recognisable by having the rear window curving into the roof.
And no visit to Paris would be complete without including the Eiffel Tower, in this case as a backdrop to a visiting Belgian registered Setra double deck coach.
Having discovered that there was an Air France express coach from the Arc de Triomphe to the Airport, we decided to try it out on our last day. Again (not surprisingly) it was a Renault, and as we drove along, a taped message was broadcast in both French and English advising of the various stops in the Airport, and to remind us that seat belts must be worn. On reaching down for the lap belts, we found there were none fitted to the coach!!!
After that we endured the basic facilities of Terminal 1, including a bar which calls itself a restaurant, and finally found a snack bar inside the departures lounge. Call me cynical if you like, but a departures area with no hot food service, no toilet facilities (they were in another area though), and scruffy seating is not the sort of image that should be presented to passengers. Perhaps the Eurostar trains should be extended to Holyhead to connect with a ferry to Dublin?
The journey was completed on an Aer Lingus Boeing 737, and like the one on which we travelled to Portugal a few months earlier, our seats were at a window-less part of the fuselage. Not that there's much to see in cloudy conditions, but is this a common feature of this type of aircraft?
---
Classic Irish Buses Classic Manx Buses Routemasters Model buses Email Photo gallery COMPLETE SITE MENU Links Morris Oxford car site Henry's Coastal Tours Classic Buses Website
---