The Classic Irish Buses website
The Miscellaneous Picture File
(Part one: ex British double deckers in other countries>
---
Classic Irish Buses Classic Manx Buses Routemasters Email Photo gallery COMPLETE SITE MENU Links Morris Oxford car site Henry's Coastal Tours Classic Buses Website
---
This page is a summary of some more bus pictures, some sent in by a number of our many correspondents, and a few from my own collection as well. First up is a response to a photo which was then on the former CIE Atlantean page, of trainer bus DF419 in February 1992. Justin Merrigan wrote:
I nearly choked when I saw the pic of DF419 sitting at Churchtown!! I was that driver!! At least I think I was, I joined Dublin Bus in January 1992 and was at the driving school until March - the reason for the longer than usual period there was the industrial action which delayed the start of the Imp service on route 83.
But yes, certainly DF419, and indeed DF471 were my buses with the wonderful Nicky McEvoy in the hot seat! And no, I'm not still in the job. One assault too many so I left in August 1994. After five years in the ferry industry I am now living and working in Australia.
Justin then sent three pictures of Atlanteans, all taken in Hobart, Tasmania by Mike Triplett.
This PDR1/1 with a Metro-Cammell body was new to Plymouth in Devon and would seem to be an early 1960s bus. Ex U.K. double deckers were quite popular imports by Australian bus companies, and their various body designs contrast sharply with native Aussie built vehicles. I'm not sure, but that looks like an adapted L.T. roundel above the windscreen, to go with the red paint no doubt....
This Alexander bodied AN68 was new to Sheffield City Transport, as number 302 and registered UWA 302L. Based on chassis 7301148, it entered service on March 16th 1973 at Greenland Road depot. The destination blind reading 100 City Circular is from its original home, although those two destinations were never used together in Sheffield (Additional information supplied by Ian Issacs). How an ex Sheffield (and an ex Portsmouth for that matter) bus ended up in Tasmania is another question entirely.
And last but not least, the third bus was also an import, but not as well travelled as the other pair. It carries a typically Australian body design, apparently built to meet strict axle weight limits. Note the apparent lack of an emergency exit on the bus, perhaps some of our Australian viewers could explain why. This bus was previously used on urban routes in Sydney.
---
IRELAND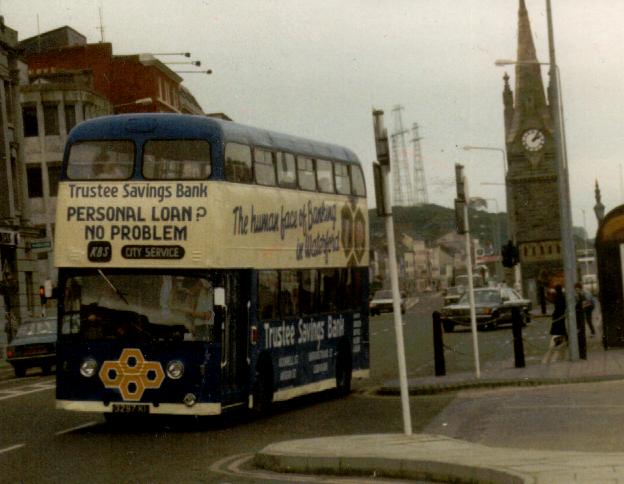 Kenneallys Bus Service was a long established independent operator in Waterford, in fact the only such running a city service in Ireland, until the late 1990s when independent operators began regular services in the Dublin area. This bus was one of four Roe bodied PDR1/1s new to Lincoln in 1965 (AVL 277 - 280C), of which Kenneally acquired 277 and 279 in 1980. The former 279 was also the only privately owned allover advertising bus in Ireland for many years.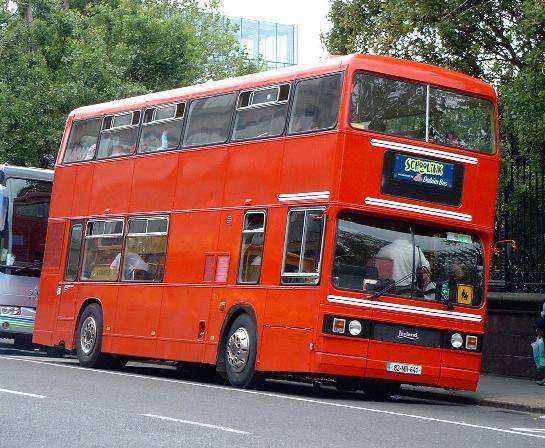 82-MH-641 is one of a number of ex London Buses Leyland Titans and MCW Metrobuses to have been acquired by Irish operators. This vehicle was originally T532 and is one of three (along with T610 and T617) bought by Fitzpatrick Coaches of Drumree, Co. Meath in March 2001. (Photo by Kevin Horgan).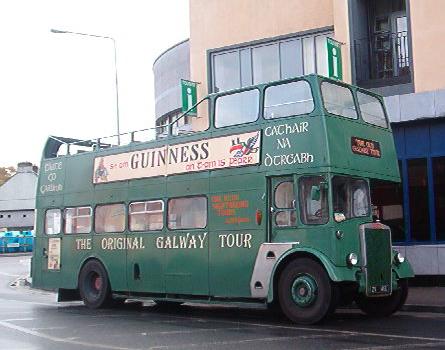 Another Irish Titan, albeit of a different generation to the one above, is this 1963 Northern Counties bodied PD3/4 new to Stratford Blue, later passing to Midland Red, then to the Isle of Man where it lost its roof. In 2003 it was photographed operating for Lally Coaches in Galway on their city tour.
---
CANADA
Above is a Daimler Fleetline with a Roe body, converted to right hand entrance. As the fleetname suggests, the bus operates on Gray Line sightseeing tours in Ottawa. It is thought to be one of three buses which were new to Derby City Transport, numbers 241, 249 and 251 (CRC 241/49/51J), but which one is not known. (Photo by Morgaine Maguire)
Also from the Gray Line fleet in Ottawa is a Roe bodied Atlantean, and showing clear signs of having been a one time dual door bus. The UK registration plate on the front appears to be MCO 254H, one of three ex Plymouth Corporation vehicles there. The other two are MCO 256/60H. Note the non-original features such as the marker lights below the upper deck windscreen, the extra (chromed) mirrors and the tinted windows. (Photo by Morgaine Maguire)
Three ex UK deckers operate in Alaska, comprising two FLF Bristol Lodekkas and a Leyland PD3. The chilly scene above shows Lodekka GRU 979D and the Leyland, originally Doncaster Corporation's 477 HDT of 1962. (Photo by Chris Wilhelm) As can be seen, GRU 979D has been fitted with an offside doorway, but the other buses remain as built. The second Bristol is registered BOD 38C.
---
GERMANY
GT-BJ 158 or SAX 989 is a 1958 Bristol Lodekka, new in March of that year to Red and White as fleet number L657. In 2003 it was masquerading as a red London bus in Germany, and apparently owned by Philipp Nordmann. (Photo by Frank Smuda)
Another of Phillipp's buses is London Transport's RT960, originally registered as KGU 234 in July 1949. It is seen on arrival in July 2003, and any further information on the vehicle's history would be useful. (Photo by Frank Smuda)
---
HOLLAND
BE-41-05 is a modified Bristol Lodekka, having had the entrance door changed to the offside of the bus, and the overall height reduced to four metres. This bus was new to Hants and Dorset in 1965 as fleet number 1528, registered EEL 891C. The photo was taken in July 2003 in Maastricht, Holland. (Photo sent by Melroy van den Berg).
Click here for part two (covering other buses and coaches, tar tankers, fire engines, racing car transporters etc....)
---
Classic Irish Buses Classic Manx Buses Routemasters Email Photo gallery COMPLETE SITE MENU Links Morris Oxford car site Henry's Coastal Tours Classic Buses Website
---