Classic Buses profiles
Guide Friday 1975 to 2002 (by Shane Conway)
---
SOME QUICK LINKS WITHIN THIS WEBSITE;&nbsp Home Email Links THE COMPLETE WEBSITE MENU Events Diary Small-Ads Classic Irish Buses Classic Manx Buses
To support this website, please click here to do all your Amazon shopping. Thanks.
---
Last updated on 1st January 2017
---
Guide Friday was originally established in William Shakespeare's hometown of Stratford-on-Avon in 1975, by Roger Thompson. Over the following quarter century its green and cream painted open top double deck buses were to become a familiar sight throughout the U K and further afield as operations spread to other European countries. Its Irish tours were to adopt a black and gold livery though, as rival operator Dublin Bus had already painted its Atlanteans in a livery similar to Guide Friday.
The main vehicle choice in later years was of ex Nottingham Leyland Atlanteans (and a few Daimler Fleetlines), although other operators and vehicle types were sourced too. In York for example Bristol VRTs were preferred, as these were maintained by Rider York who had no Atlanteans in their fleet. Other unusual vehicles included two opentop AEC Regals, one Leyland PD3 (the only rear entrance vehicle owned), and in the late 1990s fleet replacement had started to favour Olympians and Titans.
Over the course of several years I travelled on Guide Friday services in Dublin, York, Cardiff and their home territory of Stratford-on-Avon, sampling Atlanteans, VRTs and the ex Leicester PD3 in the process.
Guide Friday was taken over by City Sightseeing Tours of Purfleet, Essex in May 2002. The fleetlist below lists as many (179 so far) of the company's fleet as I have been able to trace, but does not include other operators vehicles operating on contract to Guide Friday.
---
I sampled this vehicle in Stratford in 1993, when it was some 30 years old. Having been acquired from Leicester City Transport in 1978, it was Guide Friday's first ever open top bus.
Seen outside Cardiff Castle in June 1998, KHC 814K was one of four ex Eastbourne East Lancs bodied Atlanteans in the fleet.
Guide Friday's York services used seven Bristol VRTs, due to the fact that these vehicles were maintained and garaged by Rider York, which had no experience of Fleetlines or Atlanteans. This is GHL 191L.
Another York based VRT, WWR 419S is seen at St. Leonard's Place in the centre of the Viking city. These VRT photos were taken in 1995.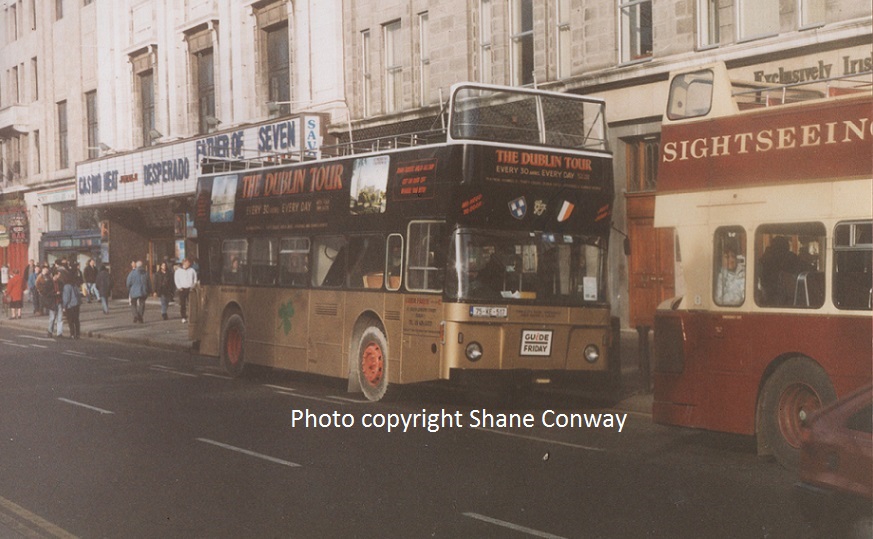 Seen in O'Connell Street, Dublin, was 75-KE-517. This East Lancs bodied Atlantean was new to Nottingham City Transport as GVO 719N, but had been acquired by Guide Friday from Confidence Coaches of Leicester who also ran several similar buses on school transport.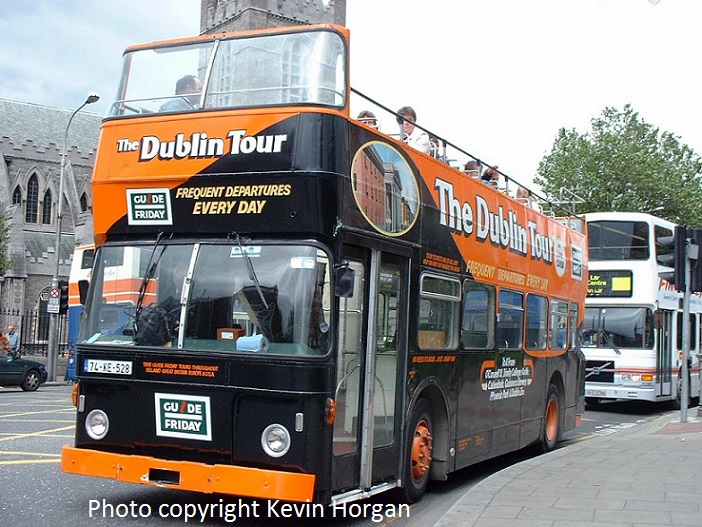 The second version of the Irish livery was black and orange, applied in this "wavy" style. Like all of the Irish based fleet, it's another ex Nottingham Atlantean (74-KE-528, originally GRC 889N) new in December 1974.
For the Bath tour, Badgerline provided the vehicles with a modified Guide Friday livery and the Stratford based company providing a live commentary. All the buses on this run were Bristol VRTs except for the above, a 1941 Bristol K5G which became an opentopper in 1955.
---
Guide Friday known vehicles:
XMS 500K Daimler CRG6LXB 65360 - Alexander O44/31F AD9/1970/3 new 10/71 as Alexander (Midland) MRF100
XMS 501K Daimler CRG6LXB 65361 - Alexander O44/31F AD9/1970/4 new 10/71 as Alexander (Midland) MRF101
BWG 528 Leyland PS1 471311 - Alexander C35F 3531 new 3/49 as Alexander PA123
WCA 942W Leyland PSU5D/5R 8030413 - Plaxton C57F 8012LC082 new 8/80 as Bostock, Congleton 5
TYJ 2S Leyland AN68A/1R 7701938 - East Lancs O43/31F 7602 new 3/78 as Brighton Borough Transport 2 (later r/r HNP 153S)
TYJ 3S Leyland AN68A/1R 7701955 - East Lancs O43/31F 7603 new 4/78 as Brighton Borough Transport 3 (later r/r HNP 154S)
TYJ 6S Leyland AN68A/1R 7702144 - East Lancs O43/31F 7606 new 3/78 as Brighton Borough Transport 6
TYJ 12S Leyland AN68A/1R 7702724 - East Lancs O43/31F 7612 new 3/78 as Brighton Borough Transport 12 (later r/r 78-KE-566)
TYJ 13S Leyland AN68A/1R 7702442 - East Lancs O43/31F 7613 new 2/78 as Brighton Borough Transport 13
TYJ 14S Leyland AN68A/1R 7702777 - East Lancs O43/31F 7614 new 3/78 as Brighton Borough Transport 14
CRU 184C Daimler CRG6LX 60942 - Weymann CO43/31F M1921 new 7/65 as Bournemouth Corporation 184
CHL 772 Daimler CVD6 17462 - Willowbrook B35F 50808 new 5/50 as Bullock, Featherstone 342
YNO 77S Leyland AN68A/1R 7800101 - Eastern Coachworks O43/31F 22837 new 4/78 as Colchester Borough Transport 77
KHC 813K Leyland PDR1A/1 7104422 - East Lancs O45/31F 7048 new 2/72 as Eastbourne 17
KHC 814K Leyland PDR1A/1 7104423 - East Lancs O45/31F 7050 new 2/72 as Eastbourne 14
KHC 815K Leyland PDR1A/1 7104424 - East Lancs O45/31F 7049 new 2/72 as Eastbourne 15
KHC 817K Leyland PDR1A/1 7104694 - East Lancs O45/31F 7047 new 2/72 as Eastbourne 17
RFN 954G Daimler CRG6LX 63062 - Park Royal H39/33F B56544 new 5/69 to East Kent
RFN 957G Daimler CRG6LX 63065 - Park Royal H39/33F B56547 new 5/69 to East Kent
RFN 961G Daimler CRG6LX 63069 - Park Royal H39/33F B56551 new 5/69 to East Kent
RFN 965G Daimler CRG6LX 63073 - Park Royal H39/33F B56555 new 5/69 to East Kent
RFN 970G Daimler CRG6LX 63078 - Park Royal H39/33F B56560 new 5/69 to East Kent
BFS 39L Leyland AN68/1R 7203416 - Alexander O45/30D AL8/3171/25 new 1/73 as Edinburgh City Transport 39
BFS 40L Leyland AN68/1R 7203417 - Alexander O45/30D AL8/3171/40 new 4/73 as Edinburgh City Transport 40
BFS 42L Leyland AN68/1R 7203813 - Alexander O45/30D AL8/3171/42 new 4/73 as Edinburgh City Transport 42 (later r/r 73-KE-523)
BFS 44L Leyland AN68/1R 7203815 - Alexander O45/30D AL8/3171/44 new 4/73 as Edinburgh City Transport 44 (later r/r DSX 87L)
BFS 45L Leyland AN68/1R 7204057 - Alexander O45/30D AL8/3171/45 new 4/73 as Edinburgh City Transport 45
OFS 911M Leyland AN68/1R 7303969 - Alexander O45/30D AL27/771/11 new 12/73 as Edinburgh City Transport 911
OFS 912M Leyland AN68/1R 7303970 - Alexander O45/30D AL27/771/12 new 12/73 as Edinburgh City Transport 912
OSF 925M Leyland AN68/1R 7305183 - Alexander O45/30D AL27/772/25 new 2/74 as Edinburgh City Transport 925
OSF 928M Leyland AN68/1R 7401128 - Alexander O45/30D AL27/772/28 new 2/74 as Edinburgh City Transport 928
OSF 942M Leyland AN68/1R 7402350 - Alexander O45/30D AL27/772/42 new 7/74 as Edinburgh City Transport 942
GFS 447N Leyland AN68/1R 7500929 - Alexander O45/30D AL36/773/47 new 5/75 as Edinburgh City Transport 447
GYS 896D Leyland PDR1/1 L43846 - Alexander H44/34F A1/364/118 new 9/66 as Glasgow Corporation LA320
ORS 216R Leyland AN68A/1R 7604382 - Alexander O45/29D AL54/2074/19 new 2/77 as Grampian Regional Transport 216
HRS 278V Leyland AN68A/1R 7903763 - Alexander O45/29D AL86/1677/20 new 4/80 as Grampian Regional Transport 278 (later r/r 80-G-704)
KSU 839P Leyland AN68/1R 7503802 - Alexander O45/31F AL39/1374/13 new 9/75 as Greater Glasgow P T E LA963
E54 HFE MCW MF150/94 MB9655 - MCW B23F new as Grimsby Cleethorpes 54
JJT 446N Bristol VRT/SL6G VRT/SL2/1100 - Eastern Coachworks H43/31F 20966 new 7/75 as Hants and Dorset 3334
PRH 257G Leyland PDR1A/1 802826 - Roe O44/31F GO6638 new 2/69 as Hull City Transport 257
264 ERY Leyland PD3A/1 622661 - Park Royal O41/33R B49004 new 1/63 as Leicester City Transport 264
JPL 105K Leyland PDR1A/1 7104338 - Park Royal O43/30F B58339 new 4/72 as London Country Bus Services AN5
VPA 148S Leyland AN68A/1R 7704726 - Park Royal O43/30F B62548 new 5/78 as London Country Bus Services AN148
VPA 152S Leyland AN68A/1R 7704984 - Park Royal O43/30F B62552 new 6/78 as London Country Bus Services AN152 (later r/r WJY 759)
XPG 175T Leyland AN68A/1R 7800047 - Park Royal O43/30F B62575 new 9/78 as London Country Bus Services AN175
JPE 233V Leyland AN68B/1R 7905103 - Roe O43/30F GO8287 new 7/80 as London Country Bus Services AN233
(later r/r SE-6277-DL)
JPE 237V Leyland AN68B/1R 7905156 - Roe O43/30F GO8291 new 7/80 as London Country Bus Services AN237
KPJ 242W Leyland AN68B/1R 7905430 - Roe O43/30F GO8311 new 9/80 as London Country Bus Services AN242
MLH 304L Daimler CRG6LXB 66444 - MCW O44/24D new 10/72 as London Transport DMS1304
KJD 216P Scania BR111DH 543618 - MCW H43/29D new 3/76 as London Transport MD16
KJD 225P Scania BR111DH 543628 - MCW H43/29D new 7/76 as London Transport MD25
EYE 227V Leyland TNLXB2RRSP T257 - Park Royal H44/24D new 4/80 as London Transport T227
KYN 310X Leyland TNLXB2RR 0359 - Leyland H44/24D new 9/81 as London Transport T310 (later r/r TYJ 3S)
KYV 323X Leyland TNLXB2RR 0372 - Leyland H44/24D new 10/81 as London Transport T323
GFS 448N Leyland AN68/1R 7501195 - Alexander O45/30D AL36/773/48 new 5/75 as Lothian Regional Transport 448
MSF 477P Leyland AN68A/1R 7600143 - Alexander O45/30D AL36/773/77 new 2/76 as Lothian Regional Transport 477
JSX 583T Leyland AN68A/1R 7804277 - Alexander O45/30D AL74/2676/8 new 1/79 as Lothian Regional Transport 583
GSC 660X Leyland AN68A/1R 8100834 - Alexander O45/30D AL98/3180/40 new 11/81 as Lothian Regional Transport 660
GSC 661X Leyland AN68A/1R 8100859 - Alexander O45/30D AL98/3180/41 new 11/81 as Lothian Regional Transport 661
GSC 662X Leyland AN68A/1R 8100881 - Alexander O45/30D AL98/3180/42 new 11/81 as Lothian Regional Transport 662
GSC 665X Leyland AN68A/1R 8100908 - Alexander O45/30D AL98/3180/45 new 11/81 as Lothian Regional Transport 665
HKL 826 AEC Regal III 06624616 - Beadle O35F 399 new 9/46 as Maidstone and District SO16
HKL 836 AEC Regal III 06624920 - Beadle O35F 432 new 3/47 as Maidstone and District SO26
620 UKM Leyland PDR1/1 622843 - Weymann O43/32F M531 new 3/63 as Maidstone and District DH620 (later r/r XKO 54A)
JKE 104L Leyland PSU3B/4R 7300421 - Duple C44F 275/2106 new 6/73 as Maidstone and District 4104
BKE 861T Bristol VRT/SL3/6LXB VRT/SL3/1902 - Eastern Coachworks O43/31F 22976 new 6/79 as Maidstone and District 5861
OEM 798S Leyland AN68A/1R 7800914 - MCW O43/32F new 6/78 as Merseyside P T E 1798
SHA 882G Daimler CRG6LXB 63170 - Alexander H45/30D J12/1868/23 new 7/69 as B M M O 6178
YHA 274J Daimler CRG6LXB 64293 - Alexander O45/30D J26/1269/14 new 12/70 as B M M O 6274
MPT 314P Leyland AN68/1R 7504499 - Eastern Coachworks O45/27D 21974 new 12/75 as Northern General 3314
ETO 161L Daimler CRG6LX 66707 - Willowbrook O47/30D 70767 new -/73 as Nottingham City Transport 161
ETO 163L Daimler CRG6LX 66709 - Willowbrook O47/30D 70769 new -/73 as Nottingham City Transport 163
ETO 166L Daimler CRG6LX 66712 - Willowbrook O47/30D 70772 new -/73 as Nottingham City Transport 166
ETO 167L Daimler CRG6LX 66713 - Willowbrook O47/30D 70773 new -/73 as Nottingham City Transport 167
ETO 178L Daimler CRG6LX 66724 - Willowbrook O47/30D 70784 new -/73 as Nottingham City Transport 178
ETO 184L Daimler CRG6LX 66730 - Willowbrook O47/30D 70790 new -/73 as Nottingham City Transport 184
OTO 542M Leyland AN68/1R 7303173 - East Lancs O47/30D 2503 new 12/73 as Nottingham City Transport 542 (later r/r 73-KE-513)
OTO 543M Leyland AN68/1R 7303182 - East Lancs O47/30D 2504 new 12/73 as Nottingham City Transport 543
OTO 552M Leyland AN68/1R 7302664 - East Lancs O47/30D 2513 new 1/74 as Nottingham City Transport 552 (later r/r 74-KE-529)
OTO 571M Leyland AN68/1R 7303178 - East Lancs O47/30D 2532 new 3/74 as Nottingham City Transport 571 (later r/r 74-KE-527)
OTO 572M Leyland AN68/1R 7302665 - East Lancs O47/30D 2534 new 4/74 as Nottingham City Transport 572 (later r/r SE-4063-BU)
OTO 573M Leyland AN68/1R 7303183 - East Lancs O47/30D 2533 new 4/74 as Nottingham City Transport 573
OTO 574M Leyland AN68/1R 7304074 - East Lancs O47/30D 2535 new 4/74 as Nottingham City Transport 574
OTO 575M Leyland AN68/1R 7304430 - East Lancs O47/30D 2536 new 4/74 as Nottingham City Transport 575 (later r/r SE-4064-BU)
OTO 578M Leyland AN68/1R 7304300 - East Lancs O47/30D 2539 new 5/74 as Nottingham City Transport 578 (later r/r 74-KE-509)
OTO 582M Leyland AN68/1R 7304428 - East Lancs O47/30D 2543 new 5/74 as Nottingham City Transport 582 (later r/r 74-KE-530)
OTO 583M Leyland AN68/1R 7304076 - East Lancs O47/30D 2544 new 5/74 as Nottingham City Transport 583 (later r/r SE-0033-BX)
OTO 584M Leyland AN68/1R 7304301 - East Lancs O47/30D 2545 new 5/74 as Nottingham City Transport 584
OTO 585M Leyland AN68/1R 7304182 - East Lancs O47/30D 2546 new 5/74 as Nottingham City Transport 585
JAL 876N Leyland AN68/1R 7404341 - East Lancs O47/31D 4021 new 4/75 as Nottingham City Transport 606
JAL 880N Leyland AN68/1R 7404215 - East Lancs O47/31D 4025 new 5/75 as Nottingham City Transport 610 (later r/r 75-KE-524)
GRC 881N Leyland AN68/1R 7404342 - East Lancs O47/31D 4006 new 12/74 as Nottingham City Transport 591 (later r/r SE-4066-BX)
GRC 887N Leyland AN68/1R 7403214 - East Lancs O47/31D 4002 new 12/74 as Nottingham City Transport 587
GRC 888N Leyland AN68/1R 7405028 - East Lancs O47/31D 4003 new 12/74 as Nottingham City Transport 588
GRC 889N Leyland AN68/1R 7405027 - East Lancs O47/31D 4004 new 12/74 as Nottingham City Transport 589 (later r/r 74-KE-528)
GRC 890N Leyland AN68/1R 7405129 - East Lancs O47/31D 4005 new 12/74 as Nottingham City Transport 590
GTO 332N Leyland AN68/1R 7404624 - East Lancs O47/31D 4007 new 12/74 as Nottingham City Transport 592 (later r/r SE-4065-BX)
GTO 333N Leyland AN68/1R 7404625 - East Lancs O47/31D 4008 new 12/74 as Nottingham City Transport 593
GTO 334N Leyland AN68/1R 7405130 - East Lancs O47/31D 4009 new 1/75 as Nottingham City Transport 594
GTO 335N Leyland AN68/1R 7405152 - East Lancs O47/31D 4010 new 1/75 as Nottingham City Transport 595
GVO 714N Leyland AN68/1R 7405227 - East Lancs O47/31D 4019 new 4/75 as Nottingham City Transport 604 (later r/r 75-KE-520)
GVO 715N Leyland AN68/1R 7404230 - East Lancs O47/31D 4020 new 4/75 as Nottingham City Transport 605
GVO 716N Leyland AN68/1R 7405495 - East Lancs O47/31D 4011 new 1/75 as Nottingham City Transport 596 (later r/r 75-KE-521)
GVO 718N Leyland AN68/1R 7403880 - East Lancs O47/31D 4013 new 3/75 as Nottingham City Transport 598 (later r/r SE-0032-BX)
GVO 719N Leyland AN68/1R 7403305 - East Lancs O47/31D 4014 new 3/75 as Nottingham City Transport 599 (later r/r 75-KE-517)
GVO 721N Leyland AN68/1R 7403879 - East Lancs O47/31D 4016 new 4/75 as Nottingham City Transport 601
MAU 612P Leyland AN68/1R 7505042 - East Lancs O47/31D 4027 new 12/75 as Nottingham City Transport 612 (later r/r 75-KE-526)
MAU 616P Leyland AN68/1R 7504189 - East Lancs O47/31D 4031 new 12/75 as Nottingham City Transport 616 (later r/r 75-KE-527)
MNU 191P Daimler CRG6LX 67858 - Northern Counties O47/31D 8009 new 2/76 as Nottingham City Transport 191
MNU 633P Leyland AN68/1R 7505044 - East Lancs O47/31D 4725 new 3/76 as Nottingham City Transport 633
MNU 635P Leyland AN68/1R 7505190 - East Lancs O47/31D 4719 new 2/76 as Nottingham City Transport 635
LAL 745P Leyland PSU3C/4R 7503347 - Duple DP53F 534/5184 new 8/75 as Nottingham City Transport 745
PAU 196R Daimler CRG6LX 67873 - Northern Counties O47/31D 8014 new 9/76 as Nottingham City Transport 196 (later r/r UKV 473R)
PAU 197R Daimler CRG6LX 67871 - Northern Counties O47/31D 8015 new 9/76 as Nottingham City Transport 197 (later r/r UKV 482R)
PAU 198R Daimler CRG6LX 67863 - Northern Counties O47/31D 8016 new 10/76 as Nottingham City Transport 198 (later r/r UKV 479R)
PAU 199R Daimler CRG6LX 67866 - Northern Counties O47/31D 8017 new 10/76 as Nottingham City Transport 199 (later r/r UKV 47OR)
PAU 208R Daimler CRG6LX 67870 - Northern Counties O47/31D 8026 new 12/76 as Nottingham City Transport 208
UTV 217S Leyland FE30AGR 7607629 - Northern Counties O47/31D 7933 new 1/78 as Nottingham City Transport 217 (later r/r GJZ 9576)
XNN 662S Leyland AN68A/1R 7800017 - Northern Counties O47/31D 7941 new 6/78 as Nottingham City Transport 662 (later r/r 78-KE-547)
XNN 663S Leyland AN68A/1R 7705957 - Northern Counties O47/31D 7942 new 6/78 as Nottingham City Transport 663 (later r/r 78-KE-549)
XNN 664S Leyland AN68A/1R 7704958 - Northern Counties O47/31D 7943 new 6/78 as Nottingham City Transport 664
XNN 665S Leyland AN68A/1R 7705578 - Northern Counties O47/31D 7944 new 6/78 as Nottingham City Transport 665
ARC 637T Leyland AN68A/1R 7801181 - East Lancs O47/33D 9001 new 11/78 as Nottingham City Transport 637
ARC 638T Leyland AN68A/1R 7801430 - East Lancs O47/33D 9002 new 11/78 as Nottingham City Transport 638
ARC 639T Leyland AN68A/1R 7801218 - East Lancs O47/33D 9003 new 11/78 as Nottingham City Transport 639
ARC 642T Leyland AN68A/1R 7801393 - East Lancs O47/33D 9007 new 12/78 as Nottingham City Transport 642
ARC 646T Leyland AN68A/1R 7800798 - East Lancs O47/33D 9009 new 12/78 as Nottingham City Transport 646
BTV 649T Leyland AN68A/1R 7705517 - East Lancs O47/33D 9013 new 1/79 as Nottingham City Transport 649
BTV 650T Leyland AN68A/1R 7801062 - East Lancs O47/33D 9015 new 1/79 as Nottingham City Transport 650
BTV 652T Leyland AN68A/1R 7704515 - East Lancs O47/33D 9024 new 5/79 as Nottingham City Transport 652 (later r/r 79-KE-579)
BTV 654T Leyland AN68A/1R 7704574 - East Lancs O47/33D 9020 new 3/79 as Nottingham City Transport 654 (later r/r 78-KE-560)
BTV 657T Leyland AN68A/1R 7704844 - East Lancs O47/33D 9023 new 5/79 as Nottingham City Transport 657
ATV 673T Leyland AN68A/1R 7705349 - Northern Counties O47/31D 7951 new 11/78 as Nottingham City Transport 673
BAU 676T Leyland AN68A/1R 7800801 - Northern Counties O47/31D 7954 new 11/78 as Nottingham City Transport 676
SNU 462X Leyland AN68C/1R 8100582 - East Lancs O47/33D 2114 new 2/82 as Nottingham City Transport 462 (later r/r SE-2810-DK)
WAU 795Y Leyland TRCTL11/3R 8200642 - Duple C49F 235/5491 new 9/82 as Nottingham City Transport 795 (later r/r 75 RTO)
GTO 798V Leyland PSU3E/4R 7903253 - Duple DP53F 034/5307 new 2/80 as Nottingham City Transport 798
WJY 759 Leyland PDR1/1 621608 - Metro Cammell O44/33F new 9/62 as Plymouth Corporation 159
STK 124T Leyland AN68A/1R 7804571 - Roe O43/28D GO8067 new 3/79 as Plymouth Corporation 124
STK 125T Leyland AN68A/1R 7804574 - Roe O43/28D GO8072 new 6/79 as Plymouth Corporation 125
STK 129T Leyland AN68A/1R 7804916 - Roe O43/28D GO8065 new 3/79 as Plymouth Corporation 129
STK 130T Leyland AN68A/1R 7804977 - Roe O43/28D GO8063 new 3/79 as Plymouth Corporation 130
VJY 138V Leyland AN68A/1R 7902081 - East Lancs O43/28D 202 new 12/79 as Plymouth Corporation 138
VJY 147V Leyland AN68A/1R 7902820 - East Lancs O43/28D 211 new 2/80 as Plymouth Corporation 147 (later r/r 80-KE-366)
ATK 148W Leyland AN68B/1R 7904728 - East Lancs O43/28D 1207 new 10/80 as Plymouth Corporation 148
ATK 154W Leyland AN68B/1R 7904825 - East Lancs O43/28D 1208 new 12/80 as Plymouth Corporation 154
ODV 202W Leyland AN68B/1R 7904876 - East Lancs O43/28D 1213 new 2/81 as Plymouth Corporation 158
ODV 203W Leyland AN68B/1R 7904926 - East Lancs O43/28D 1214 new 2/81 as Plymouth Corporation 159
ERV 250D Leyland PDR1/1 L44640 - MCW O43/33F new 7/66 as Portsmouth Corporation 250
ERV 254D Leyland PDR1/1 L44749 - MCW O43/33F new 7/66 as Portsmouth Corporation 254
NDF 909M Leyland PSU3B/4R 7300921 - Duple C49F 275/2184 new 9/73 to Pulham, Bourton on the Water
CBV 2S Bristol VRT/SL3/501 VRT/SL3/915 - ECW O43/31F 22576 new 8/77 as Ribble Motor Services 2002
CBV 9S Bristol VRT/SL3/501 VRT/SL3/928 - ECW B35F 22583 new 8/77 as Ribble Motor Services 2009
SWB 287L Leyland AN68/1R 7204459 - Alexander O43/31F AL13/2270/3 new 3/73 as Sheffield City Transport 287
NDE 748Y Leyland TRCTL11/2R 8201070 - Plaxton C53F 8311LTP1X513 new 2/83 as Silcox, Pembroke Dock 158
WOW 529J Leyland PDR1A/1 7003162 - East Lancs H45/31F 6950 new 3/71 as Southampton Corporation 139 (later r/r HNP 898J)
PCR 307M Leyland AN68/1R 7400079 - East Lancs O45/31F 2601 new 3/74 as Southampton Corporation 184
GWV 926V Leyland PSU3E/4RT 8030078 - Plaxton C48F 7911LX597 new 7/80 as Southdown Motor Services 1326
CWF 733T Leyland AN68A/1R 7900278 - Roe O45/29D GO8096 new 8/79 as South Yorkshire P T E 1733
CWF 736T Leyland AN68A/1R 7901770 - Roe O45/29D GO8100 new 8/79 as South Yorkshire P T E 1736
CWF 738T Leyland AN68A/1R 7901887 - Roe O45/29D GO8098 new 8/79 as South Yorkshire P T E 1738
DWJ 564V Leyland AN68A/1R 7902067 - Roe O45/29D GO8103 new 8/79 as South Yorkshire P T E 1739
CWG 744V Leyland AN68A/1R 7901659 - Roe O45/29D GO8108 new 10/79 as South Yorkshire P T E 1744
CWG 763V Leyland AN68A/1R 7903030 - Roe O45/29D GO8119 new 12/79 as South Yorkshire P T E 1763
VOH 20J Daimler CRG6LX 63881 - Northern Counties H45/27D 6985 new 8/70 as West Midlands P T E 4020
GHL 191L Bristol VRT/SL6G VRT/SL2/340 - Eastern Coachworks O43/31F 20084 new 1/73 as West Riding 731
KUB 667V Leyland PSU3E/4R 7904142 - Plaxton C49F 7911LX552 new 2/80 as West Yorkshire P T E 2583 (later r/r 80-DL-666)
C147 KBT Leyland ONLXB/1R ON1945 - Optare CO47/29F 16 new 12/85 as Yorkshire Rider 5147
DWU 839H Bristol VRT/SL6G VRT/SL2/142 - Eastern Coachworks O39/31F 18244 new 8/70 as York-West Yorkshire YVR54
WWR 417S Bristol VRT/SL3/6LXB VRT/SL3/988 - Eastern Coachworks O43/31F 22771 new 9/77 as York-West Yorkshire 3983
WWR 418S Bristol VRT/SL3/6LXB VRT/SL3/989 - Eastern Coachworks O43/31F 22772 new 9/77 as York-West Yorkshire 3984
WWR 419S Bristol VRT/SL3/6LXB VRT/SL3/990 - Eastern Coachworks O43/31F 22773 new 9/77 as York-West Yorkshire 3985
WWR 420S Bristol VRT/SL3/6LXB VRT/SL3/991 - Eastern Coachworks O43/31F 22774 new 9/77 as York-West Yorkshire 3986
---
Locations where Guide Friday operated tours:
Bath; Cambridge; Canterbury; Chester; Cotswolds; Dover; Ely; Oxford; Plymouth; Portsmouth; Salisbury; Stratford-on-Avon; Warwick; Windermere; Windsor; York
Dundee; Edinburgh; Glasgow; Stirling
Cardiff; Llandudno
Cork; Dublin; Galway
Seville
Berlin
Paris
---
SOME QUICK LINKS WITHIN THIS WEBSITE;&nbsp Home Email Links THE COMPLETE WEBSITE MENU Events Diary Small-Ads Classic Irish Buses Classic Manx Buses
---