The Classic Irish Buses website
Failte go Gallimh
Galway visit on October 25th to 27th 2003.
(October 2004 update at the end of the page)
Page last updated on 1st October 2011
---
Classic Irish Buses Classic Manx Buses Routemasters Model buses Email Photo gallery COMPLETE SITE MENU Links Morris Oxford car site Henry's Coastal Tours Classic Buses Website
---
Galway, the only city in Ireland's western province of Connaught, was chosen as the first Irish location to be featured on a Classic Irish Buses webpage. As regular visitors to the site may know, most of the visit pages usually features an old(er) bus or coach somewhere on the page, and Galway too would be no different in this regard. It's pure co-incidence, honestly!!!!! This is also the first page on this site to feature photos taken by me with a digital camera, so apologies if they're a bit blurry!!!!
Bus Eireann is the dominant operator, as might be expected, operating both city and rural routes. A wide variety of vehicle types are operated locally, with the exception of double deckers and midibuses. On my previous visit CIE (as it then was) had some Atlanteans and Bombardier deckers in evidence, but these, along with other once familiar CIE standard designs, had long since been withdrawn and replaced by newer machinery. City route numbers seem a tad confusing, such as 2E, 4W etc., no doubt there's a logical reason which someone will explain in due course!!
On the independent side, several high profile operators are present on the tourist and express service scene, the most notable being the take-over by Scottish Citylink of Cummer Commercials. The yellow and two-tone blue coaches are a familiar sight on the roads linking Galway with both Dublin and Shannon Airports.
Competing with Bus Eireann on city services is City Direct, whose vehicles are painted red, that is when they're not covered in all-over adverts. And I do mean all over, in fact covering everything except the windscreen!!!!! Mainly they seem to be using Dennis Darts, with a number of different body styles, including a brief glimpse of one of the ex London Buses Wrights version with the angled windscreen.
Lally Coaches, also based in the city use a light green livery. Alongside the company's fleet of modern touring coaches, was found what I assumed to be their sole double decker (but as the 2004 update below shows, I got that one wrong.....). In terms of age and history, this bus proved to be one of the more interesting vehicles encountered during the weekend. This ex Stratford Blue/Midland Red/Isle of Man bus (almost 41 years old at the time) spends its entire time in use on the city sightseeing tour, and the day I travelled was to be its last but one for the year. I had last encountered this PD3 when I was on holiday in the Isle of Man in 1977, some 26 years earlier!!!
Best locations for bus photography in the city centre would be around Eyre Square, the Bus Eireann coach departure point at the railway station, and Forster Street coach park which is used by the independent operators. All are within a few minutes walk of each other.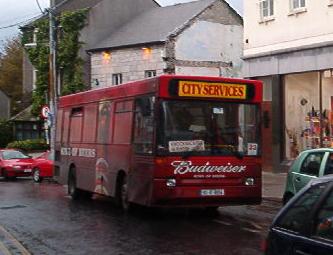 City Direct of Knocknacarra have built up a fleet of imported Dennis Darts for use on their city services. 93 G 6054 carries a Plaxton body, and is seen on October 25th.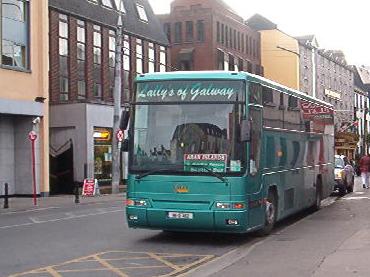 Lally's Coaches run a modern fleet in this pale green livery, including Plaxton bodied Volvo B10M 96-G-482, seen on October 25th.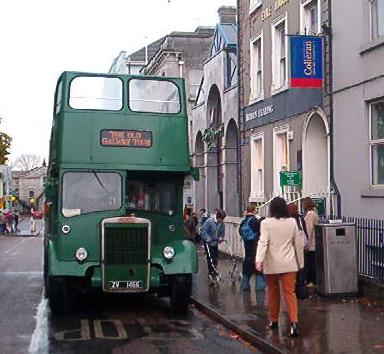 Contrasting with the above photo is one of the only two ex Stratford Blue Leyland PD3s known to survive (ZV 1466), also owned by Lally's, seen at Eyre Square on October 25th.
Bus Eireann's Plaxton bodied Dennis Dart DPC17 was photographed at Eyre Square on city service route 1 to Salthill, on Saturday October 26th.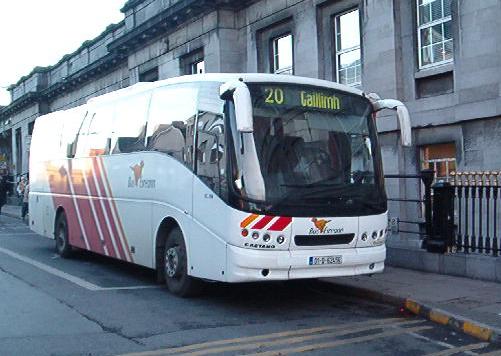 Bus Eireann have a large fleet of Caetano bodied Volvo B10Ms, and typifying the 2001 delivery is VC208, seen at the railway station on October 26th.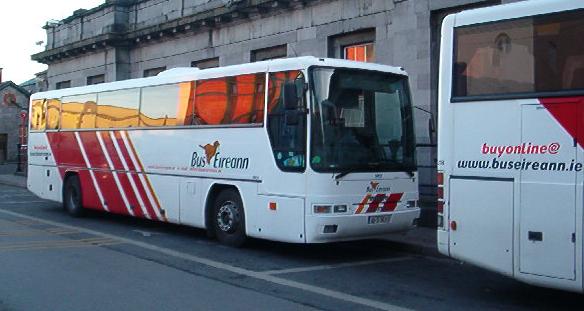 VR27 is one of 55 Plaxton Prima bodied Volvo B7Rs bought in 2000, seen on October 26th. Ahead of it is one of the higher floored VP class, with the then new Bus Eireann website slogan.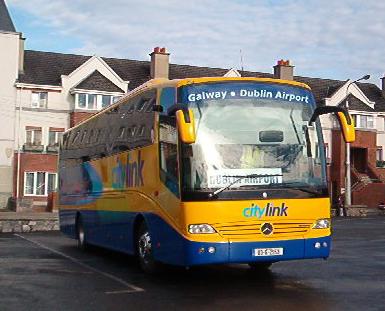 This Mercedes 1836RL was seen at the Forster Street coach terminal on October 26th, this location being just a few minutes walk from Eyre Square. Citylink entered the Irish market by acquiring Cummer Commercials, the previous operators on the Dublin service.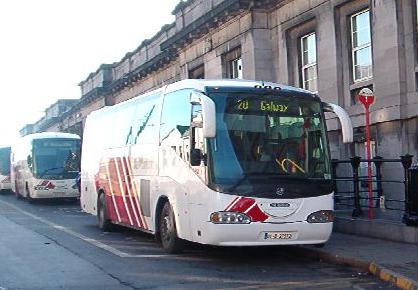 One of Bus Eireann's fleet of Irizar bodied Scania coaches, seen at the departure point alongside Galway railway station, on October 27th. This is SC1, the first of the 2001 delivery. Route 020 competes with the Citylink service.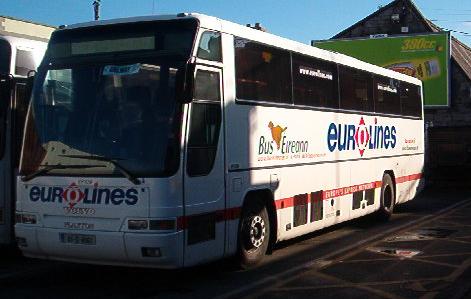 An older B10M in the Bus Eireann fleet is VP109, new in 1998, photographed on October 27th. This Plaxton bodied coach is one of a small number to carry Eurolines branding.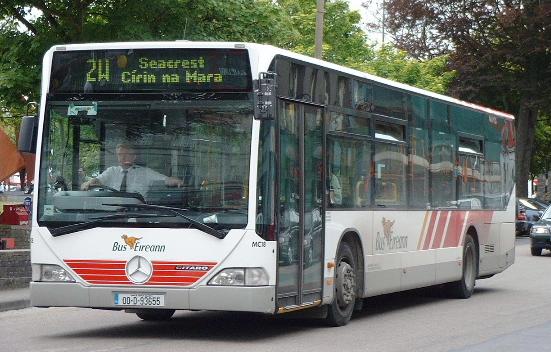 A number of Bus Eireann's MC class Mercedes Citaro buses operate on city service in Galway, including MC18 photographed by Kevin Horgan in 2002.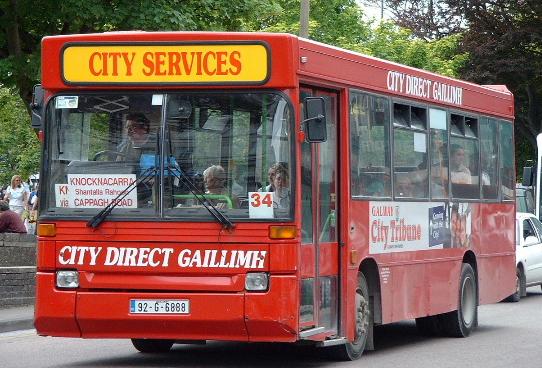 Finally another of Kevin Horgan's excellent photos, of City Direct's Dennis Dart 92-G-6888, seen at Eyre Square in 2002.
---
Galway update, October 23rd to 25th 2004.
The Classic Irish Buses team paid a return visit to Galway a year later, and caught up with some of the latest developments. Firstly, a number of new distinctive Sunsundegui Sideral bodied Volvo coaches have now entered service, with Lally's, Healy of Salthill, and Bus Eireann. The latter examples are further distinguished by having a destination box set into the roof dome above the windscreen.
The Leyland PD3 of Lally Coaches had been replaced for the 2004 season by a newly converted former Greater Manchester Leyland AN68. This decker had in fact been owned since 2001, and proved my comments above incorrect. It had been used (with its roof intact) on the shuttle service between Galway and Rossaveal for the Aran Islands ferry until early in 2004, so obviously I just hadn't been looking in the right place for it in 2003. A new East Lancs bodied Volvo B7TL had been acquired by Malahide Coaches in Dublin, but it wasn't used and headed west to become 04-G-133 with Lally's. This allowed the conversion of the AN68, and the consequent replacement of the half cab. This Volvo is, as far as I know, the first ever new double decker to be registered in Galway. The Titan is still owned, and retained as a special events vehicle or as a back up to the Atlantean. An earlier Titan PD3 which Lally's owned, ex Southdown ZV 1461, was still used on the publicity leaflets in 2004 for their city tour.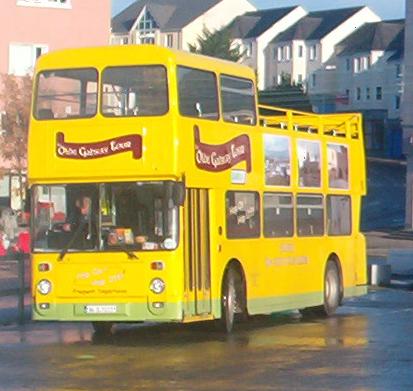 Seen at Forster Street coach park on October 25th 2004 is Lally's AN68 (84-D-7213) with Northern Counties bodywork, new to Greater Manchester as A743 NNA.
Apart from the vehicle changes, Galway City Council have also changed several two-way streets to one way traffic, and reversed the traffic flow on other ones. Eyre Square has also been closed for a "make-over", rumoured to be costing 7 or 8 million Euro; while the artist's impression of the finished site looks impressive, the country's ailing health service could surely have equally have benefited very well from a sum of this size........
An out of town visit was also made on this occasion, to the western Connemara town of Clifden. In the dim distant past it was at the end of a 50 mile long railway line from Galway; the only trace today being parts of the former station building in the town (now a hotel and restaurant) and the odd sighting of sections of embankment or disused bridges along the way. From the miniscule references to the line on the net, it seems to have opened in 1895, and closed (due to lack of customers) in 1935. Hardly surprising, given the terrain through which it ran. Clifden's other claim to fame was the landing of Alcock and Brown after their pioneering transatlantic flight in 1919.
---
Classic Irish Buses Classic Manx Buses Routemasters Model buses Email Photo gallery COMPLETE SITE MENU Links Morris Oxford car site Henry's Coastal Tours Classic Buses Website
---