The Classic Irish Buses website
75 years of buses in Drogheda
Page last updated on 4th August 2013
---
Classic Irish Buses Classic Manx Buses Routemasters Email Photo gallery COMPLETE SITE MENU Links Morris Oxford car site Henry's Coastal Tours Classic Buses Website
---
Republic of Ireland menu:
D U T C G N R Irish Omnibus Company Great Southern Railway CIE 1945 to 1950 CIE 1951 to 1955 CIE 1956 to 1961 CIE 1962 to 1966 CIE 1967 to 1970 CIE 1971 to 1981 CIE Bombardiers CIE photos 1 CIE photos 2 CIE photos 3 CIE photos 4 CIE photos 5 Drogheda 75th Bus Eireann Dublin Bus Dublin Bus photos Lough Swilly
---
The town of Drogheda in County Louth on the east coast of Ireland lies at the mouth of the river Boyne, and the walled town was granted a royal charter in 1194. At the time it was twice the size of Dublin and one-third the area of London, both of which were also walled cities. Being close to the open sea and shipping services encouraged the development of industries in the town in the 19th century, such as breweries, engineering and footwear.
January 28th 1929 marked the introduction of the first Great Northern Railway bus service, using three Leyland Lions. The route linked Drogheda railway station and West Street and given the town's geography at that time, the most likely route would be Dublin Road-Bullring-Shop Street-West Street, but where buses turned is not clear. They could have gone "round the block" via Stockwell Lane-Wellington Quay-Dominic Street, or perhaps Duke Street-Fair Street-Peter Street. A look through old copies of the Drogheda Independent newspaper for that time revealed no mention whatever of the then new bus service. Drogheda station at the time had passenger services on the Dublin - Dundalk - Belfast mainline, the branch line from Drogheda to Navan and Oldcastle, and another branch from the mainline (at Dromin Junction) to Ardee.
And this is what the good citizens of Drogheda were treated to, back in 1929. Or at least buses similar to this one, as this finely restored 1928 bus (photographed by Dick Gilbert in 2003) was originally with Eastbourne Corporation.
In 1948, the year of the largest bus fleet intake of the GNR (50 vehicles), double deckers were allocated to Drogheda for the first time and saw service on many routes from the town. These buses were Park Royal bodied AEC Regent IIIs, and they would serve the town until the late 1960s. Single deckers in the half cab era were a mixture of AEC Regal IIIs and GNR-Gardners, with the first under-floor engined vehicles arriving in 1952 in the form of four Saunders bodied Leyland Royal Tigers. 33 AEC Regal IVs were placed in service during 1954 to 1956, and the last buses acquired by the GNR were five Leyland TD5s from CIE in the summer of 1956. One of these (284, ex CIE R154) was returning from Dundalk after being repainted in GNR livery, when it came to grief on a low bridge on the Dublin Road. As luck would have it though, a TD4 had just had its top deck removed by CIE for conversion to a tar tanker, and so this was quickly purchased and fitted to allow 284 to enter service. All the Leyland deckers were for service in the Dublin area, and it was a further 11 years before any were allocated to Drogheda.
Some older GNR buses were converted to railbuses, and one of them worked on the Drogheda - Navan - Oldcastle route in the 1940s and 1950s. The use of such vehicles undoubtedly helped to keep the branch lines open for passenger traffic for a longer period than might have been expected.
However, the Great Northern;s days were numbered, and at midnight on September 30th 1958 the company ceased to trade. All their vehicles, property and staff in the Republic of Ireland passed to CIE from that date, with the UTA taking them over in Northern Ireland. The "Drogheda Independent" newspaper of the time carried a photo of two Regents, number 286 in CIE livery and 307 in GNR blue and cream, along with a few of the local bus conductors and motormen, as the GNR termed their drivers. In the photo were drivers J. McLoughlin, J. Murphy, and J. Gallagher, conductors J. Gilsenan and K. Martin and inspector C. Martin.
Typical of the early days of CIE in Drogheda was AR442, repainted in two-tone green. A closer look though reveals that the new colours have been applied in the same layout as the GNR blue and cream, instead of the standard CIE layout. I suppose this could be referred to as "GNR green"? (Photo by A.J.Douglas)
No bus in the town at that point was yet suitable for one-man-operation (to use the then non-PC phrase!!). CIE however soon made their mark on the fleet and began introducing newer standard bus types, the first being the E class Leyland Leopards of 1961 to 1964. Conversion of the Regal IVs from rear entrance to front was also undertaken, but the centre entrance Royal Tigers were left untouched.
In January 1968 the local bus crews went on strike over the replacement of the AEC Regents with Leyland OPD2s, on the basis that the open platforms of the Titans made them unsafe. The buses were subsequently modified, with temporary cover being provided by new Atlanteans D157 and D158. In view of the fact that other CIE garages had open platform (or "doorless", as the local press called them at the time) buses, Drogheda seems to be the only example of a trade dispute of this nature. In Dublin the use of Titans lasted for a further fourteen years........ An eventual outcome of this was the replacement of the six Titans by four 12 metre long M class Leopards and two C class Leopardsin 1972, thus ending 24 years of Drogheda's double deckers.
Drogheda;s Bullring back in the late 1960s would have looked like the postcard above. The Leyland Titan about to cross the bridge is one of six CIE R class OPD2s based in the town after 1967 as replacements for the ex GNR AEC Regents, while the C class Leopard appears to be C241, new in 1966. The bus station then was located on the South Quay, from which the pale green Vauxhall car is emerging. It's also of note that the present day problem of car parking at bus stops, is in fact, nothing new! (Photo by NPO Ltd.,Dublin).
Within ten years this entire area was unrecognisable from the above photo, as the local corporation acquired many of the buildings in the foreground, demolished them and built a dual carriageway to divert traffic out of the town centre. But, said new road had (and still does have) single carriageway sections at either end of it. As one local wit put it, a town with a bypass running through it!!!! More recently the M1 motorway has been completed, effectively bypassing the bypass?
And standing at much or less the same viewpoint in January 2004, this is the current version. About the only things the two photos have in common is the Tholsel clock tower on the left of the picture, and the spire of St. Peters Church of Ireland in the top centre of the photo.
This photo was taken by Julian Osborne in April 1969, at the old bus station on the South Quay. From left to right the buses are R783, R710, C111 and AR306. AR306 had the distinction of being both the last ex GNR decker to survive in service (until 1971), and the last closed top Regent III to run in Ireland.
I moved to live in the town in the summer of 1975, and of course by that time all the deckers had gone. So I had to make do with an all Leyland Leopard fleet, of types C, E and M., and a few SS class Bedford school buses. The reliability of the M class in the late 1970s was almost up to average, and three of the four local examples were later re-engined. As a stopgap Plaxton bodied Leopard PL34 was loaned for a few months in 1978. The KE class Bombardier coaches went into service in 1981, and enough C class Leopards were rendered surplus in Broadstone to transfer to Drogheda and replace the last E class buses. This co-incided with the purchase of my first camera, a Kodak Instamatic and so I quickly got some shots of the soon to disappear E class. Just in time it seemed, for no sooner had I got the film developed than they had gone.
Anyway, there were other odd forms of transport to be seen at the time. Without any reference to websites, or even other enthusiasts, any sightings were a complete surprise. Two buses in particular stand out in my memory, ex CIE P347 and E138. P347 was one of 71 Leyland PS2s new in 1953, and it would have been safe to assume that by the late 1970s they had all gone. But not P347, it had been sold in 1971 and saw several years use as patient transport at a home in mid Co. Louth. Which is how I chanced to see it driving through Drogheda one afternoon on my way home from school. A couple of years later I got to travel on it, by then owned by the National Transport Museum and restored to its original green livery.
E138 had been sold or loaned to Lough Swilly in 1973, becoming their number 132. One summer Sunday afternoon in 1977 it was observed parked in a suburban street in Drogheda, but no driver about. Less than a quarter of a mile away, safely locked in the local CIE garage was sister bus E137!!!! No camera of course, and no way of getting the two buses any closer together than that. I never saw E138 again...............
Totally unrelated to buses, but worthy of a mention, was the transport system used by Irish Cement to move limestone and shale from its quarry on the North Road to the cement factory at Boyne Road. From March 29th 1938 the company used an aerial ropeway to move the material over 2.25 miles on the northern outskirts of the town. I suppose it was of similar concept to mountain cable car systems, except that the "cars" in this case were large metal containers capable of carrying over a tonne of stone. 140 such units were in use, travelling at a speed of about 4 miles per hour. Supporting the cables was a series of pylons on concrete plinths at 100-yard intervals, with the containers themselves 58 yards apart. The system closed down on January 20th 1978, having reportedly carried over 21 million tons of material in that time. Subsequently it was dismantled and sold for scrap, thus removing one of the town's landmarks of the 20th century.
Double deckers returned to the town in the 1980s, albeit not in passenger service. Preserved ex CIE PD3 RA73 underwent much of its restoration work in the premises of Crosson Transport in 1982 and 1983, with R827 taking its place later on. Then Crosson's (already with a very varied and interesting fleet) added an opentopper in 1984. And not just any double decker, but in the best GNR tradition, a 1949 AEC Regent III, new to Morecambe and Heysham Corporation in Lancashire as fleet number 58. Subsequently it was joined by ex GNR 438 (the only GNR decker to exist now) when it was being worked on prior to a repaint. While these two buses were together, the seats from 58 were replaced by ex Ulsterbus items, and the originals then fitted to 438. Another decker with Lancashire connections to arrive in the town was the former Bolton Atlantean 266, having been acquired by this scribe for possible restoration in 1986. Subsequent investigation of the lower deck framing revealed it to be absolutely rotten, so the PDR1 was sold for scrap.
Bus Eireann took over from CIE in February 1987, and soon introduced new vehicles. First were the 20 Alexander bodied Tigers in 1988, followed by 20 more the following year, and subsequently followed by Plaxton and Van Hool bodied DAFs, then switching to Volvos with Plaxton and Caetano bodies. Examples of each type were visitors to the town, and some took up residence as well. Some of the M class were very smartly overhauled and repainted, and looked very well, such as M107 below.
The need for replacement school buses was met initially by ex MoD Bedford SB5s, then ex Ulsterbus Bedfords, Leopards and Bristol RELL6Gs. With the latter the Gardner engine returned to the local bus scene. After that came the dog ugly ex Singapore Volvo B57s, basic enough in original format, but with the centre door replaced by panelling and a smaller window to the rest of the bus, they just looked AWFUL.......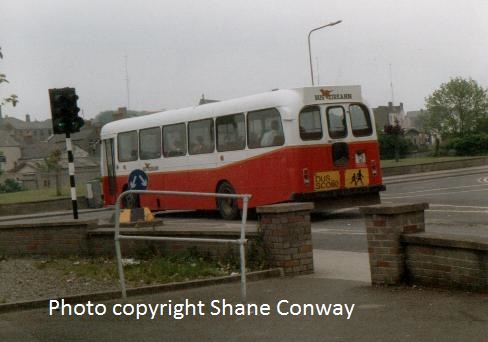 Drogheda's schoolkids of the early 1990s had the delights of travelling on Bristol RELLs, such as BG16 ex Ulsterbus 2129.
Like the view of the Bullring in 1969, this scene has now changed totally as well. The T-junction ahead of the bus has since become a crossroads, and the green area replaced by new shops and a bridge over the river Boyne linking Donore Road with Dyer Street.
Then, in 2000, the unthinkable happened..... Drogheda garage was to be allocated a double decker bus, for a few months on a trial basis. And yes, it had doors fitted!!! Dublin Bus Olympian RV628 worked mostly on the Laytown route, just as the R700s had done 30 years earlier. It also saw use on some school runs. A revised town service was introduced in 2001, using two Wrights bodied DAFs on a half-hourly frequency, instead of the previous one vehicle service.
January 2004 saw the arrival of further new DD class East Lancs bodied Volvo deckers to the Bus Eireann fleet, and on January 24th DD30 was seen parked in the local Bus Eireann garage. Within a short space of time eight similar buses arrived, and the tenth example (DD27) initially went to Cork for driver training, before arriving in Drogheda during the summer. These deckers have seen use on the services to Dublin, Dundalk, Navan, Laytown, Donore, and both sections of the town services.
Also during the summer of 2004, two new routes were commenced. Aircoach launched a service linking Belfast and Dublin Airport, while Matthews Coaches of Inniskeen obtained a licence for a Dundalk - Drogheda - Dublin motorway express service.
After much deliberation by the Borough Council, the long awaited pedestrianisation of West Street was begun in May 2006. Combined with this was the introduction of one way traffic on Laurence Street and the reversal of the flow on William Street and Peter Street. The town centre bus stops were moved as a result (from St. Peter's Church to opposite the Abbey Shopping Centre), and routes in the town centre revised. For a while there was the regular sight of southbound buses going along Stockwell Lane (since reverted back to via Shop Street), and the northside town service re-routed via Laurence Street, Palace Street and William Street. Again this was the first time a scheduled service had used this particular routing. By the beginning of 2007, both town service routes had been extended, and therefore their frequency reduced to hourly.
Drogheda in the 21st century is a much larger and more multi-cultural town than that which was served by those first Leyland Lions back in 1929, but in spite of the many changes it has seen through those years in its transport and road systems, buses and trains look set to continue to play a part in its future development.
---
Some of the milestones in Drogheda's transport history:
1929: First GNR bus service introduced.
1932: Boyne viaduct rebuilt for heavier trains.
1938: Cement factory opened along with branch railway line and aerial ropeway.
1947: Non-stop "Enterprise" express passenger train between Dublin and Belfast.
1948: First double decker buses entered service.
1950: First GNR diesel trains, formed of AEC railcars.
1952: First underfloor-engined buses in the GNR fleet introduced.
1958: CIE takes over GNR services from October 1st.
1962: First front entrance buses enter service.
1963: All rail passenger services cease on the Drogheda - Navan - Oldcastle route.
1967: Leyland Titans replace the ex GNR AEC Regents.
1968: Trade dispute over use of open platform double deckers.
1971: Last ex GNR decker is withdrawn from service.
1972: New M class Leopards replace double decks.
1975: Ardee branch line closes.
1977: First section of Drogheda bypass opens (George;s Square to Bullring).
1981: New bus station opened at Donore Road.
1981: Last Crosson Transport Bedford VAL withdrawn and scrapped.
1983: Second and final section of Drogheda bypass completed (Bullring to Dublin Road).
1984: St.Mary;s Bridge closed for demolition and replacement.
1984: Crosson Transport introduces opentop AEC Regent III.
1987: Bus Eireann and Irish Rail take over from CIE.
1989: New jointly operated Dublin to Belfast express coach service launched by Bus Eireann and Ulsterbus.
1990: Ex Ulsterbus Leyland Leopards and Bristol REs acquired by Bus Eireann for school transport.
1992: Ex Shearings Leyland Tigers introduced.
1997: Most Drogheda town centre streets re-designated for one-way traffic.
2002: Haymarket bridge opened (fifth river crossing in urban area).
2003: M1 Drogheda bypass motorway opened.
2003: Last known operational Bedford YRT - Duple Dominant I coach (new 1975) withdrawn from service by Carroll Coaches and sold for preservation.
2003: New Irish Rail service centre opened at Drogheda station for Arrow trains.
2004: 75th anniversary of first GNR bus service.
2004: New services introduced by Matthews Coaches and Aircoach.
---
The following is a list of some of the GNR, CIE and Bus Eireann buses which have been based in Drogheda:
A403-07/09/10/23/24/28/32
AR286/95,306/07,433/35/36/39/42
AU261/64/72,332/33/35-37/42/43
BG16
C32/33,109-11/79/81/91/95/97/99,224/26/36-39/55, CS65
DA3/8
D157/58
DD21-30
E90,100-02/32/34-37/42-46,SE83
KC137-39
KR13/18/33-39/52/53/98,162-64
LA1/2
LVH35
M1/54/67/79,107/22/23/40/42/54/57/59/61/67/94
MH12/27
ML107/10
PL34/38,75,99,105/06
R674/93/96,710/83/86/87
SF38/41,142
SS1,105,221,391,518/42,709
TE8/16/23/33/34/37/38
VC13/18,108/09/29/30
VR1/16-20/24
U226-28
---
Classic Irish Buses Classic Manx Buses Routemasters Email Photo gallery COMPLETE SITE MENU Links Morris Oxford car site Henry's Coastal Tours Classic Buses Website
---