The Classic Irish Buses website
H M S Catherwood 1925 - 1935
Page last updated April 13th 2014
---
Classic Irish Buses Classic Manx Buses Routemasters Email Photo gallery COMPLETE SITE MENU Links Morris Oxford car site Henry's Coastal Tours Classic Buses Website
---
Northern Ireland menu:
Belfast Corporation H M S Catherwood Ltd. Citybus Lough Swilly NIRTB 1935 - 39 NIRTB 1940 - 48 UTA 1948 - 56 UTA 1957 - 61 UTA 1962 - 66
U'bus 1967 - 72 U'bus 1973 - 76 U'bus 1977 - 82 U'bus 1983 - 88 U'bus 1989 - 2012
---
In January 2010 I received an e-mail from Ken Riis of Washington, U.S.A. asking if I'd be interested in a bus timetable dating from July 1930, issued by H M S Catherwood Ltd. of Belfast. The document had been discovered in the personal effects of Ken's late uncle (1909 to 1974), who was in the U.S. Merchant Marine Service. During 1930 this man made at least three overseas trips on board the S.S. Kerhonkson from New York, and it is likely that he acquired the timetable during one of these voyages. Once the 40 page booklet arrived, I decided to scan its contents and create this page as a tribute to one of the original five constituents of the Northern Ireland Road Transport Board. The page includes a text on the company's history (by Sam Simpson), followed by the timetable pages, and finally a fleet history of the operator.
---
Company history by Sam Simpson.
Harold Matthew Stuart Catherwood formed his bus company on July 7th, 1925 with money his wife inherited from her late father. The first Catherwood bus (a 32 seat Leyland with Edinburgh bodywork) operated a service from Toomebridge linking Antrim and Portglenone. In July 1927 Harold Catherwood introduced the travelling public of Ulster to the delights of a blue liveried American Fageol Coach which he purchased second hand from Warwick Wright, the Chiswick based Fageol dealer. The vehicle had been used for about two years previously on the London to Brighton service. The Fageol was introduced on the Belfast to Portrush service. The Fageol often fell foul of the Royal Ulster Constabulary who rigidly imposed the 12 miles per hour speed limit resulting in many court actions against Catherwood's drivers for exceeding the speed limit in the Hall Scott petrol powered machine. Harold Catherwood so loved the blue liveried Fageol coach that he adopted the livery for all future Catherwood buses. It was officially known as Cambridge Blue and was likened to an azure shade.
The Catherwood operation soon flourished through the hard work, innovation and pioneering spirit of Harold. Harold Catherwood was a strict Calvinist and member of the Plymouth Brethren, a fundamentalist Protestant group who held that the "Lords Day" was special. Consequently H.M.S.Catherwood never ran any bus services on Sundays during the whole history of the Company. In 1926 Harold Catherwood appointed Joseph Mackle as his Chief Engineer, a man who enthusiastically pursued a policy of buying Leyland buses. At the time Mackle joined Catherwood's the Company was operating 63 miles of routes and had a 12 vehicle fleet. By 1929 this had risen to 286 route miles operated by 122 vehicles. Catherwood's rapidly expanded with a fleet of modern, fast Leyland's to a very high specification which was the envy of many an operator in the British Isles. Joe Mackle left Catherwood's in 1929 to join the Great Northern Railway of Ireland as its first Road Motor Superintendent and was succeeded by a former British Army Officer, Captain Richard Stagg. Stagg introduced the "Alexander" type fleet numbering system with an alpha character denoting the vehicle type followed by the number. Catherwood dismissed Richard Stagg in 1934.
On August 27th, 1927 a new long distance service (103 miles) was opened between Belfast and Dublin serving Lisburn, Hillsborough, Dromore, Banbridge, Newry, Dundalk and Drogheda en route much to the anger of the Great Northern Railway. Five return workings were introduced between Monday and Saturday. Two additional workings were added in 1929 followed by a further journey in 1931. In October 1930 a further important extension was made to the Company's routes when a Dublin to Cork service was introduced. The Cork service was timed to connect with the Belfast - Dublin operations thus providing a 272-mile service from Belfast. Catherwood's were not the first operator to run buses between Belfast and Dublin, that distinction was accorded to the International Bus Service who pre-dated Catherwood's using mainly 24 seat Gilford buses. Two well-known Belfast businessmen, Baird & Weir, owned the International. Catherwood's bought out the International in October 1929 and used the inherited buses to provide feeder services to the main Dublin service. The feeder services linked the towns of Clones, Newbliss, Ballybay, Castleblaney, and Carrickmacross with Dundalk. A short feeder service operated between Clogher and Drogheda. There was also a short dalliance with a working from Dublin Eden Quay to the Baily at Howth just north of Dublin. Catherwood's introduced a Sligo - Londonderry service on the 22nd December 1929 adding a leg to Glenties the following July.
The Leyland Lion (PLSC3) 17 seat buses used on the Belfast/Dublin service were specially bodied by the London firm of Hall Lewis and featured underfloor luggage lockers and a 2 + 1 seating arrangement with foldaway tables at every seat and a small chemical toilet on the offside rear of the vehicle. These rare features were indicative of the innovation demonstrated by the H.M.S.Catherwood Company. H.M.S.Catherwood became a limited company on the 20th July, 1928, and at that time its operations were further developed with the acquisition of a Limavady - Londonderry service from Hutchinson Brothers. The nominal share capital of £25,000 was primarily held by members of the Catherwood family and the Northern Bank.
Catherwood's were one of the principal parties to the Belfast "bus war" when they competed fiercely with Belfast Corporation Tramways. As soon as the bus war was settled by the Northern Ireland government through the introduction of new legislation Catherwood's turned their attention to Northern Ireland's second city of Londonderry. The Company introduced services in the Maiden City competing with the municipally run Londonderry Corporation Services, which had been running since March 1st, 1920. Lower fares and more frequent services ensured that within a very brief period of time the Corporation run bus service was on its knees and suing for peace! In May 1929 the Ulster Unionist controlled Londonderry Corporation voted unanimously to award a 20-year franchise to H.M.S. Catherwood to run all the City services. The only opposition in the Londonderry Corporation came from members of the Labour Party. Catherwood's opened a new bus garage on Strand Road to service the fleet of vehicles. In 1932 a new Bus Station was opened on Foyle Street for the operation of all the City Services. A plan to open another bus garage at Rosbeg, County Donegal was not realised.
Catherwood's placed an order with Leyland for 50 single deck and 50 double deck buses in 1930, an order valued at £176,000. The order was later reduced as a result of the economic depression and the downturn in business confidence generally. At the time Leyland claimed it was the largest single order from any Irish bus company. In 1928 Catherwood's established a tours business under the direct control of its Traffic Manager, Mr. William Adam Agnew (who was also Harold Catherwood's son-in-law) and these were run from the Company's Head Office at 51 - 55 Upper Library Street, Belfast. William Agnew, although a shareholder in the Company, left its employment in 1932 to take up the position as Tours Manager with the LMS (NCC) and GNR (I) railway companies, a position he held until 1936. Arthur Culbert was Catherwood's Traffic Manager working from offices at 9, Eden Quay Dublin until it's Irish Free State operations were compulsorily acquired by the Great Northern Railway of Ireland in 1933. The G.N.R.(I) finally paid H.M.S. Catherwood £50,000 compensation on the 27th March, 1935.
The Chief Inspector of Catherwood's was William Andrew Kissick who himself became a shareholder in the business in July 1932. 1932 also saw Thomas Tilling purchase a 58% stake in HMS Catherwood and it became a subsidiary of the Tilling Group who nominated two Directors, H.C. Merrett and Stanley Kennedy. Harold Catherwood then became a Tilling Director in return. H.M.S.Catherwood established a Central Works in Belfast, on the south side of the Donegall Road, near Celtic Park Football Ground. Major repairs and overhauls were carried out at these premises. A number of bus bodies were also built replacing worn out Hall Lewis bodies on earlier buses. It is believed that the Catherwood bodies were in fact Weymann frames completed in Belfast. There was a tendency for Irish bus operators to rebody vehicles every five years or so, such was the wear and tear exerted by poor Irish roads.
H.M.S. Catherwood also ran a Road Freight department, which undertook deliveries of parcels and small consignment traffic as well as offering a passenger luggage in advance delivery service. The Road Freight Fleet consisted of a small number of Leyland lorries together with some buses which were converted to Parcels Lorries. H.M.S. Catherwood obtained the first of a total of 10 double deck buses in 1931 (the 1930 double deck order was cancelled) represented by two Leyland TD1 51 seaters with lowbridge bodies (necessary to navigate the LMS NCC Railway Bridge at Templepatrick) designed to operate between Belfast and Portrush. A 1932 delivery of Leyland TD2 machines with Leyland bodies was joined two years later by a tranche of Leyland TD3 deckers with Northern Counties Bodywork all to a lowbridge specification.
H.M.S. Catherwood lost all its services in the Irish Free State to the GNR and the Cork service to the Great Southern Railway in December 1933. Two years later the Northern Ireland government effectively nationalised all bus and road freight transport outside Belfast when it formed the highly unsuccessful Northern Ireland Road Transport Board (NIRTB). H.M.S. Catherwood, its buses, lorries and staff were all absorbed into the NIRTB on October 1st 1935. This resulted in the sun setting on the Catherwood Empire. It really was the end of an era, which had lasted just over 10 years, during which so many innovative ideas and concepts, which we take for granted today, had been pioneered by H.M.S. Catherwood. The company was formally wound up by the Thomas Tilling organisation on the 10th July 1939.
---
Below are copies of each page of the Catherwood timetable for July 1930 (apart from pages 5 and 6, which were missing from the book). Apart from the route schedules, it also details the company's tour programme, and contains advertisements for various hotels, cafes and shops in towns on the company's route network. Ex Catherwood routes today are operated by Bus Eireann, Dublin Bus and Ulsterbus, having also been undertaken previously by the Ulster Transport Authority, Northern Ireland Road Transport Board, Irish Omnibus Company, Great Southern Railways, Great Northern Railway and Coras Iompair Eireann.
Apologies for the fact that some pages appear slightly out of line, but great care had to be taken with the scanning process of this booklet, which was just a few months short of being 80 years old at the time of creating this page.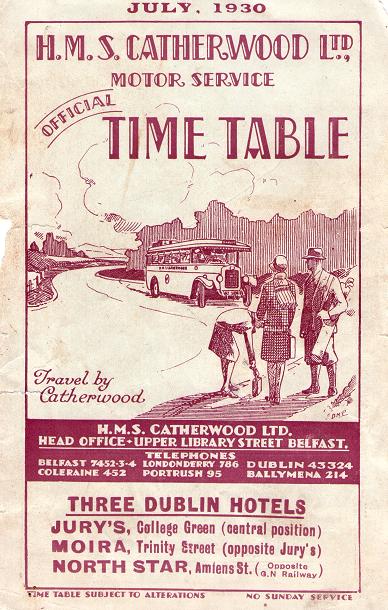 Front cover: Note "No Sunday Service" message in corner.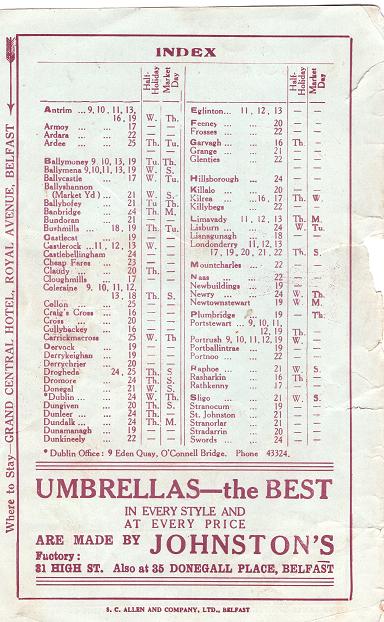 Inside front cover: List of places served, and advert for Johnston's Umbrellas.
Page 1: Route map.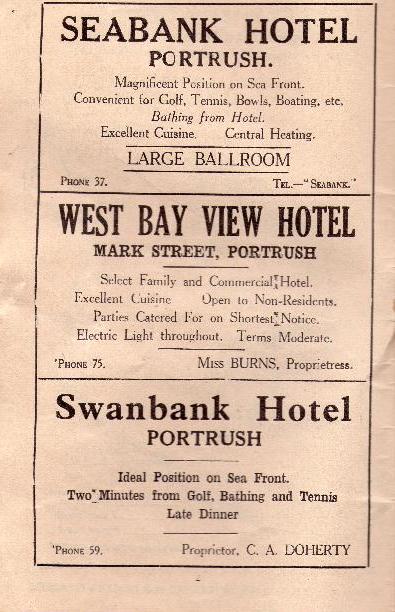 Page 2: Adverts for hotels in Portrush.
Page 3: Adverts for hotels and restaurants in Belfast and Portrush.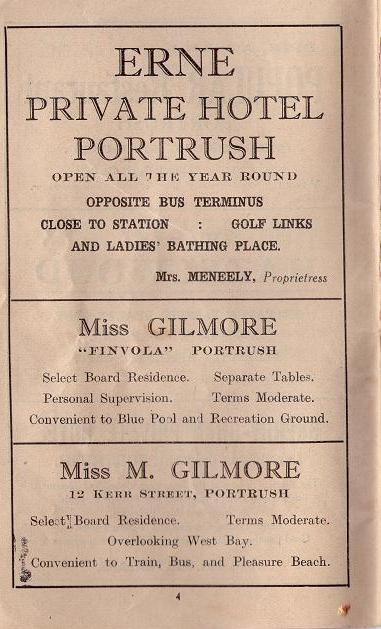 Page 4: Adverts for private hotels in Portrush.

Page 5: Missing from book -- anyone got a copy?

Page 6: Missing from book -- anyone got a copy?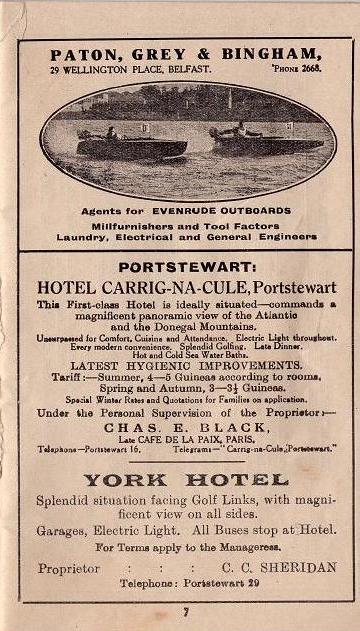 Page 7: Adverts for hotels in Portstewart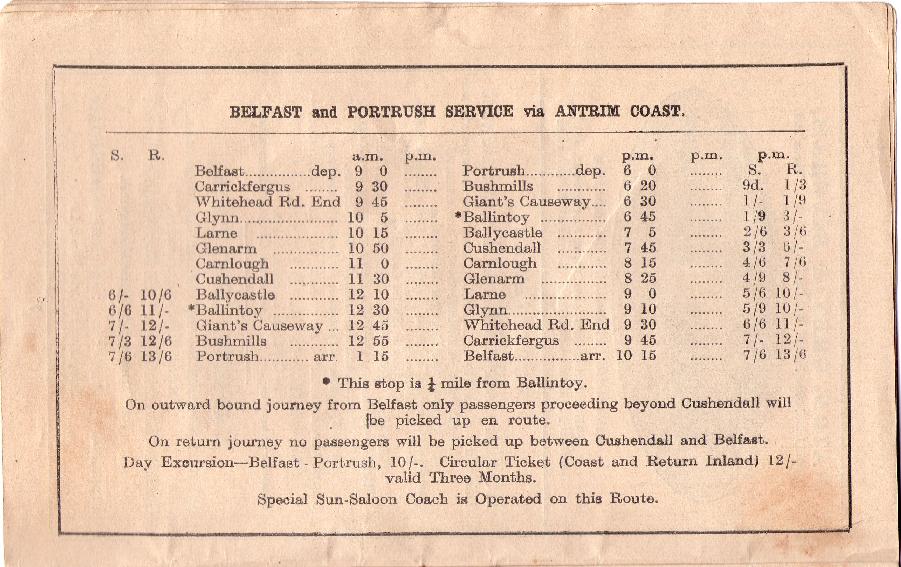 Page 8: Belfast - Portrush (via Antrim Coast) timetable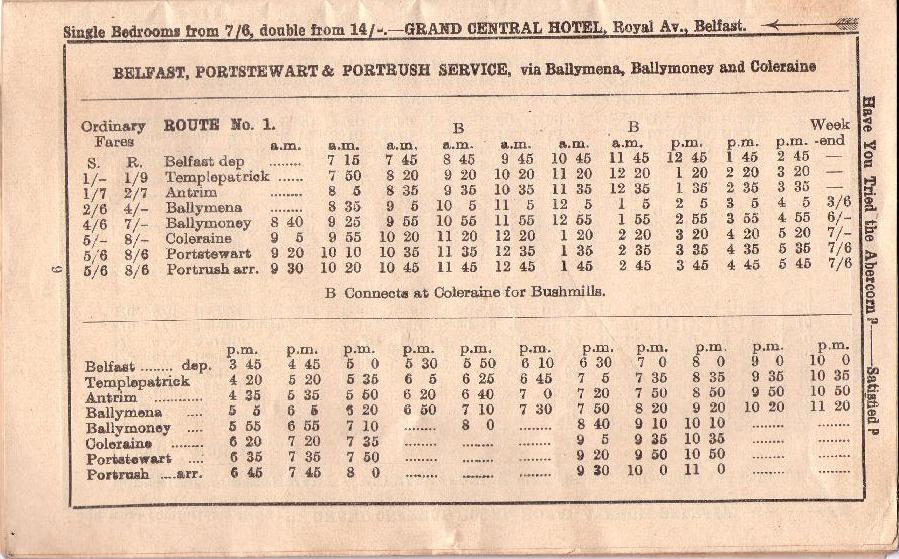 Page 9: Belfast - Portstewart - Portrush timetable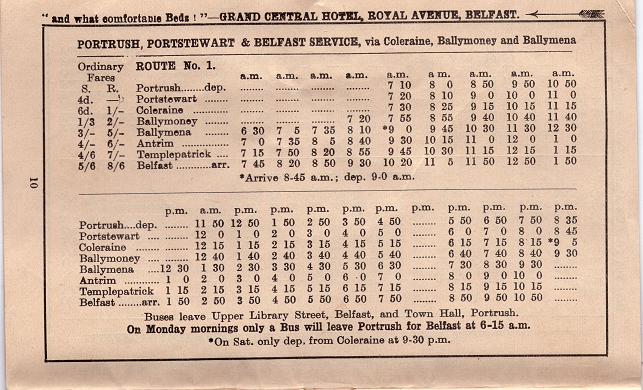 Page 10: Portrush - Portstewart - Belfast timetable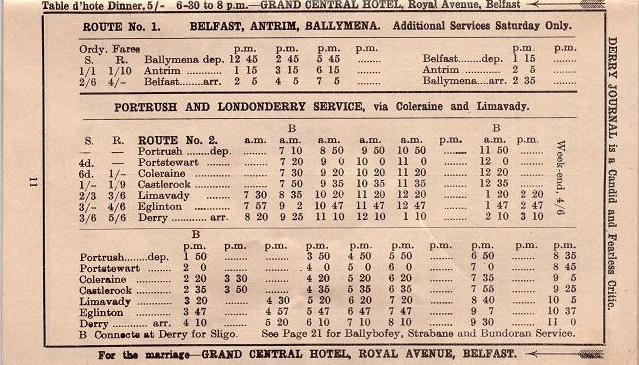 Page 11: Portrush to Derry timetable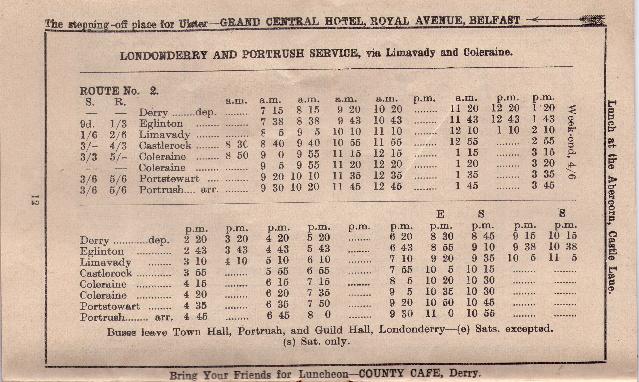 Page 12: Derry to Portrush timetable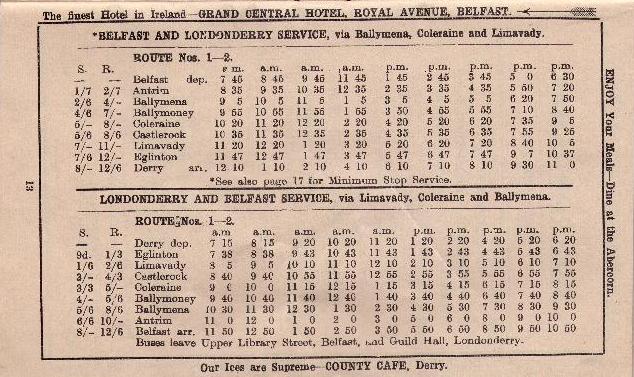 Page 13: Belfast to Derry timetable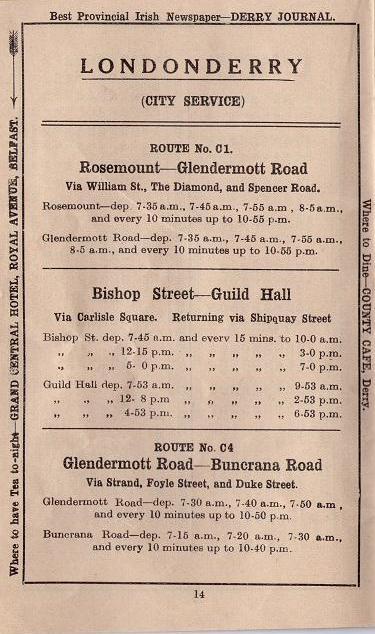 Page 14: Derry City services timetable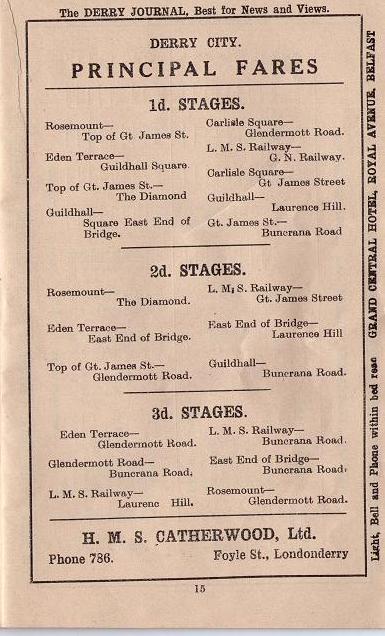 Page 15: Derry City services fares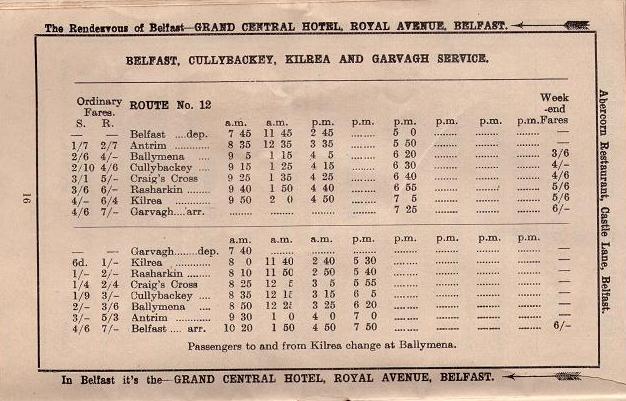 Page 16: Belfast to Garvagh timetable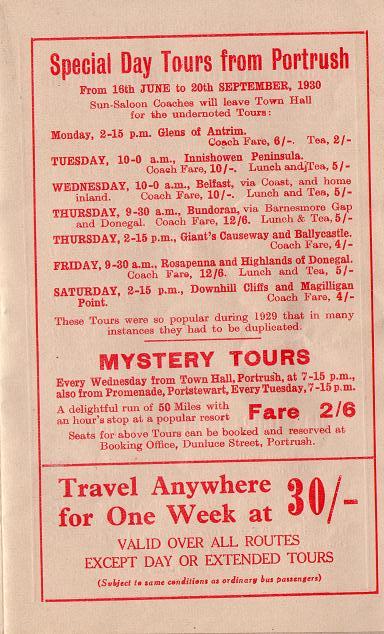 Tours supplement page 1: Tours from Portrush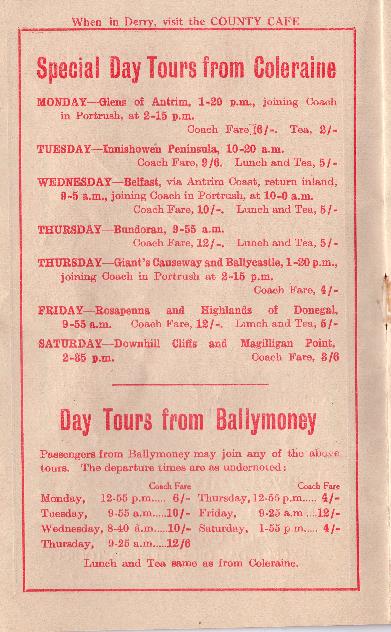 Tours supplement page 2: Tours from Coleraine and Ballymoney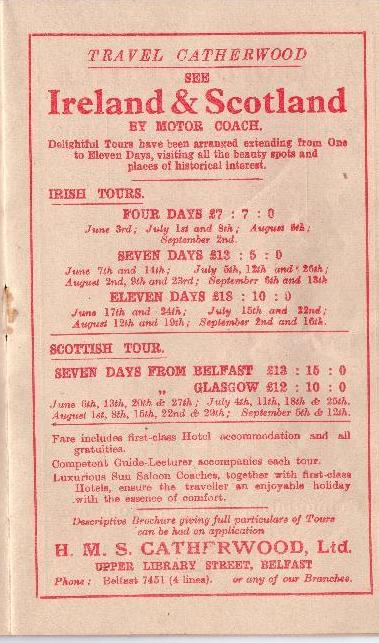 Tours supplement page 3: Tours of Ireland and Scotland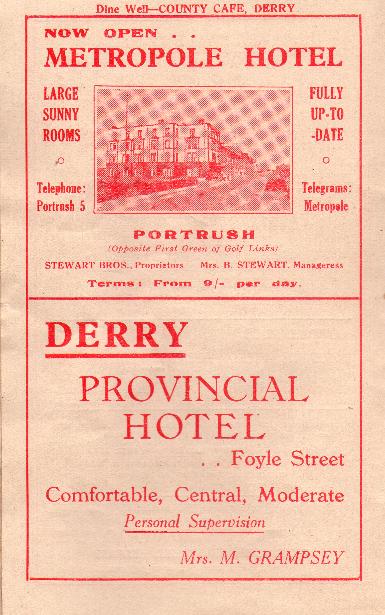 Tours supplement page 4: Adverts for hotels in Derry and Portrush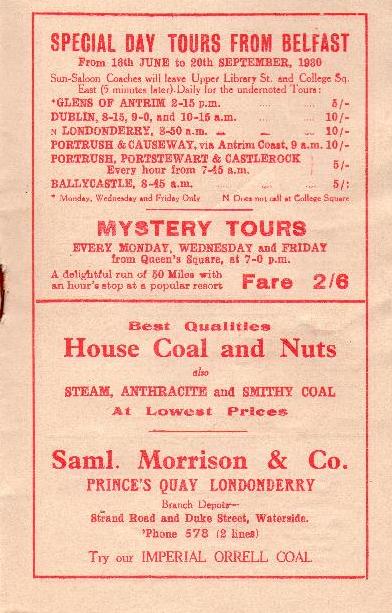 Tours supplement page 5: Tours from Belfast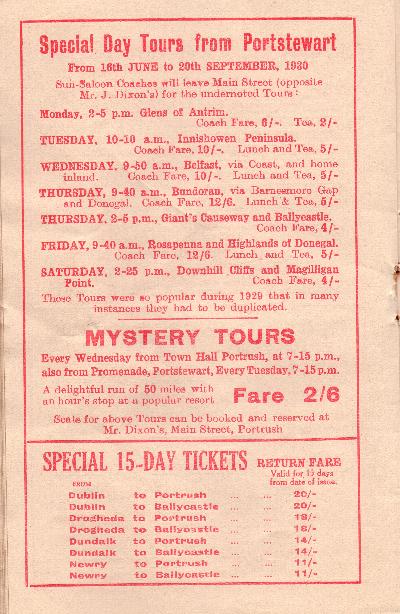 Tours supplement page 6: Tours from Portstewart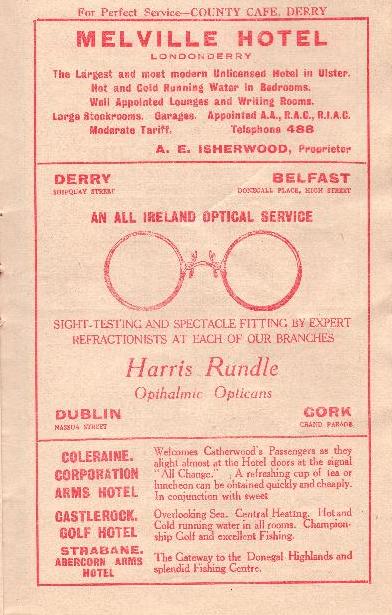 Tours supplement page 7: Adverts for hotels in Derry, Coleraine, Castlerock and Strabane.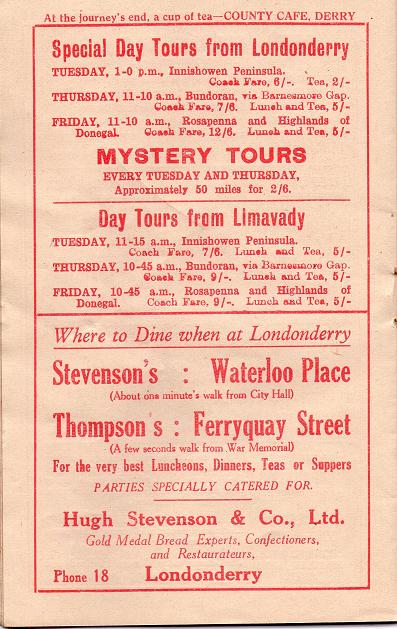 Tours supplement page 8: Tours from Derry and Limavady.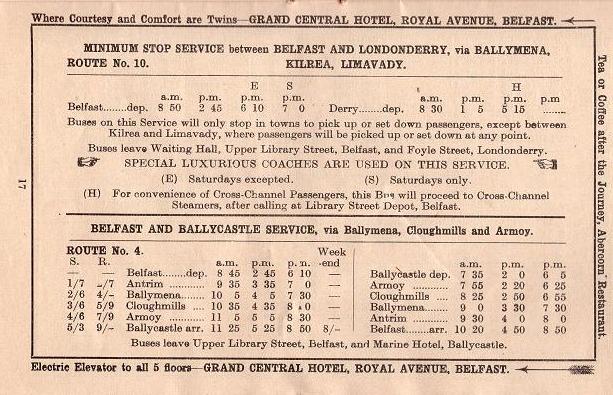 Page 17: Belfast to Derry (limited stop) and Belfast to Ballycastle timetables.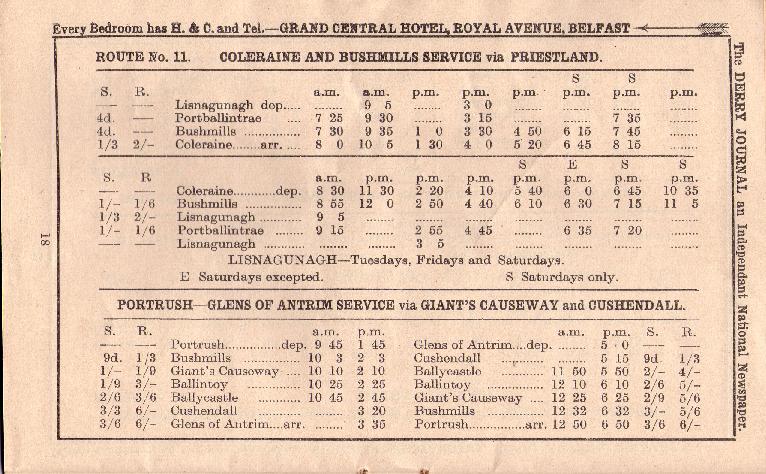 Page 18: Coleraine to Bushmills and Portrush to Glens of Antrim timetables.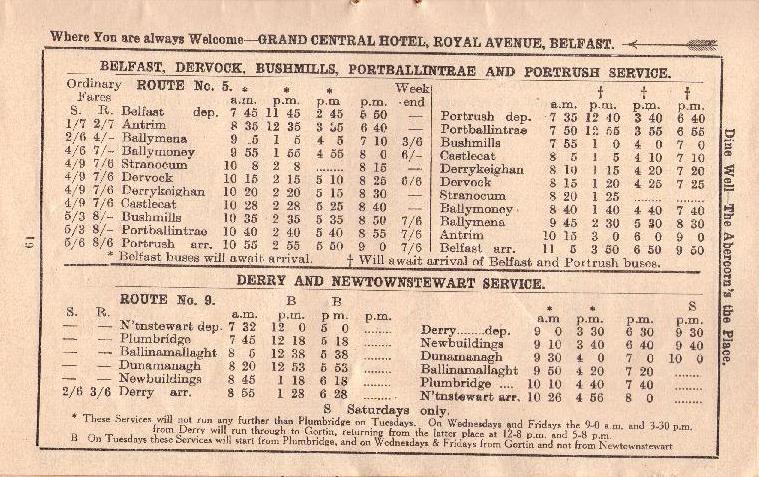 Page 19: Belfast to Portrush and Derry to Newtownstewart timetables.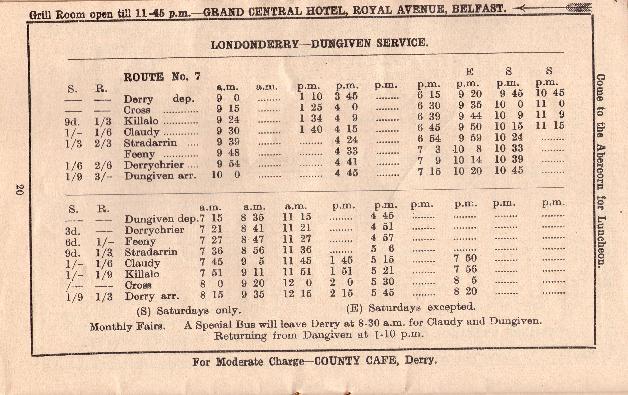 Page 20: Derry to Dungiven timetable.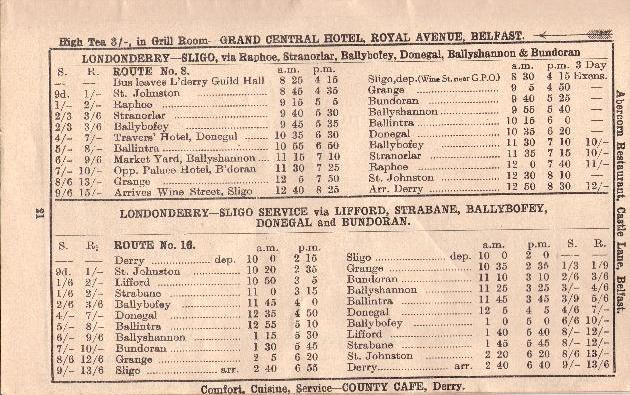 Page 21: Derry to Sligo timetable.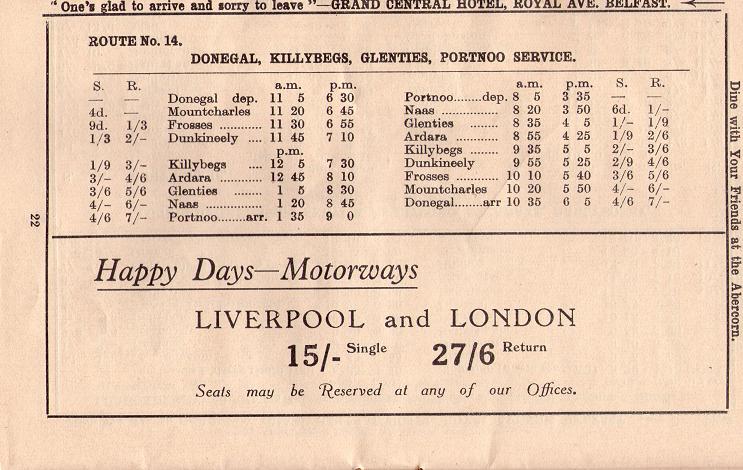 Page 22: Donegal to Portnoo timetable.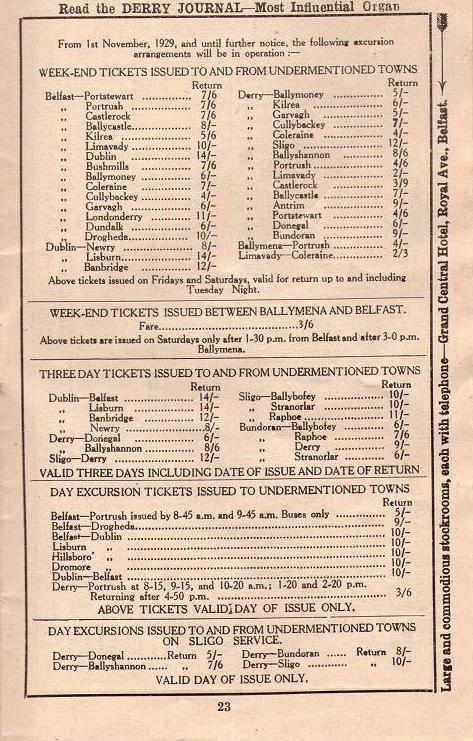 Page 23: Ticket prices.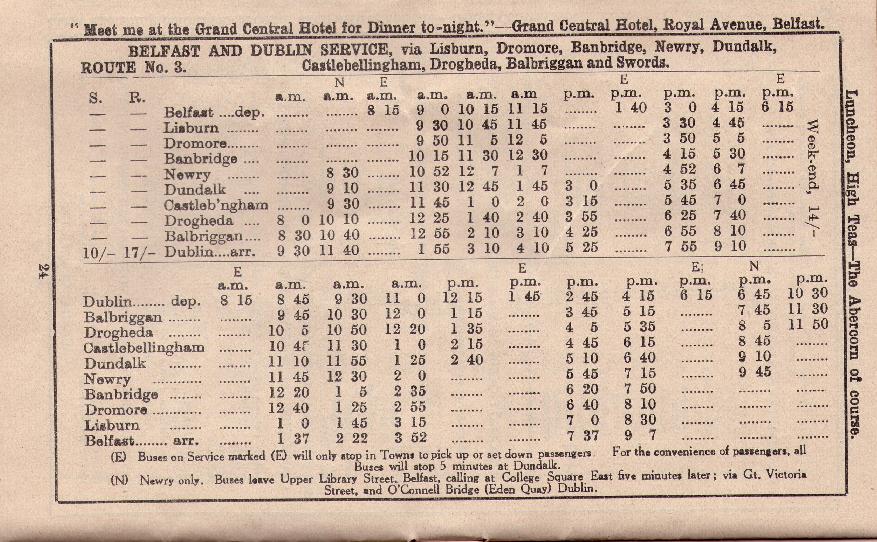 Page 24: Belfast to Dublin timetable.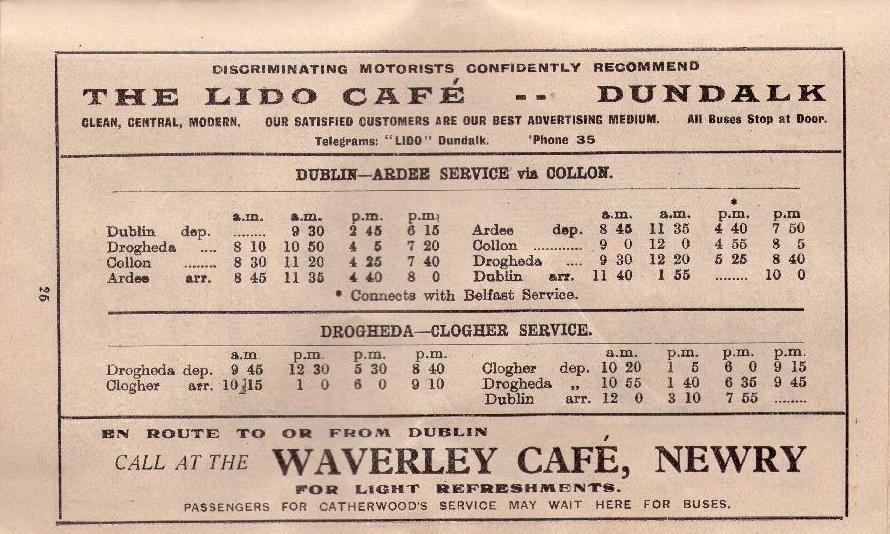 Page 25: Dublin to Ardee and Drogheda to Clogher timetables.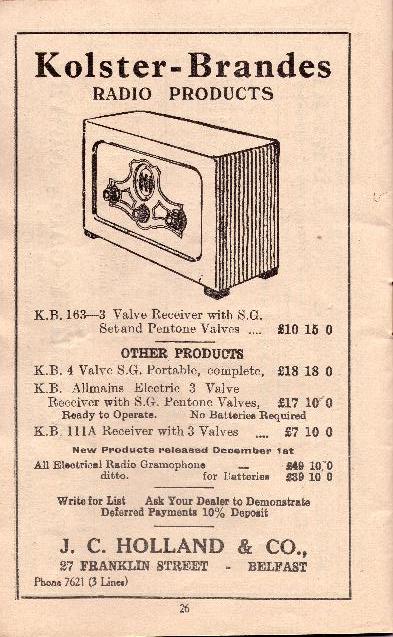 Page 26: Advert for J C Holland.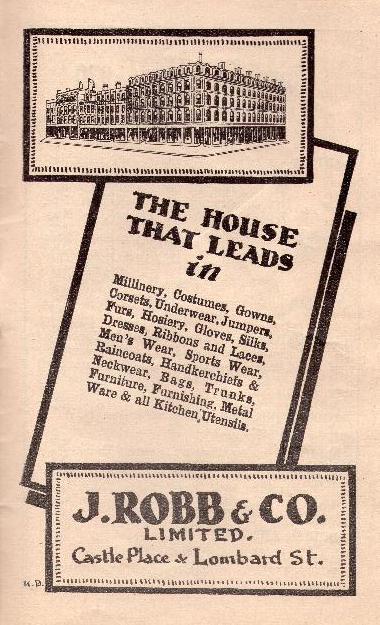 Page 27: Advert for J Robb and Co.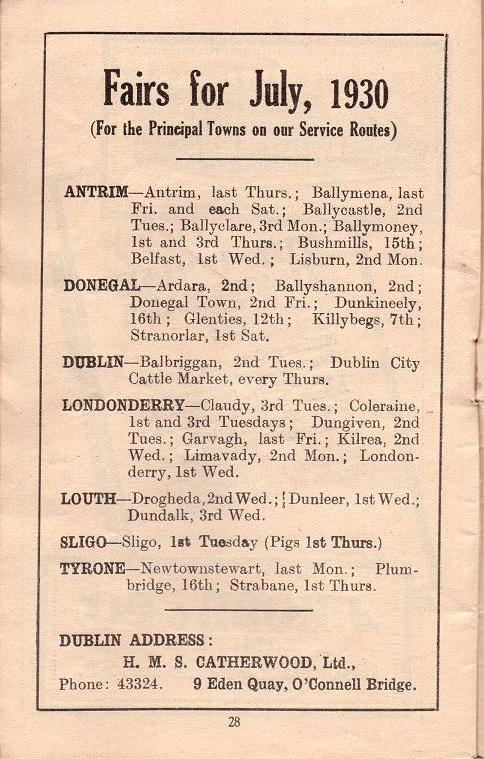 Page 28: List of cattle fairs for July 1930.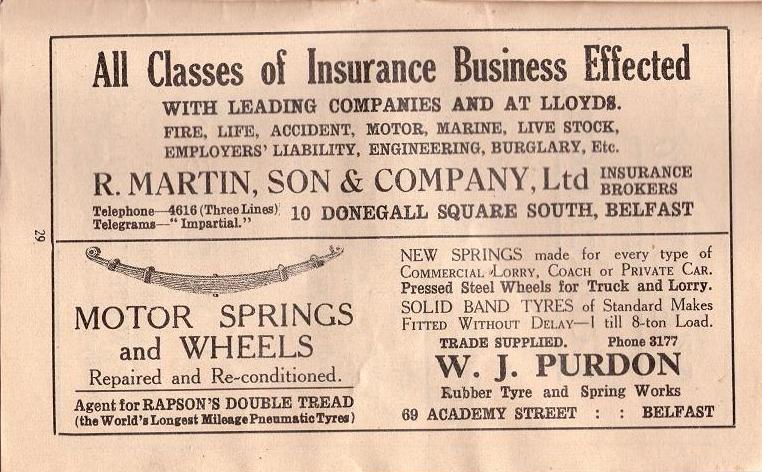 Page 29: Adverts for R Martin, W J Purdon.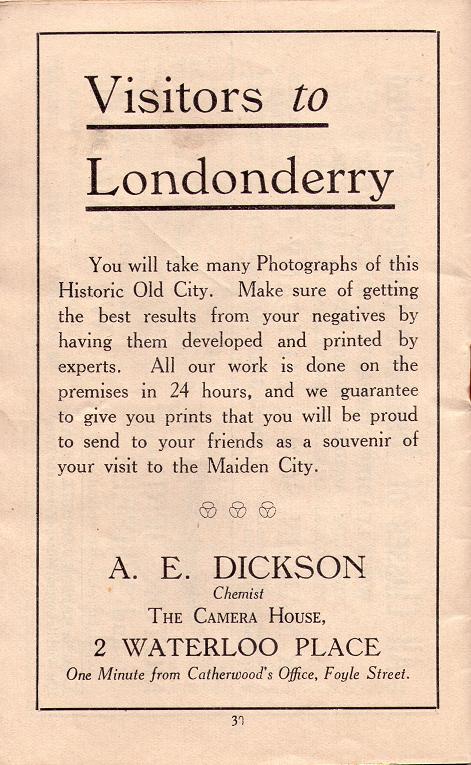 Page 30: Advert for A E Dickson.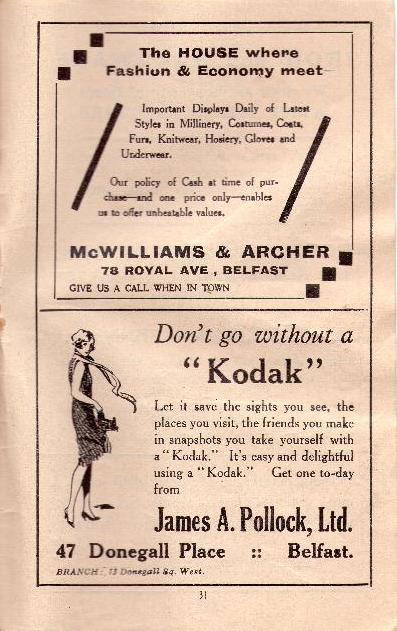 Page 31: Adverts for McWilliams and Archer, James A Pollock.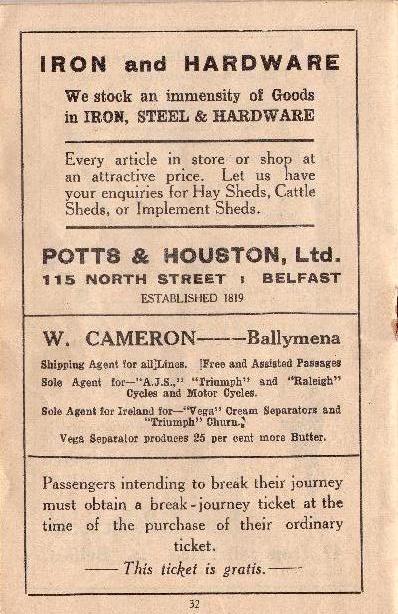 Page 32: Adverts for Potts and Houston, W Cameron.
Inside back cover: Adverts for E W Gwynne, Castle Pram and Toy House.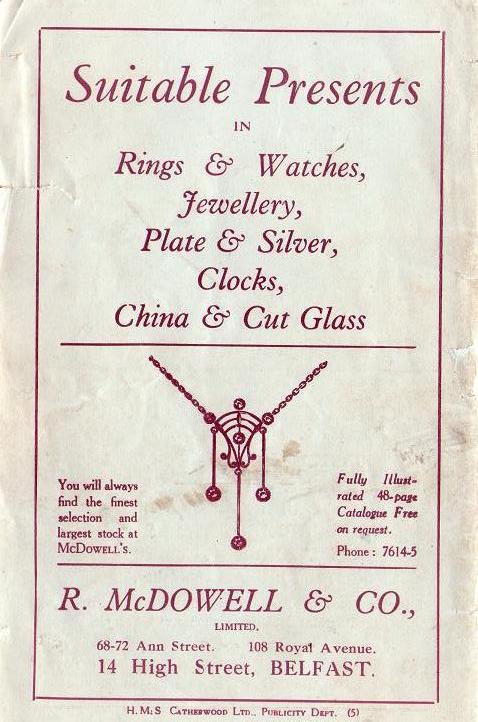 Back cover: Advert for R McDowell.
---
Known vehicles operated by H M S Catherwood
Note: This fleet list is incomplete as there may be other vehicles which were operated by the company. Also, details concerning the fleet numbering system are incomplete (known numbers are listed below). Further information will be published as it becomes available.
1927
XI 8238 Leyland TS1 60001 - ?? B31 new -/27; to Irish Omnibus Company 400 -/28; to Great Southern Railway 400 1/34; w/d -/40
E15 XI 8686 Leyland PLSC3 45673 - Leyland B30 new -/27; to Great Northern Railway 281 -/33; w/d -/36
E17 XI 8794 Leyland PLSC3 45675 - Leyland B34 new -/27; to Great Northern Railway 282 -/33; w/d -/36
F18 XI 8902 Leyland PLSC3 45669 - Hall Lewis C29 new -/27; to Great Northern Railway 289 -/33; w/d -/37
E15 XI 9124 Leyland PLSC3 45670 - Hall Lewis B36 new -/27; to Great Northern Railway 291 -/33; w/d -/37
I36 AZ 294 Leyland PLSC3 47052 - Leyland B36 new -/27; to Great Northern Railway 294 -/33; w/d -/37
E24 XI 9226 Leyland PLSC3 45683 - Leyland B31 new -/27; to Great Northern Railway 283 -/33; w/d -/36
XI 9384 Leyland PLSC3 46186 - Leyland B35 new -/27; to Northern Ireland Road Transport Board E70 10/35; w/d -/37
XI 9426 Leyland PLSC3 46187 - Leyland B35 new -/27; to Northern Ireland Road Transport Board E71 10/35; w/d -/37
XI 9427 Leyland PLSC3 46188 - Leyland B35 new -/27; to Northern Ireland Road Transport Board E72 10/35; w/d -/37
XI 9453 Leyland PLSC3 46189 - Leyland B35 new -/27; to Northern Ireland Road Transport Board E73 10/35; w/d -/37
G29 XI 9521 Leyland PLSC3 46190 - Leyland B35 new -/27; to Great Northern Railway 293 -/33; w/d -/37
XI 9522 Leyland PLSC3 46191 - Leyland B35 new -/27; to Northern Ireland Road Transport Board E74 10/35; w/d -/37
XI 9969 Leyland PLSC3 46255 - Leyland B35 new -/27; to Northern Ireland Road Transport Board E75 10/35; w/d -/37
XI 9970 Leyland PLSC3 46256 - Leyland B35 new -/27; to Northern Ireland Road Transport Board E76 10/35; w/d -/37
F19 ZI 551 Leyland PLSC3 45698 - Leyland B31 new -/27; to Great Northern Railway 290 -/33; w/d -/41
F21 ZI 709 Leyland PLSC3 45678 - Leyland B35 new -/27; to Great Northern Railway 292 -/33; w/d -/37
ZI 1710 Gilford ??? - unknown body details new -/27; to Irish Omnibus Company -/33; w/d ?/??
---
1928
AZ 332 Leyland PLSC3 47051 - Leyland B36 new -/28; to Northern Ireland Road Transport Board F155 10/35; to Cooks, Manchester 1937; to Ellis, Buckley 6/43; w/d 6/50
AZ 1012 Leyland PLSC3 46704 - Leyland B35 new -/28; to Northern Ireland Road Transport Board F157 10/35; w/d -/37
AZ 1155 Leyland PLSC3 46573 - Leyland B36 new -/28; to Northern Ireland Road Transport Board F158 10/35; w/d -/37
AZ 1357 Leyland PLSC3 47486 - Leyland B36 new -/28; to Northern Ireland Road Transport Board F165 10/35; w/d -/37
K38 AZ 1358 Leyland TS2 60086 - Leyland B31 new -/28; to Great Northern Railway 274 -/33; w/d -/38
AZ 1363 Leyland PLSC3 47482 - Leyland B36 new -/28; to Northern Ireland Road Transport Board F159 10/35; w/d -/37
AZ 1364 Leyland PLSC3 47481 - Leyland B36 new -/28; to Northern Ireland Road Transport Board F160 10/35; w/d -/37
AZ 1372 Leyland PLSC3 47485 - Leyland B36 new -/28; to Northern Ireland Road Transport Board F161 10/35; r/n F490 10/43; w/d -/45
AZ 1375 Leyland PLSC3 47483 - Leyland B36 new -/28; to Northern Ireland Road Transport Board F162 10/35; w/d -/37
AZ 1376 Leyland PLSC3 47487 - Leyland B36 new -/28; to Northern Ireland Road Transport Board F163 10/35; w/d -/37
T106 AZ 1377 Leyland TS2 60579 - Leyland B31 new -/28; to Great Northern Railway 297 -/33; w/d -/38
AZ 1379 Leyland PLSC3 47484 - Leyland B36 new -/28; to Northern Ireland Road Transport Board F164 10/35; w/d -/37
AZ 1380 Leyland TS2 60087 - Ld B31 new -/28; to Great Southern Railway 471 -/34; w/d ?/??
I58 AZ 1394 Leyland PLSC3 47490 - Leyland B36 new -/28; to Great Northern Railway 284 -/33; w/d -/39
AZ 1395 Leyland PLSC3 47488 - Leyland B36 new -/28; to Northern Ireland Road Transport Board F166 10/35; w/d -/37
AZ 1402 Leyland PLSC3 47489 - Leyland B36 new -/28; to Northern Ireland Road Transport Board F167 10/35; w/d -/37
I61 AZ 1403 Leyland PLSC3 47491 - Leyland B30 new -/28; to Great Northern Railway 285 -/33; w/d -/41
AZ 1415 Leyland PLSC3 47492 - Leyland B36 new -/28; to Northern Ireland Road Transport Board F168 10/35; w/d -/37
AZ 1416 Leyland PLSC3 47494 - Leyland B36 new -/28; to Northern Ireland Road Transport Board F169 10/35; w/d -/37
AZ 1432 Leyland PLSC3 47493 - Leyland B36 new -/28; to Northern Ireland Road Transport Board F170 10/35; w/d -/37
AZ 1433 Leyland PLSC3 47498 - Leyland B36 new -/28; to Northern Ireland Road Transport Board F171 10/35; r/n F491 10/43; w/d -/45
I66 AZ 1434 Leyland PLSC3 47496 - Leyland B36 new -/28; to Great Northern Railway 295 -/33; w/d -/41
I67 AZ 1435 Leyland PLSC3 47495 - Leyland B36 new -/28; to Great Northern Railway 286 -/33; w/d -/37
AZ 1436 Leyland PLSC3 47500 - Leyland B36 new -/28; to Northern Ireland Road Transport Board F172 10/35; r/n F492 10/43; w/d -/45
AZ 1442 Leyland PLSC3 47501 - Leyland B36 new -/28; to Northern Ireland Road Transport Board F173 10/35; r/n F493 10/43; w/d -/45
AZ 1448 Leyland PLSC3 47504 - Leyland B36 new -/28; to Northern Ireland Road Transport Board F174 10/35; r/n F494 10/43; w/d -/45
K40 AZ 1514 Leyland TS2 60088 - Leyland B31 new -/28; to Great Northern Railway 296 -/33; rebodied -/37 as GNR B32; r/n 129 ?/??; to Sligo, Leitrim and Northern Counties Railway -/45; sold for use as a caravan in Enniscrone -/53
AZ 1522 Leyland PLSC3 47505 - Leyland B36 new -/28; to Northern Ireland Road Transport Board F175 10/35; r/n F495 10/43; w/d -/45
AZ 1523 Leyland PLSC3 47497 - Leyland B36 new -/28; to Northern Ireland Road Transport Board F176 10/35; w/d -/37
AZ 1524 Leyland PLSC3 47507 - Leyland B36 new -/28; to Northern Ireland Road Transport Board F177 10/35; r/n F496 10/43; w/d -/45
AZ 1525 Leyland PLSC3 47508 - Leyland B36 new -/28; to Northern Ireland Road Transport Board F178 10/35; to Hooper, Crynant -/37
AZ 1526 Leyland PLSC3 47499 - Leyland B36 new -/28; to Northern Ireland Road Transport Board F179 10/35; w/d -/37
AZ 1527 Leyland PLSC3 47506 - Leyland B36 new -/28; to Northern Ireland Road Transport Board F180 10/35; w/d -/37
AZ 1528 Leyland PLSC3 47502 - Leyland B36 new -/28; to Northern Ireland Road Transport Board F181 10/35; w/d -/37
I78 AZ 1529 Leyland PLSC3 47503 - Leyland B36 new -/28; to Great Northern Railway 287 -/33; w/d -/41
I79 AZ 1530 Leyland PLSC3 47509 - Leyland B36 new -/28; to Great Northern Railway 288 -/33; w/d -/37
K41 AZ 1553 Leyland TS2 60089 - Leyland B31 new -/28; to Great Northern Railway 275 -/33; w/d -/38
AZ 1578 Leyland TS2 60090 - Ld B31 new -/28; to Great Southern Railway 472 -/34; w/d ?/??
ZI 1752 Gilford LL166 10399 - C32R new -/28; to Northern Ireland Road Transport Board F60 10/35; to Wade, Bradfield -/36; to Bareham, Bury St. Edmunds by -/37; to Cook, Southend 6/46; w/d 2/50
ZI 2076 Leyland TS2 60085 - ?? B31 new -/28; to Great Southern Railway 470 -/34; w/d -/39
VA 7872 Leyland PLSC3 46705 - Leyland B35 new -/28; to Northern Ireland Road Transport Board F156 10/35; w/d -/36
---
1929
IW 3374 Leyland PLSC3 47145 - Leyland B36 new -/28; ex Nutt, Limavady -/29; to Northern Ireland Road Transport Board F182 10/35; r/n F497 10/43; w/d -/45
IW 3351 Leyland PLSC3 47227 - Leyland B36 new -/28; ex Nutt, Limavady -/29; to Northern Ireland Road Transport Board F183 10/35; r/n F498 10/43; w/d -/45
C201 AZ 3030 Leyland TS2 60184 - Catherwood C31 new -/29; to Great Northern Railway 279 -/33; w/d -/38
C204 AZ 3353 Leyland TS2 60625 - Catherwood C31 new -/29; to Great Northern Railway 280 -/33; w/d -/38
AZ 3354 Leyland TS2 60634 - Catherwood C31 new -/29; to Northern Ireland Road Transport Board G202 10/35; to Military Authorities -/40
AZ 3355 Leyland TS2 60436 - Catherwood B36 new -/29; to Northern Ireland Road Transport Board G201 10/35; r/n G567 10/43; w/d -/46
AZ 3538 Leyland TS2 60622 - Catherwood C31 new -/29; to Northern Ireland Road Transport Board G203 10/35; to Military Authorities -/40
AZ 3539 Leyland TS2 60635 - Catherwood B36 new -/29; to Northern Ireland Road Transport Board G204 10/35; r/n G568 10/43; w/d -/45
---
1930
AZ 3783 Daimler CG6 7173 - Catherwood C26 new -/30; to Northern Ireland Road Transport Board H256 10/35; w/d -/37
T107 AZ 4059 Leyland TS2 60614 - Leyland B31 new -/30; to Great Northern Railway 276 -/33; w/d -/49; converted to garage tender GT1 -/49; to CIE GT1 10/58; w/d -/60 and scrapped ?/??
AZ 4527 Leyland TS2 60679 - Catherwood C31 new -/30; to Northern Ireland Road Transport Board H243 10/35; r/n H571 10/43; w/d -/45
AZ 4528 Leyland TS2 60680 - Catherwood C31 new -/30; to Northern Ireland Road Transport Board H244 10/35; r/n H572 10/43; w/d -/45
GG 46 Leyland TS2 60687 - Catherwood C31 new -/30; to Northern Ireland Road Transport Board H245 10/35; r/n H573 10/43; w/d -/45
---
1931
AZ 7949 Leyland TD1 72209 - Leyland L51R new -/31; to Northern Ireland Road Transport Board J293 10/35; r/n J850 10/43; to Ulster Transport Authority J850 10/48; to Yeoman, Canon Pyan 10/50; w/d -/52
AZ 7950 Leyland TD1 72210 - Leyland L51R new -/31; to Northern Ireland Road Transport Board J294 10/35; r/n J851 10/43; to Ulster Transport Authority J851 10/48; w/d -/50
---
1932
CZ 23 Leyland TS5 1300 - Leyland C31 new -/32; to Northern Ireland Road Transport Board K316 10/35; to Military Authorities -/40
CZ 24 Leyland TS5 1302 - Leyland C31 new -/32; to Northern Ireland Road Transport Board K317 10/35; to Military Authorities -/40
CZ 25 Leyland TS5 1301 - Leyland C31 new -/32; to Northern Ireland Road Transport Board K318 10/35; to Military Authorities -/40
CZ 26 Leyland TS5 1304 - Leyland C31 new -/32; to Northern Ireland Road Transport Board K319 10/35; w/d -/42
CZ 27 Leyland TS5 1303 - Leyland C31 new -/32; to Northern Ireland Road Transport Board K320 10/35; r/n K581 10/43; w/d -/44
CZ 29 Leyland TD2 1167 - Leyland L51R new -/32; to Northern Ireland Road Transport Board K321 10/35; r/n K852 10/43; rebodied as NIRTB L51R 1944; to Ulster Transport Authority K852 10/48; w/d -/50
CZ 28 Leyland TD2 1165 - Leyland L51R new -/32; to Northern Ireland Road Transport Board K322 10/35; r/n K853 10/43; rebodied as NIRTB L51R 1944; to Ulster Transport Authority K853 10/48; w/d -/50
CZ 30 Leyland TD2 1166 - Leyland L51R new -/32; to Northern Ireland Road Transport Board K323 10/35; r/n K854 10/43; rebodied as NIRTB L51R 1944; to Ulster Transport Authority K854 10/48; w/d -/50
CZ 31 Leyland TD2 1168 - Leyland L51R new -/32; to Northern Ireland Road Transport Board K324 10/35; r/n K855 10/43; rebodied as NIRTB L51R 1944; to Ulster Transport Authority K855 10/48; w/d -/50
CZ 32 Leyland TD2 1169 - Leyland L51R new -/32; to Northern Ireland Road Transport Board K325 10/35; r/n K856 10/43; rebodied as NIRTB L51R 1944; to Ulster Transport Authority K856 10/48; w/d -/50
T115 ZI 9197 Leyland TS4 1743 - Leyland B31 new -/32; to Great Northern Railway 277 -/33; w/d -/41
T116 ZI 9198 Leyland TS4 1744 - Leyland B31 new -/32; to Great Northern Railway 278 -/33; w/d -/41
---
1933
CZ 2456 Leyland LT5 2215 - Leyland B32 new -/33; to Northern Ireland Road Transport Board L389 10/35; r/n L526 10/43; w/d -/45
CZ 2457 Leyland LT5 2216 - Leyland B32 new -/33; to Northern Ireland Road Transport Board L390 10/35; r/n L527 10/43; w/d -/44
---
1934
CZ 5439 Leyland TS6 4678 - Northern Counties B32 new -/34; to Northern Ireland Road Transport Board M424 10/35; r/n M584 10/43; w/d -/45
CZ 5440 Leyland TD3 4677 - Northern Counties L51R new -/34; to Northern Ireland Road Transport Board M421 10/35; r/n M857 10/43; rebodied as NIRTB L53R 12/43; to Ulster Transport Authority M857 10/48; w/d -/55
CZ 5441 Leyland TD3 4675 - Northern Counties L51R new -/34; to Northern Ireland Road Transport Board M422 10/35; r/n M858 10/43; rebodied as NIRTB L53R 12/43; to Ulster Transport Authority M858 10/48; w/d -/55
CZ 5442 Leyland TD3 4676 - Northern Counties L51R new -/34; to Northern Ireland Road Transport Board M423 10/35; r/n M859 10/43; rebodied as NIRTB L53R 12/43; to Ulster Transport Authority M859 10/48; w/d -/55
CZ 5443 Leyland TS6 4680 - Northern Counties B32 new -/34; to Northern Ireland Road Transport Board M425 10/35; r/n M585 10/43; w/d -/45
CZ 5444 Leyland TS6 4681 - Northern Counties B32 new -/34; to Northern Ireland Road Transport Board M426 10/35; r/n M586 10/43; r/n M462 1947; to Ulster Transport Authority M462 10/48; to Diprose, Woodchurch, Kent 1/49; w/d 6/58 (last known Catherwood bus to be withdrawn from service anywhere)
CZ 5446 Leyland TS6 4679 - Northern Counties B32 new -/34; to Northern Ireland Road Transport Board M427 10/35; r/n M587 10/43; w/d -/45
CZ 5447 Leyland TS6 4682 - Northern Counties B32 new -/34; to Northern Ireland Road Transport Board M428 10/35; r/n M588 10/43; w/d -/45
CZ 5448 Leyland TS6 4683 - Northern Counties B32 new -/34; to Northern Ireland Road Transport Board M429 10/35; r/n M589 10/43; w/d -/46
---
Classic Irish Buses Classic Manx Buses Routemasters Email Photo gallery COMPLETE SITE MENU Links Morris Oxford car site Henry's Coastal Tours Classic Buses Website
---